Bitcoin has again proved its resilient nature as the largest cryptocurrency by market cap has recently registered a fresh all-time-high (ATH) of $49,700 on Tuesday, February 16, morning.
As Crypto Economy reported on Monday, February 15, Bitcoin dipped below $48K, taking a plunge to near $47K that resulted in over $1.89 billion worth of cryptocurrency futures positions were liquidated over the past day. The decline surprised many investors, as a notable all-time high milestone had looked on the cards amid optimism generated by the recent wave of institutional adoption.
But after that little dip, Bitcoin surged again to a new ATH of $47,908, just shy of its much anticipated $50K level.
But the news on Twitter is showing that Bitcoin has shattered the $50k level at the time of writing. A recent tweet by Bitcoin Magazine is indicating that the coin has hit $50k.
BITCOIN HAS HIT $50,000! pic.twitter.com/w8QrOeo3KO

— Bitcoin Magazine (@BitcoinMagazine) February 16, 2021
But data provided by market trackers like CoinMarketCap and Coin 360 is not verifying this milestone for Bitcoin at the time of writing.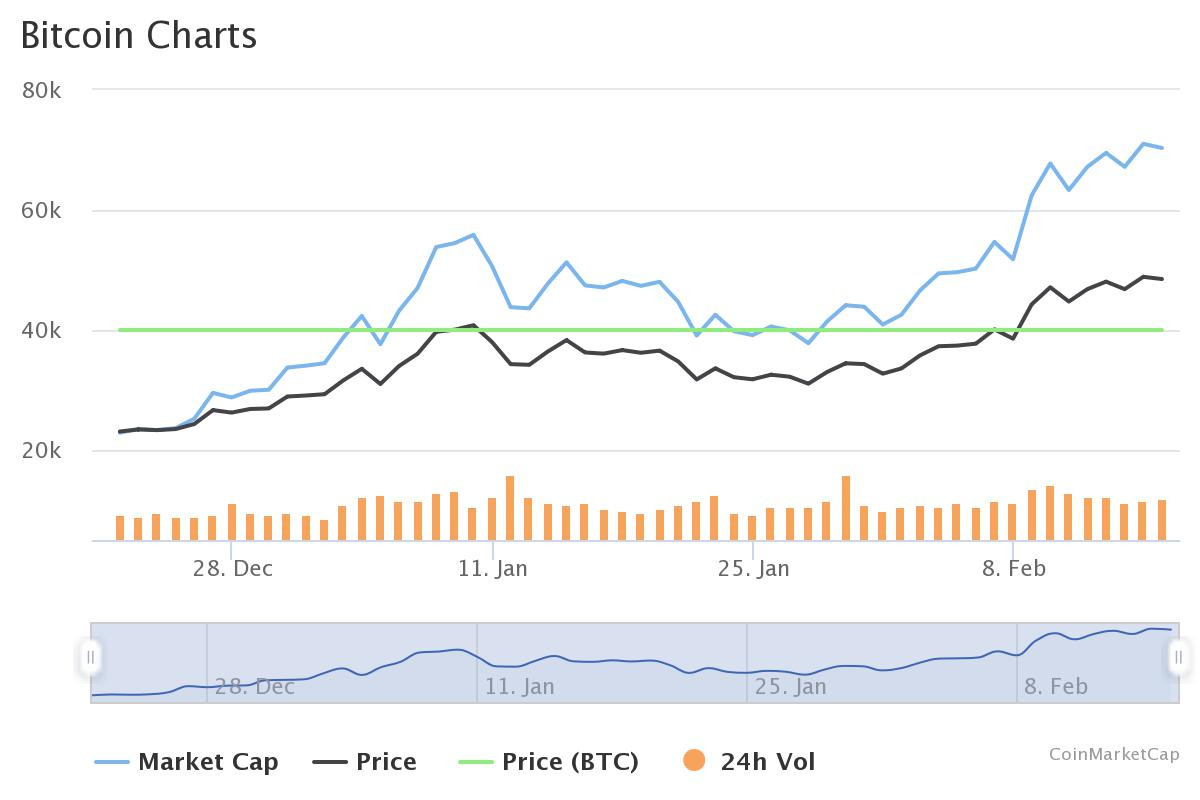 Whether this is true or not, $500K is in very reach. The coin is making it clear that the current bull market is substantially different from the one cryptocurrency experienced in 2017 and 2018. At that time, ATH of near $20K was a just bubble caused by the ICO boom, which just vanished a little later.
But this time, these impressive growths are driven by strong institutional growth. As more and more large companies like Tesla are putting Bitcoin on their balance sheet, other institutions and money managers are feeling a great amount of pressure to gain exposure to the asset. This buying pressure is pushing the coin's prices to record levels that have not been seen since its inception in 2009.
Given the current market indications, Sergey Nazarov, the cofounder of Chainlink, talking to a news outlet, said that it would not be surprising if Bitcoin hits $100K in the next few months.
Furthermore, the strong DeFi is also playing its part to bring Bitcoin to its recent record levels. With DeFi, it now possible for DeFi users to use their bitcoin holdings both as a hedge against inflation and as a means to earn higher interest than anything traditional financial products can typically provide.
Given these market conditions, Ki Young Ju, CEO of CryptoQaunt believes that it is best to buy BTC. He said:
"If you're a long-term investor, now is the time to buy $BTC.
Not sure how many corrections would be along the way, but the on-chain indicator says there are enough stablecoins in exchanges compared to Bitcoins to get another leg up."
---
If you found this article interesting, here you can find more Bitcoin news