All sorts of emotions characterize the Bitcoin price. Indeed, at one stage, the BTC/USD price may be clearing barriers, surging to new territories much to the excitement of traders.
Bitcoin Mining is Green
For instance, the FUD spread by Elon Musk early this month that Bitcoin is energy inefficient and every transaction damages the environment.
There are counter data to debunk all this misinformation, revealing that Bitcoin mining is green. Most of its miners rely on renewable energy.
Only but a few, especially in China, are reliant on coal and other fossil fuel.
A considerable percentage, 75 percent, depends on hydroelectric power.
The good news is that events from China, especially its government outlawing mining activities in some areas, continue to decentralize the Bitcoin network.
Most Bitcoin miners are shifting operations to the United States, utilizing the country's vast renewable energy sources.
Bitcoin Whales bought $3 billion of BTC when Prices Crashed
Meanwhile, whales bought over $3 billion worth of BTC when prices crashed below $30k last week.
According to Chainalysis, the FUD made for a perfect opportunity for whales and strong hands to ramp up, doubling down on the coin.
More analysts are confident of a sharp price recovery from spot rates.
Their immediate target is $60k. However, how fast BTC/USD price recover depends on the rapidity of the close above $42k—the January 2021 highs.
Bitcoin Price Analysis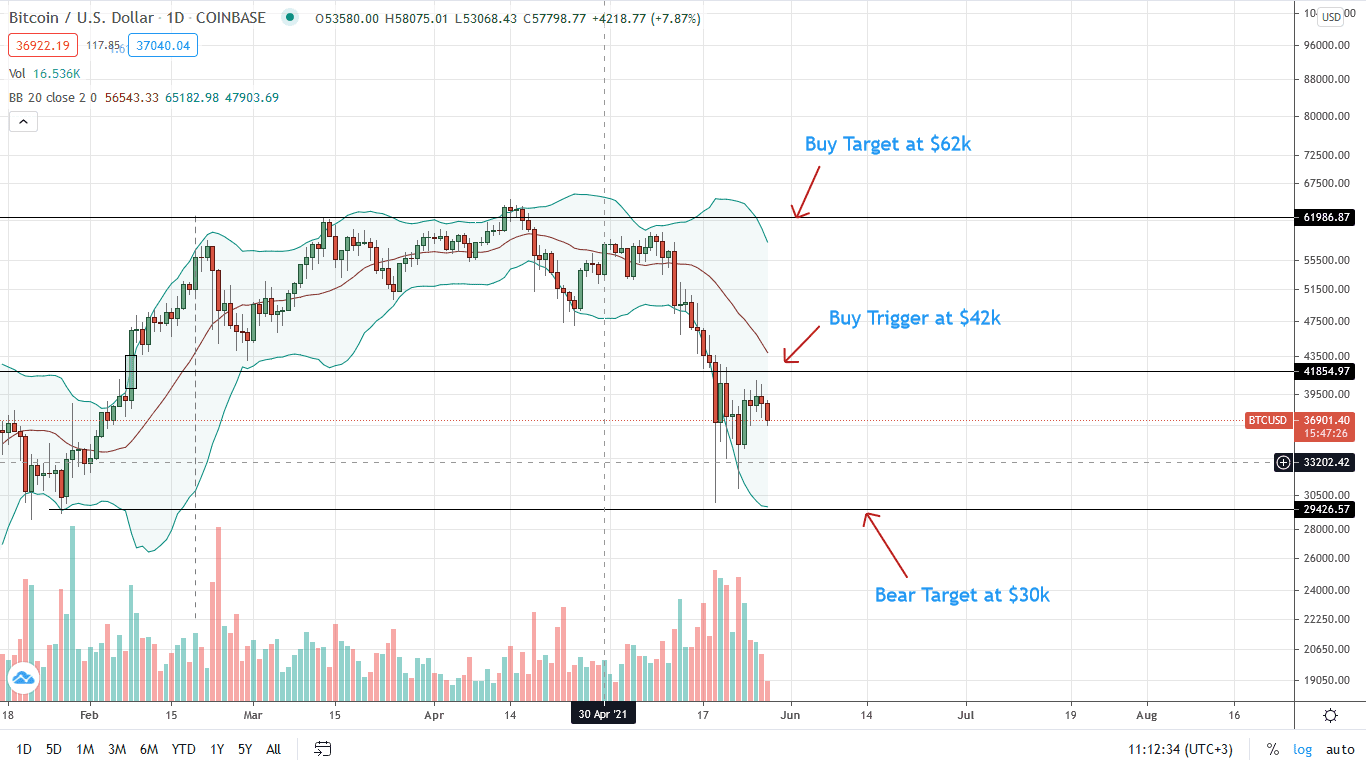 The BTC/USD price sunk 55 percent from the Q1 2021 highs.
For the better part of this week, there are hints of strength. Still, there must be a convincing break above $42k with high trading volumes to disqualify the recent recovery as a dead cat bounce.
Notably, from the daily chart, BTC prices are trending within May 19 bear bar. A reversal above $42k would trigger demand. On the flip side, a sharp reversal from this resistance level may see BTC dump down in a bear trend continuation pattern.
Considering this formation, therefore, every low may be an unloading opportunity for aggressive traders based on the Effort-versus-Results perspective with targets at $30k—or last week's lows.
Chart Courtesy of Trading View
Disclosure: Opinions Expressed Are Not Investment Advice. Do Your Research.
---
If you found this article interesting, here you can find more Bitcoin news