Bitcoin has dropped its price below $14K levels today, following news published by Reuters regarding South Korea's possible banning of the cryptocurrency in that country.
The news, written by the aforementioned news company and published on December 27, stated that the South Korean government will approve new legal frameworks that would allow authorities to shut down cryptocurrency exchanges. But a couple of hours later, said article was reedited to clarify that what they would be shutting down are anonymous cryptocurrency exchange accounts, a measure taken into consideration by such government since December 13.
As a result, FUD was spread among investors, a negative factor that led Satoshi's coin to take a tumble to levels below $14K in its USD/BTC exchange rate, contributing that way to the actual correction cryptomarket is undergoing. And even if the source of this fear righted the wrong news, investors are still showing signs of fear, as shown by Bitcoin's activity, reflected in the charts of CoinMarketCap.
This led people to criticize the renowned news website. It should be noted that the Asian country was only disallowing anonymous trading, as well as foreigners and underaged investors from investing in crypto-exchanges, citing that that was something already planned since December 13.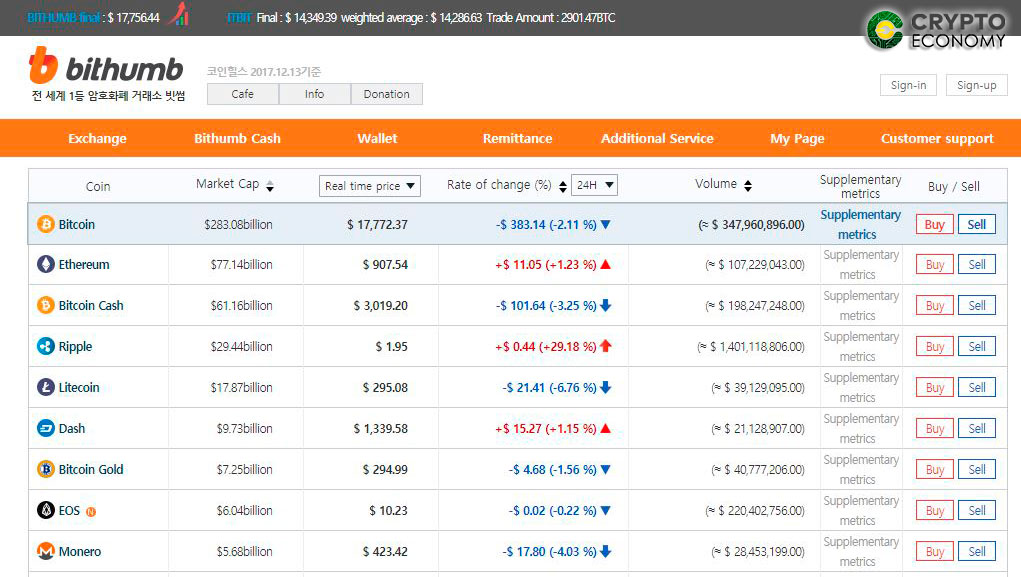 Regulations to pave the way for a better adoption of cryptocurrencies
The government of that country is taking actions regarding anonymous trading accounts after a group of Chinese traders were found laundering millions of dollars by profiting from premium rates at crypto-exchanges based in South Korea, which is quoted around 20% higher than the global average. Having this in mind, those traders brought bitcoins from China, sold them in South Korea, and send the profit back to their native country.
Aditionally, there's the fact that underaged investors are very active in the cryptomarket, with middle school to college students trading on a daily-basis, thus exposing themselves to the risks of trading with these virtual coins. For that reason, South Korean government is expanding their actions to also protect them.
These laws were recommended in an earlier opportunity by the justice ministry, alleging that such measures were to protect retail investors from potential Ponzi schemes. In fact, said recommendations didn't ruled out a total ban of trading with all cryptocurrencies.
World's second largest cryptocurrency market Bithumb, which is based in Seoul, South Korea, stated that such regulations are beneficial not only for the government, but also for investors because they'll be protected against scams by providing a more stable, mature market to operate in. "A right set of regulations will rather nurture the (virtual currency) market, and we would welcome that".