On Wednesday, November 18, 2020, Bitcoin price crossed $18k and reached $18,249 before coming falling back to $17,600 at the time of writing.
These price levels have not been seen since the all-time high three years ago in 2017 when BTC price reached $20,000. According to CoinMarketCap, Bitcoin's current market cap is currently hovering at around $325 billion at the time of writing.
Since October 19, the price of the largest cryptocurrency has increased from $11k levels to $18k. This is a whopping 54% increase during the last 30 days. As Crypto Economy reported, Bitcoin has so far outperformed traditional asset and indices in 2020. For the first time since its inception, Bitcoin has entered the mainstream media as digital gold to hedge inflation risk.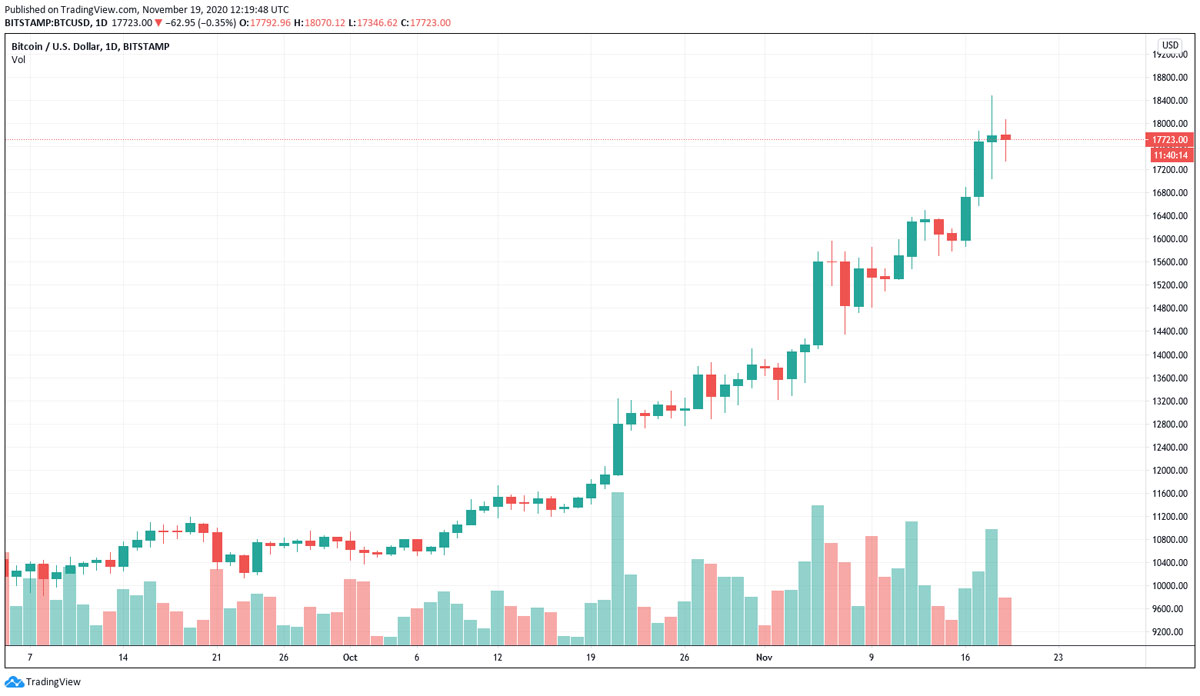 Over the past few weeks, Bitcoin's price has reached heights not seen in years. But what are the driving factors behind the massive growth? Top of the list is the increased interest of institutions and their purchase of Bitcoin for strategic reasons.
This increased institutional interest can be dated back to May when the US Fed announced that it has to print more money to prop up the US economy and financial system. Amid all this, Bitcoin emerged as a preferred tool beyond price speculation to be a reliable store of value.
NASDAQ-listed MicroStrategy was the first company to set the path. In early October, invested over $450 million in Bitcoin. The path was then followed by Square that, on October 8, $50 million worth of BTC as part of their investment strategy.
The biggest boost came after Paypal's announcement to support Bitcoin and other cryptocurrencies on October 21. Soon after the announcement, the price blasted over the $12,000 resistance level. On November 11, Paypal started its crypto services for US customers. During the last 7 days, from November 12 to 19, the price increased from the $15k level to $18,000.
According to some experts, this price rally may also be driven by a supply crunch in China as Chinese miners are struggling to sell their Bitcoin.
Taking into account the supply and demand, some sources are predicting a price range of $56,000 to $112,000 in 2021. According to some experts, Bitcoin (BTC) can hit $100,000 in five years and $1 million by 2035. But will the price cross $20K this week, it remains to be seen.
---
If you found this article interesting, here you can find more Bitcoin news