The prices of Bitcoin (BTC) are lower and moving sideways when writing on July 28. Even though there is optimism ahead of halving, macroeconomic factors and the general lull have seen crypto assets, including Bitcoin, edge lower.
For now, prices are under pressure. Notably, BTC bulls are yet to shake off sellers of July 24, and prices are below the psychological level but floating above $29,000.
As it is, every high within the July 24 range may offer entries for sellers targeting $28,300 in the short term. This preview holds, and Bitcoin's prospects are bearish in the short term if prices are below $30,000.
Rate Hike and Politics
This development is amid positive news from the macro side of the economy. This week, the Federal Reserve, the central bank in the United States, raised interest rates, pushing funding rates to the highest level in over 30 years.
Despite falling inflation in the United States, the central bank is taking steps as a precautionary measure to preserve citizens' purchasing power.
Following this hike, Bitcoin prices rose only to fall later, pointing to general market apathy and caution.
Besides the rate hike, pro-Bitcoin presidential candidate Robert Kennedy Jr. said he bought 14 BTC as an investment for his children in May after the Bitcoin Miami conference. Earlier, Kennedy Jr. said if he wins, the cryptocurrency would be allowed to function without government interference.
Bitcoin (BTC) Price Analysis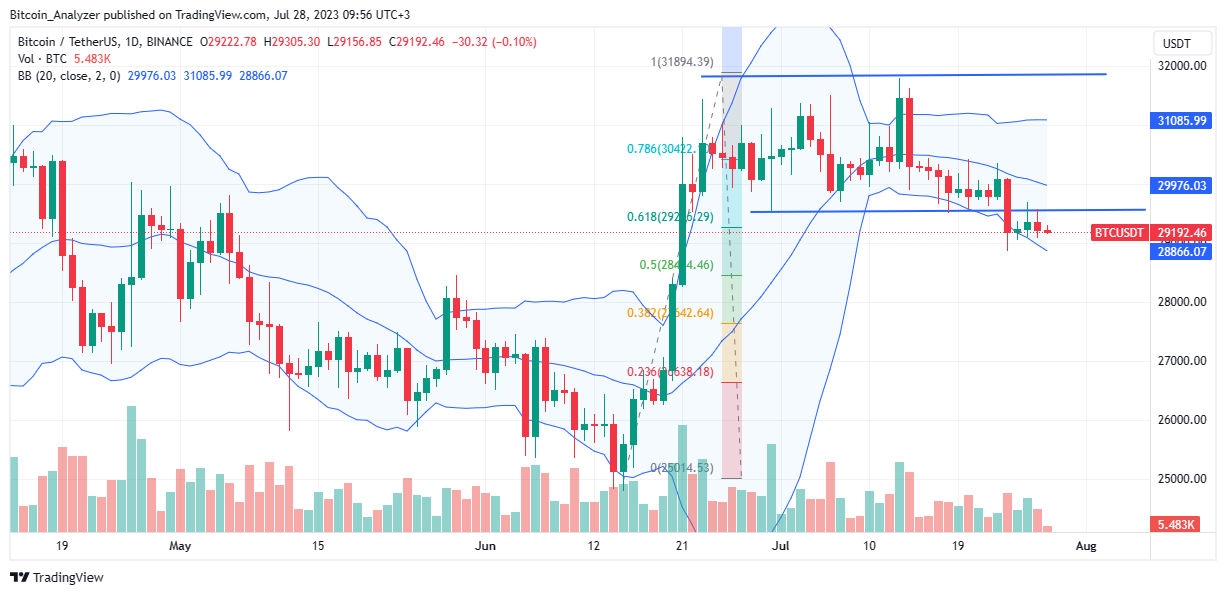 BTC prices remain in a tight consolidation, dropping roughly 8% from July 2023 highs.
Per the BTCUSDT candlestick arrangement, the coin is within a bearish formation. Following the drop on July 24, prices have been consolidating inside the bear bar. Subsequently, sellers should search for entries, liquidating on every attempt towards July 24 highs and $30,000.
From an effort-versus-result perspective, losses below $29,000 and July 24 at the back of increasing volumes will confirm sellers. In that case, BTC may drop to as low as $28,300 and $26,500. The latter is the 23.6% Fibonacci retracement level of the June-July trade range.
This preview will only change should BTC prices expand, reversing July 24 losses at the back of increasing volumes. In that case, BTC may end up retesting $31,000.
However, a comprehensive breakout above $31,800 will signal buy-trend continuation, driving more demand for the coin.
Technical charts courtesy of Trading View.
Disclaimer: The opinions expressed do not constitute investment advice. If you wish to make a purchase or investment we recommend that you always conduct your research.
---
If you found this article interesting, here you can find more Bitcoin News.