The Bitcoin market continues to be a rollercoaster of emotions for investors, and today, Friday, November 3, was no exception.
In the last month, we have witnessed a notable increase in the price of Bitcoin. The cryptocurrency has seen an impressive 25% increase, going from $26,700 levels to surpassing $35,000 and even touching $36,000.
The leading cryptocurrency fell -1.20% in the last 24 hours, at the time of writing this article, standing around $34,550, according to official data from CoinMarketCap.
THIS DECLINE LOOKS DISCONCERTING, BUT THE GENERAL SENTIMENT IS STILL POSITIVE
Bitcoin has proven to be highly volatile, and these types of fluctuations are not unusual in the world of cryptocurrencies.
The question everyone is asking right now heading into the weekend is whether the leading cryptocurrency will manage to push towards $40,000 or return to support levels around $31,000.
Digging deeper into the technical analysis, we found a critically important zone based on Fibonacci levels. In particular, the 0.618 level is located around $30,200.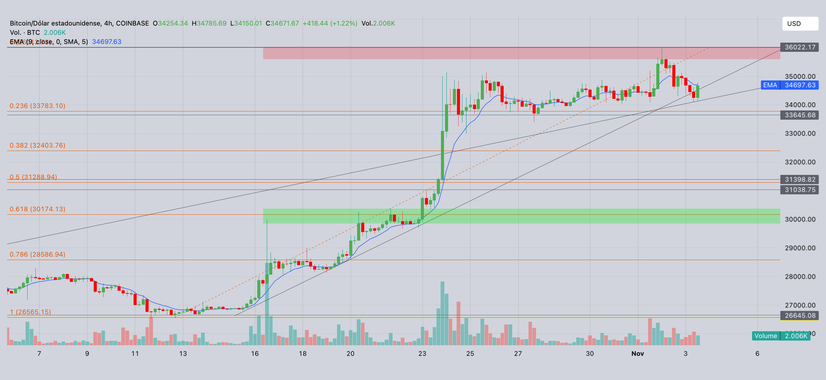 Fibonacci levels are key tools used by analysts to identify possible areas of support and resistance on a price chart.
On a closer look at the 4-hour chart, we can see that Bitcoin price is currently below the exponential moving average. This trend reflects bearish pressure in the short term, which could explain the recent pullback from the highs reached.
Additionally, it is important to note that the price range between $28,000 and $30,000 saw strong volume levels, suggesting that this range has been a significant area in terms of trading activity.
The price of Bitcoin is highly reactive to a number of factors, including the approval of Bitcoin Spot ETFs by renowned financial institutions, such as BlackRock, Invesco and Fidelity, which could inject more confidence and capital into the cryptocurrency.
Furthermore, the debate over whether Bitcoin is evolving into a haven of value, similar to gold in times of inflation and economic crisis, continues to be a topic of conversation among investors and some of the world's most important financial institutions.
In this context, the specific volatility in the asset is understandable. Investors should be prepared for these ups and downs in price and carefully evaluate their investment strategies in the coming weeks.
---
Technical charts courtesy of Trading View.
Disclaimer: The opinions expressed do not constitute investment advice. If you are looking to make a purchase or investment, we recommend that you always do your research.
If you found this article interesting, here you can find more Bitcoin News.