Latest Bitcoin [BTC] News
After years of discrediting Bitcoin, calling it a scam, a fraud and a bubble waiting to pop, Jamie Dimon's bank JP Morgan is joining the crypto fray, launching a stable coin, JPM Coin. Although the entry of one of the largest US banks in the space is something that would be ordinarily lauded and even cause a small price pump, past comments made by the bank's luminary is back haunting a well-oiled JPM Coin.
Like other stable coins, it will be pegged to the US Dollar and despite the initial reception, the simple fact that JP moves billions of dollars every day could jump start its usefulness and perhaps rival USDT in years to come.
The move by JP Morgan has been interpreted by pundits and blockchain sleuths as them readjusting and factoring their effort as they prepare for a future where cross-border payments—which they have been so successful cordoning it off and charging premiums—will be moved in a transparent and even publicly accessible blockchains.
Their coin will come in handy for corporate clients keen on moving and instantaneously settling large sums—a feat that is only possible via blockchains, eliminating Nostro—vostro accounts and for securities transactions.
BTC/USD Price Analysis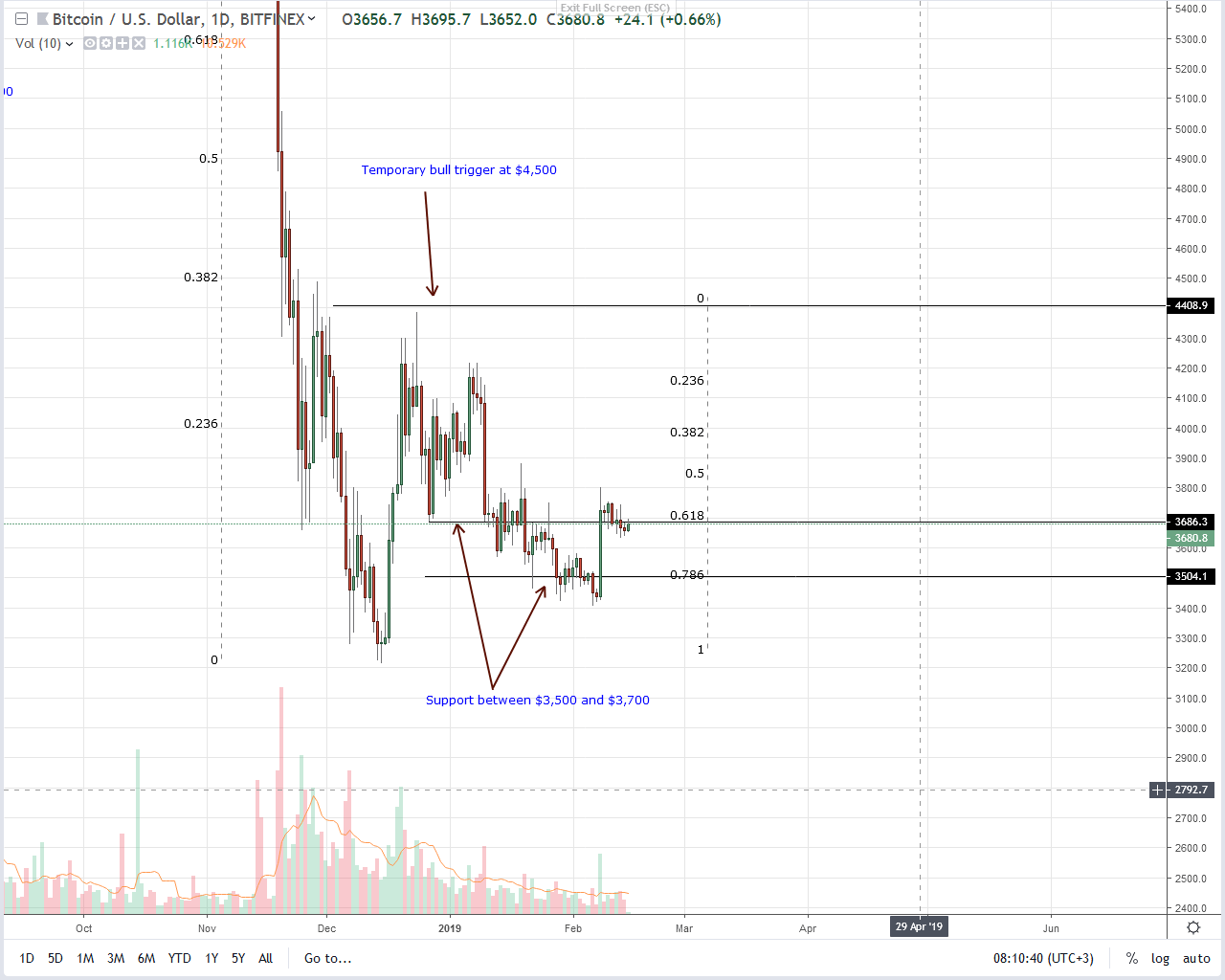 The community is generally expectant and as a base currency in most exchanges and OTCs, the direction it takes will have a contagion effect. Thus far, the coin is bullish and although stable in the last few days, BTC is up 6.6 percent from last week's close and likely to edge higher as bulls reject and absorb liquidation shocks.
Prices are trending within narrow ranges and Feb 8 high-volume bull bar is defining as far as price action is concerned. It is easy to see why. Not only is the coin rocketing off the upper limit of our support zone, $3,400-3500—data from BitFinex, but it appears to be snapping back to trend, realigning according to trends set by buy pressure of mid-Dec and subsequent confirmations of early Jan 2019.
However, while we remain optimistic and expecting a positive turn of events, we shall take a neutral stand, only executing long trades once BTC bulls drive prices above $3,800. This level marks the 61.8 percent Fibonacci retracement level from Dec 2018 high low and it is also highs of Jan 13-14 double bar bull reversal pattern where momentum have so far failed to cause a break through. Like in all our previous BTC/USD trade plans, our first targets will be at $4,500 and later, $6,000.
All Charts Courtesy of TradingView—BitFinex
Disclaimer: Views and opinions expressed are those of the author and aren't investment advice. Trading of any form involves risk and so do your due diligence before making a trading decision.