Latest Bitcoin [BTC] News
Of the $190 million that investors stand to lose, $88.9 million was dominated in Bitcoin [BTC]. And it was not a hack or anything. The founder of QuadrigaCX didn't want to delegate the task of securing the private keys of the exchange's cold wallet. It is even worse, no one knows the public address of these cold wallets. That's why many are skeptical of his death despite a death certificate issued by Indian authorities and an official statement from the hospital where Cotten was admitted before he died.
Whether this is a case of identity theft, it has been made hard because blockchain sleuths don't have the public addresses of these cold wallet. If they did then they would easily track movement of these assets and once and for all clear the air about this conjecture of "fake death" and thievery—which is honestly incensing.
Moving on, adoption is picking up and while critics pick out limitations within the legacy chain, alternative scaling solutions are being endorsed by tech leaders. Jack Dorsey, a Bitcoin supporter and the brain behind two multi-billion, publicly traded corporations in Twitter and Square, is also an investor in Lightning Labs.
Together with other investors they sunk $2.5 million to accelerate the development of Lightning Network—a layer two solution that is still in beta whose full implementation will scale Bitcoin by billions. There is an upcoming podcast where Elizabeth Stark and Jack will expound more on their ambitions, targets and goals.
BTC/USD Price Analysis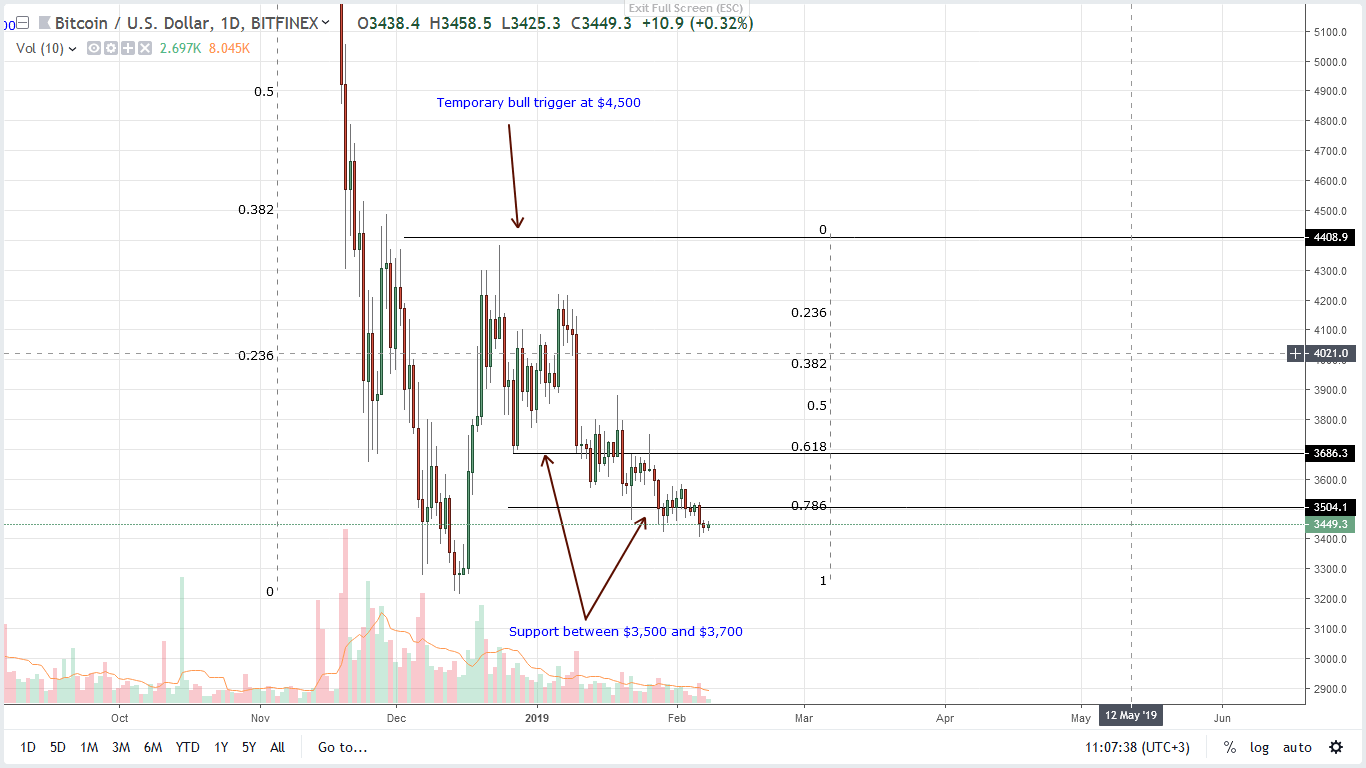 All the same, BTC is under immense sell pressure. Despite our upbeat review and equally strong fundamentals, our previous trade conditions are yet to be validated and prices are trending at the lower limit of our support zone. Considering events of the last few days, the best course of action is to take a neutral stand and wait till there is complete reversal of Feb 6 losses.
Once that happen, bulls will be rejuvenated and not only will prices edge higher but volumes will likely swell from current averages of around 10k. That will drive prices off the 78.6 percent Fibonacci retracement levels to above the 61.8 percent Fibonacci retracement mark which flash well with the $3,800 level indicating Jan 14 highs, our buy trigger line.
At the moment, it seems like a long shot but the breakout direction will either confirm recent horizontal movement as an accumulation—bullish or a distribution—bearish. It is undesirable but any breach below $3,200 could catalyze further sell off towards $1,500.
All Charts Courtesy of TradingView—BitFinex
Disclaimer: Views and opinions expressed are those of the author and aren't investment advice. Trading of any form involves risk and so do your due diligence before making a trading decision.