Latest Bitcoin News [BTC]
Slowly but surely, Jack Dorsey is quickly becoming a Bitcoin icon. Coincidentally, his recent endorsement came at a time when Bitcoin prices began flying off the shelves. It has been a long time coming and even with stagnating crypto prices, there is light at the end of the tunnel. The expectation is anchored on increasing adoption and well, regulators who are beginning to acknowledge the influence and benefits of this revolutionary currency.
At first glance, unsubstantiated and naïve rumors did strike fear but as a pseudonymous coin it is pretty hard for criminals to take advantage of the coin, play their games and launder billions of funds. At least that what happens in legacy payment systems where banks form cohort with criminals siphoning billions of dollars. Bitcoin is no doubt superior and that is why the platform is gaining traction.
Commandeered by a core group of developers, the network is secured by the community and its utility is beginning to permeate as users realize that they are cheap and global accepted by any progressive merchants anywhere in the world.
While a lot of red tape exist in crypto-fiat exchanges, it is only a matter of time when naysayers run out of reasons to nitpick a noble tech realizing that there is a lot of development—like LN for example, that will cement Bitcoin's position as a settlement, store of value layer and a medium of exchange.
BTC/USD Price Analysis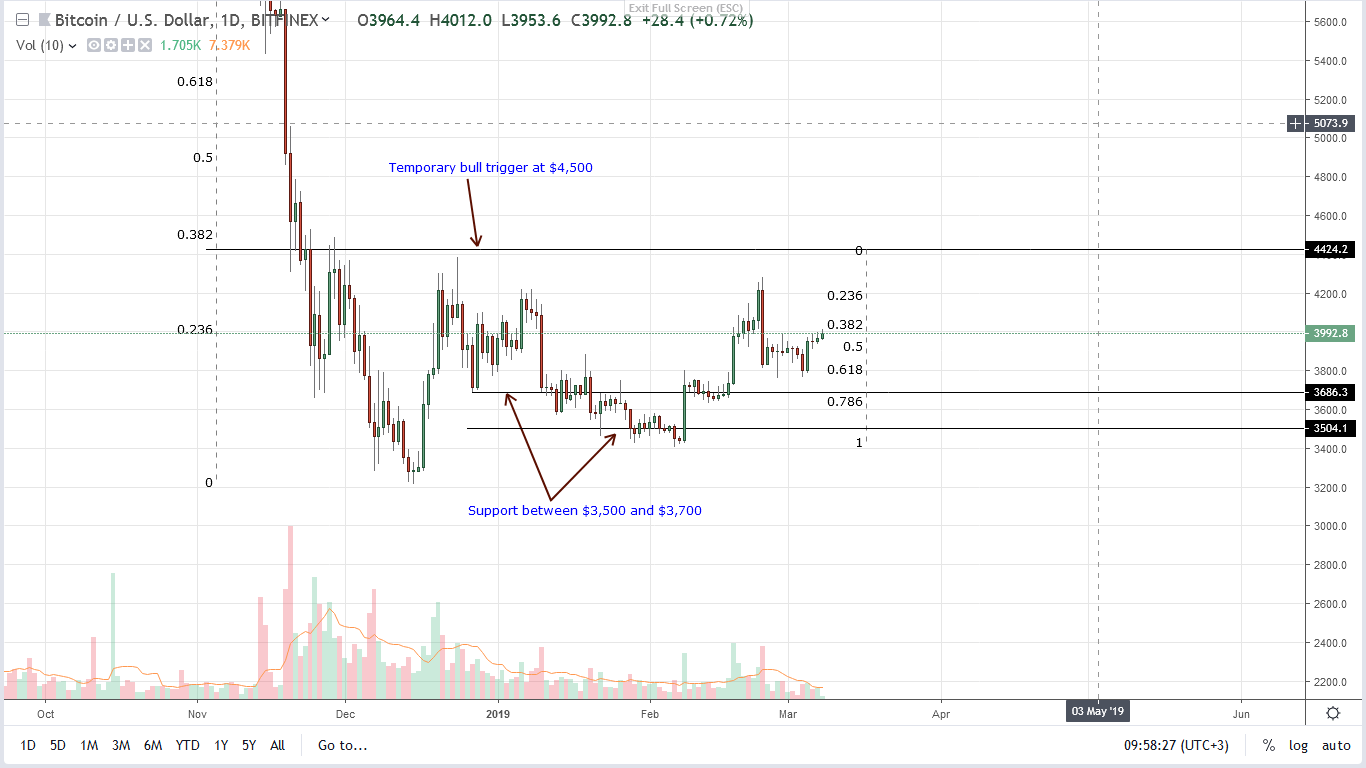 Meanwhile, it's a bliss for Bitcoin holders. Forced to persevere as prices tumbled in 2018 after printing a parabolic curve in 2017, there seems to be a natural recovery. In the last day, the most valuable coin is up 1.3 percent meaning bulls are building momentum in readiness for an upswing reversing Feb 24 losses.
If anything, this is bullish and as Bitcoin prices trade within a bullish breakout pattern after clearing the $3,800 mark on Feb 18, risk-off, aggressive traders can fine-tune entries in lower time frames loading on dips with first targets at $4,500.
Even though we shall be more comfortable with solid gains above Feb 24 highs, risk-averse or conservative traders should stay on the side-lines aware that gains above $4,500 will nullify the bear breakout pattern of week ending Nov 25.
Thereafter, as we have mentioned in all our previous BTC/USD price analysis, a breakout above $4,500 will likely lead to an expansion towards our main resistance level at $6,000.
All Charts Courtesy of TradingView—BitFinex
Disclaimer: Views and opinions expressed are those of the author and aren't investment advice. Trading of any form involves risk and so do your due diligence before making a trading decision.