Bitcoin has nearly touched $40K on Monday, June 14th, as Tesla CEO Elon Musk said that his electric automaker would resume Bitcoin payments when there is enough clean energy for Bitcoin mining.
A media report that cites Magda Wierzycka, CEO of financial services company Sygnia, criticized Elon Musk and Magda said that Musk's recent tweets on Bitcoin should have prompted an investigation by the US Securities and Exchange Commission (SEC). Magda said that Elon Musk's actions in recent past days constituted price manipulation.
She also claimed that Tesla has sold a big part of its BTC holdings. In response to that media report, Musk denied all these allegations and said that Tesla only sold 10% of its BTC asset. Furthermore, Tesla would resume Bitcoin payments once enough Bitcoin mining moves to clean energy. His tweet reads:
"This is inaccurate. Tesla only sold ~10% of holdings to confirm BTC could be liquidated easily without moving market.
When there's confirmation of reasonable (~50%) clean energy usage by miners with the positive future trend, Tesla will resume allowing Bitcoin transactions."
According to some sources, Tesla did sell some coins during the first quarter of this year, however, it was before the mining issues surfaced. During Tesla's Q1 2021 earnings announcement, Tesla revealed that it has sold 10% of its BTC holding to prove liquidity of bitcoin as an alternative to holding cash on the balance sheet.
Soon after this tweet, Bitcoin started to pick up momentum and gained almost 14% to reach a 24-hours high of $39,746 on early Monday, June 14th.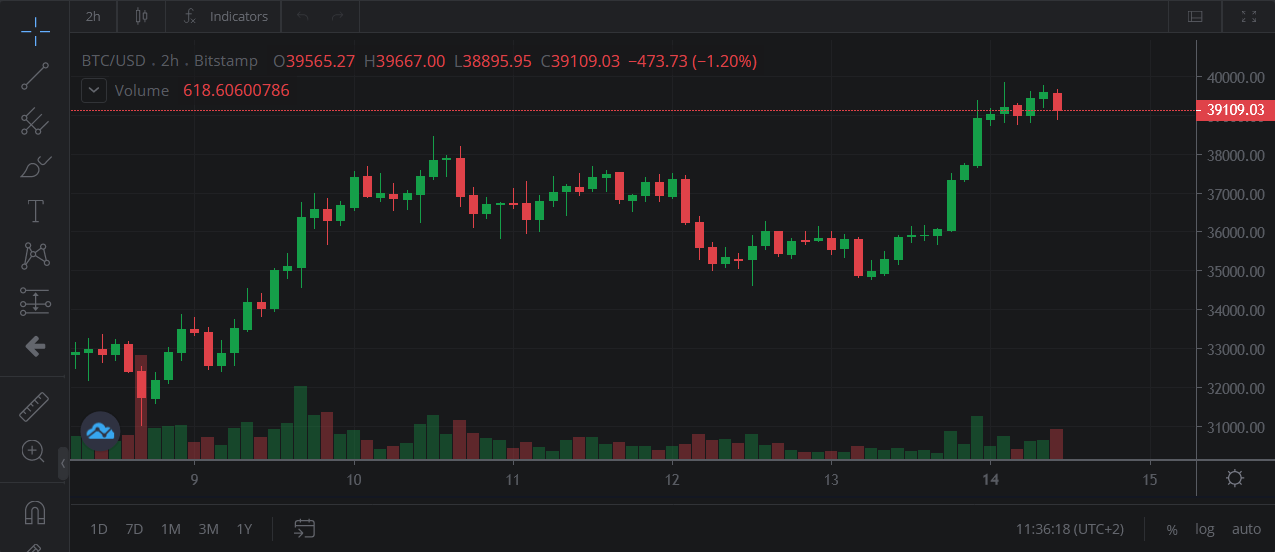 Another major development is around the much-anticipated Bitcoin Taproot upgrade. The Taproot upgrade is now locked in for deployment in November of 2021 as it has achieved the 90% mandate required.
As Crypto Economy published earlier, according to Speedy Trial rules, Taproot required 90% of blocks mined within any of the six Bitcoin mining difficulty periods (were to end on August 11) to signal support for the upgrade. This meant that 1,815 out of 2,016 blocks mined within a period were to include a signal bit to indicates that the miner who mined that block is in favor of the upgrade.
The first Bitcoin mining difficulty was unable to reach the threshold. The second period ended on Sunday, June 14th, and according to Taproot Watch, more than 90% of mined blocks have signaled support for Taproot. With the completion of the first phase of the Speedy Trial, Taproot is now locked in for activation.
During the 5-month waiting period, miners and nodes will update their software to Bitcoin Core 0.21.1, the newest version of Bitcoin Core that contains activation logic for the Taproot soft fork. In November, Taproot will be activated at a Bitcoin block height of 709,632.
---
If you found this article interesting, here you can find more Bitcoin news