Bitcoin (BTC) has lost critical levels slipping below the $16,000 mark to hover at $15,700. Former BitMEX CEO Arthur Hayes, weighed in on the current market scenario to double down on his $10,000 Bitcoin price prediction.
The bloodbath continues in the wake of the FTX spillover that has shattered the crypto market. Cryptocurrencies registered unexpected lows after the fall of Sam Bankman-Fried's crypto exchange, FTX. Several companies with exposure to the beleaguered exchange lost billions of dollars of wealth.
FTX's bankruptcy unleased a havoc on the crypto sector leaving investors and customers on the edge of a severe liquidity crisis. Leading crypto companies such as BlockFi and Genesis are on the brink of bankruptcy. It seems, the FTX turmoil has deepened as major digital assets including Bitcoin (BTC) and Ethereum (ETH) have lost a significant chunk in valuation.
Will Bitcoin Breach $10K?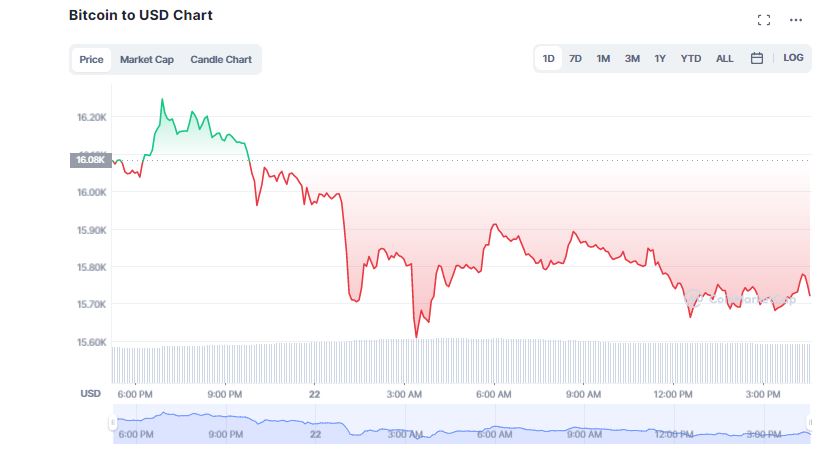 According to CoinMarketCap, Bitcoin (BTC) fell 2.11 per cent in the last 24 hours and is currently trading at $15,732. BTC dropped below $16,000 in the past 24 hours as the broader crypto market cexperienced intense selling pressure. The bears pulled the price below the support level suggesting the lack of demand from the bulls. Bitcoin's dominance declined 0.09 per cent over the day to 38.69 per cent.
The flagship crypto is down more than 6 per cent in the past seven days. Earlier today, Bitcoin (BTC) hit $15,480, its lowest level since Nov. 11, 2020. On November 22, Former BitMEX CEO Arthur Hayes took to Twitter to express that BTC is on way to hit $10,000 very soon. Hayes's comments come on the heels after Genesis reportedly started warning about a potential bankruptcy without funding.
Well that's the end of that. Now all my friends in restructuring will be asking if I know anyone at Genesis, I can connect them with. $BTC = $10k 😔 pic.twitter.com/FK36HgJLea

— Arthur Hayes (@CryptoHayes) November 21, 2022
Bears Have Near-term Technical Advantage
Several crypto experts have predicted that the choppy conditions will continue as investors fear the FTX collapse could cause further contagion across the industry. Jim Wyckoff, a crypto technical analyst said that bears still have the overall near-term technical advantage over BTC prices.
#Bitcoin trying to catch bids after retesting the YTD lows. Not surprised to see it jump a bit after hitting that level, as I'm sure there were a bunch of limit orders in that range.

Time will tell how this shakes out, but I think I've been clear (for months) to expect new lows. pic.twitter.com/wSsPSPeFSH

— Caleb Franzen (@CalebFranzen) November 21, 2022
On the other hand, Caleb Franzen, founder of Cubics Analytics anticipated that there is a possibility of Bitcoin (BTC) going down further. In a statement, Edul Patel, CEO and Co-founder, Mudrex noted,
"If the price of BTC closes below the $16,000 level today, we could see a retest of the vital support at $15,588 and then towards $12,200."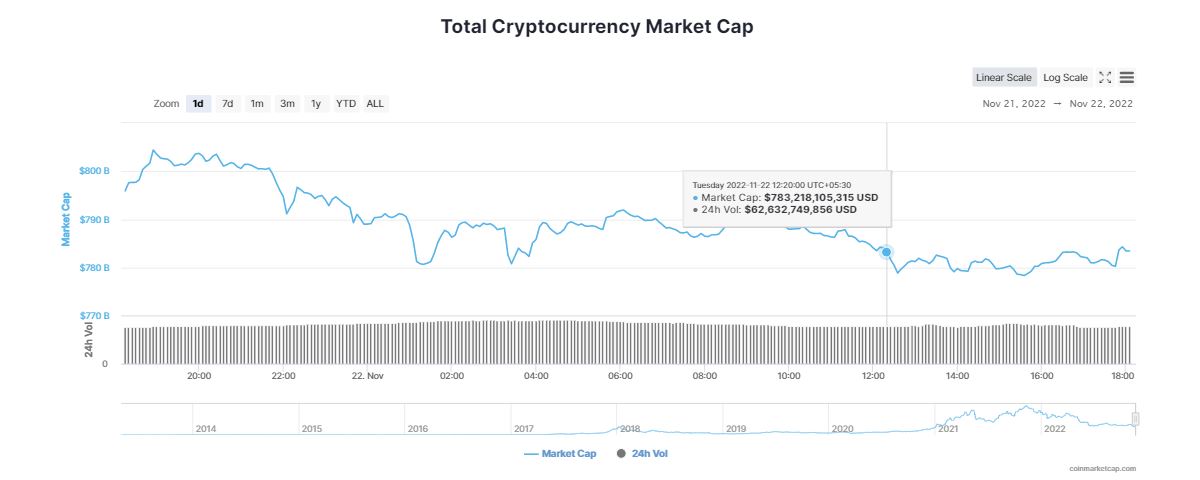 Meanwhile, the global crypto market cap continued to dip tanking almost 1.90 per cent in the last 24 hours to $782.23 billion. Ethereum (ETH) continued to slide towards its support at the $1,000 level dropping 2.65 per cent over the day. In the same time span, most of the top altcoins traded with cuts.