Bitcoin [BTC] fell to a monthly low after taking a plunge below a key support level of $30K. The cryptocurrency market has been feeling the heat from the incessant rangebound price action. But there's more than what meets the eye.Is Bitcoin and the rest of the digital asset market stepping into the crypto-winter. Let's try to understand some of the aspects that have catalyzed the negative market sentiment and relentless dump. The institutional demand flows is a major factor that acts as a necessary source of capital inflows to reach and sustain higher valuations.
According to the latest Glassnode report, Grayscale Bitcoin Trust [GBTC] market price was still trading at a significant discount last week, ranging between -11.0% and down to -15.3%. The discount saw a minor recovery from the absolute lows of -21.3% to NAV.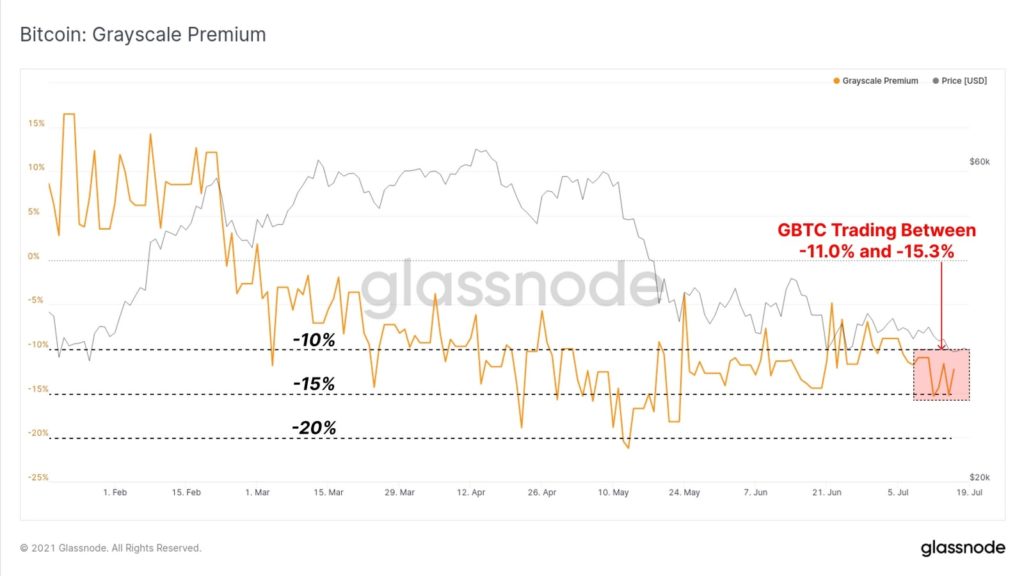 It was observed that institutional demand is relatively weak across regulated products. Similar to GBTC, the brand-new Purpose ETF also experienced a slow-down in net inflows this week. This comes after a period of considerably strong demand through May and June. As a matter of fact, the second week of July closed with the largest net outflow of -90.76 BTC since mid-May this year.
No, institutional investors are not going anywhere
Despite these bearish signals, it is important to understand that the exchange-traded fund is a new product and given the present market scenario, investors were treading lightly. Moreover, it was also observed that on-chain data suggests accumulation may be underway. Here's why Bitcoin's bullish fest is far from over.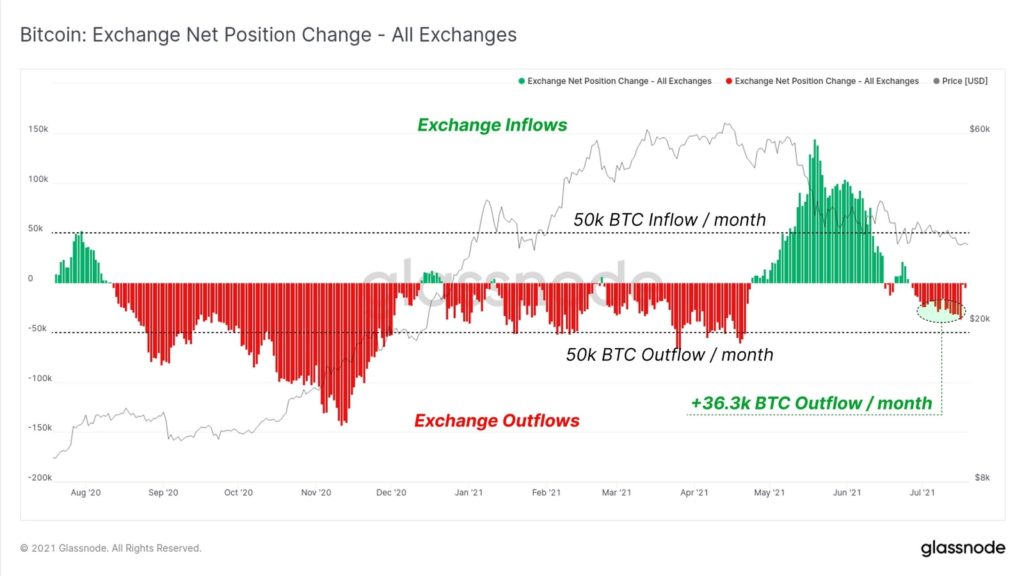 Firstly, the strong accumulation game was depicted by the latest exchange net position in the above chart which sank significantly since the beginning of this month and has been increasing ever since. Cryptocurrency exchanges are currently seeing a rate of net outflows of around 36.3k BTC per month.
To top that, the great migration has failed to deter the Bitcoin miners who have been demonstrating extreme patience and sentiment to accumulate. Hence, we cannot rule out the possibility that additional sell-side force from offline miners is being more than counterbalanced by the remarkable profitability of the rest of the operational miners.
Rothschild's Investment in Grayscale Bitcoin Trust
The likes of Rothschild are synonymous with extreme wealth. As per the latest SEC filing, the Chicago-based institutional behemoth has reportedly bought more than 100K shares of the GBTC during the second.
The filing indicates that Rothschild holds 141,405 shares of the Bitcoin product as of the 30th of June from a little over 38K shares by the end of March this year. This development comes at a phase of heavy losses followed by a sustained phase of stagnation.
An opportunity?
So as I've said and as I'll continue to say – keep stacking.

Don't waste this opportunity.

— K A L E O (@CryptoKaleo) July 12, 2021
Several investors have now chimed in with their "buy the dip" chants. Popular cryptocurrency analyst Kaleo is no different. Despite headwinds, he said that the current buying opportunity is tremendous and that Bitcoin hasn't really touched the top of this cycle yet.
This might seem a bit far-fetched, however, one cannot ignore Bitcoin's Negative Stock-To-Flow deflection which is the highest it has ever been in the whole history of the crypto-asset, offering a great buying opportunity.
---
If you found this article interesting, here you can find more Bitcoin news