Bitcoin swayed towards its support area once again after a bullish breather. The world's flagship crypto-asset topped right about at strong resistance at around $33.2k-$33.7k as shorts soon made a headway shortly thereafter. Bitcoin was now trading at $31,924 as the range slim range tightened.
While the charts might look gloomy at the moment, the Bitcoin whales are still accumulating in anticipation of higher prices. According to the on-chain analytic firm, Santiment, Bitcoin's "millionaire" wallets [i.e., addresses holding between 100 and 10,000] are increasing their holdings. As a matter of fact, the collective figure for holdings has surged by 100,000 BTC in less than two months.
The tweet regarding the same read,
"Bitcoin may have dropped to $31.5k Thursday, but the $BTC 'millionaire tier' of addresses holding between 100 and 10,000 keeps climbing. The cumulative amount of holdings for these whales has increased by 100,000 $BTC since May 21st"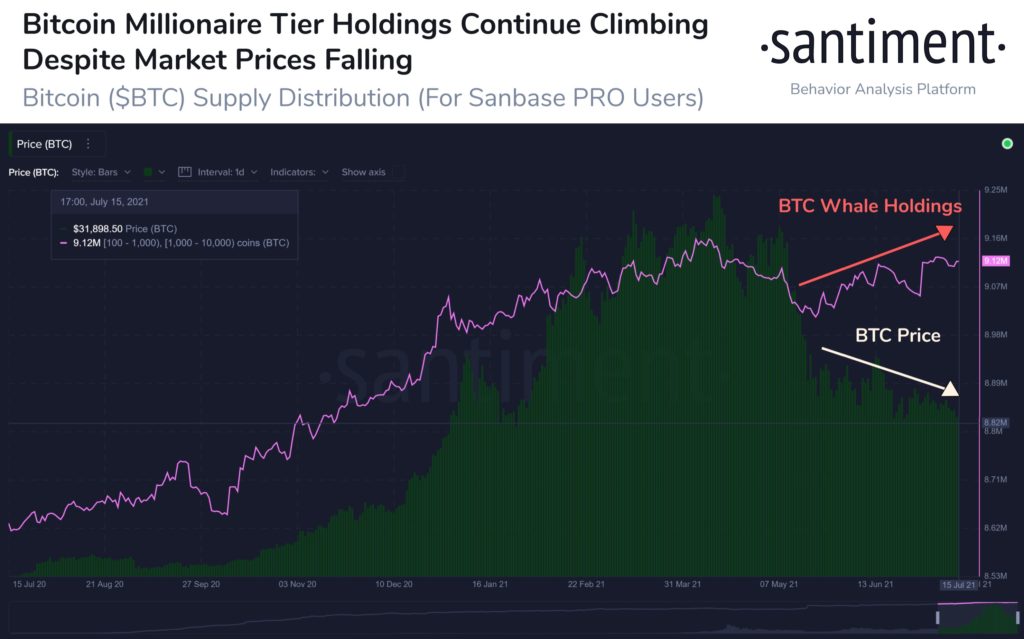 According to the above chart, the millionaire tier holdings have maintained an overall upward trajectory even during Bitcoin's spectacular bull run. The mid-May crash damaged the trend, but the rapid rebound to the previous level of high was a testament to the strong bullish outlook by the whales.
But is this a complete picture? Maybe not.
Bitcoin Selling Pressure Contradicts Whale Accumulation
It is important to understand that whales do not really care about short-term price movement. They are in it for the long game and accumulate even in bearish times while shorting.
On the other hand, Crypto Quant's CEO, Ki Young Ju believes that whales were also depositing the cryptocurrency to Binance and other exchanges depicted a completely opposite picture. The exec also believes that selling pressure has intensified and the market has turned bearish.
$BTC Selling pressure seems to be high.

Read more in Quicktake👉https://t.co/ExcvE3zahU https://t.co/7ExT6dDyDq pic.twitter.com/IXucriuNvC

— Ki Young Ju (@ki_young_ju) July 16, 2021
In addition to that another analytic platform, Glassnode stated that Bitcoin is currently trading near the lows of a significant on-chain volume node.
Between prices of $31k and $34.3k, more than 1.86 million Bitcoin have transacted on-chain, which is equivalent to 9.93% of the circulating supply. According to the firm, this is now supposedly the largest realized volume cluster since $12k.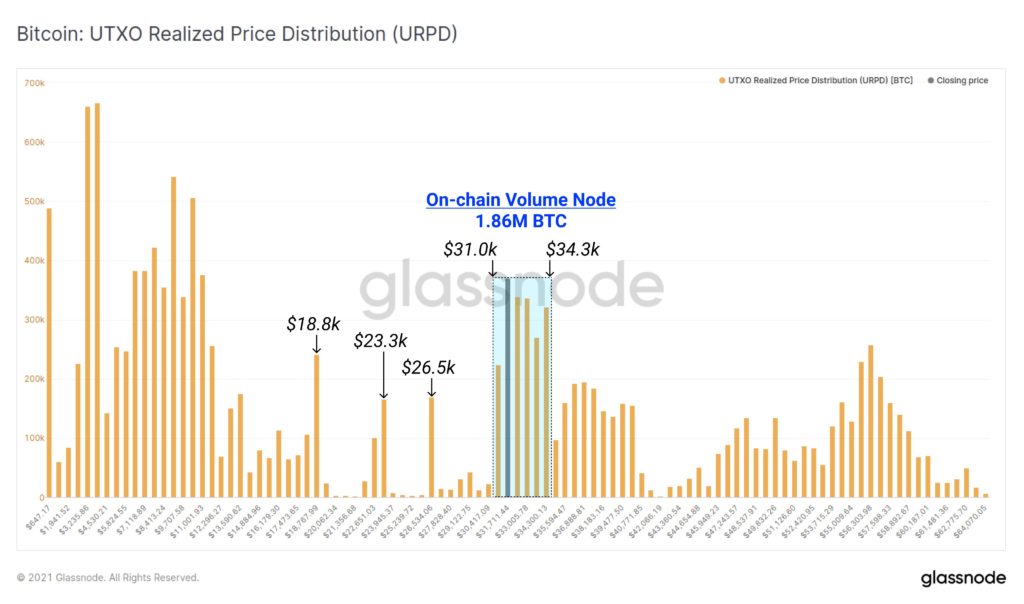 According to a Glassnode on-chain analyst, the above chart depicts that many holders sold, and others bought coins at this particular level. Meaning, support and buying interest exists. Most importantly, a trend such as this has led to a big move in the near term.
There is considerable uncertainty in the Bitcoin market. While there is a strong demand area, the activity of retail stakeholders has been drifting lower. Retail investors are the ones that drive the bull market. The lack thereof can cause some impediment to a potential case of price recovery.
In short, Bitcoin's long-term scenario is pretty bullish. On the short-term, however, things may get choppy as selling pressure continues to drive the price towards $30k.
---
If you found this article interesting, here you can find more Bitcoin news