Bitcoin (BTC) is down 13% from April highs and edging lower. However, following sharp losses in mid this week, prices recovered yesterday. 
The bar closed with a long lower wick suggesting strong buying pressure in the closing stages. 
Besides, the bounce was from a critical support level marking last week's lows at around $25.8k. 
The failure of bears to press on; confirm losses of May 24 may mean the wide-ranging bar was climactic. 
It is despite the bearish engulfing bar contracting from around $27k week's7.5k resistance levels.
Debt Ceiling and Politics
Investors are closely watching the debate around the United States debt ceiling. There are some speculations that the country could default on its debt. 
While unlikely and the market uncertain on how the Federal Reserve will decide on its monetary policy, the impact has been clear on Bitcoin, crypto, and the stock market. 
On March 24, they fell as traders exited and considered safe havens like the USD and gold. Noticeably, BTC and top crypto assets swung back as "risk assets", crashing." The debate remains, and the uncertainty could further cap gains, forcing the coin lower.
Meanwhile, the United States presidential candidate Ron DeSantis thinks the current Biden administration considers Bitcoin a threat to national security.
In a Twitter space with Elon Musk and venture capitalist David Sacks, DeSantis said they could regulate crypto out of existence if the current regime continues like this.
Bitcoin (BTC) Price Analysis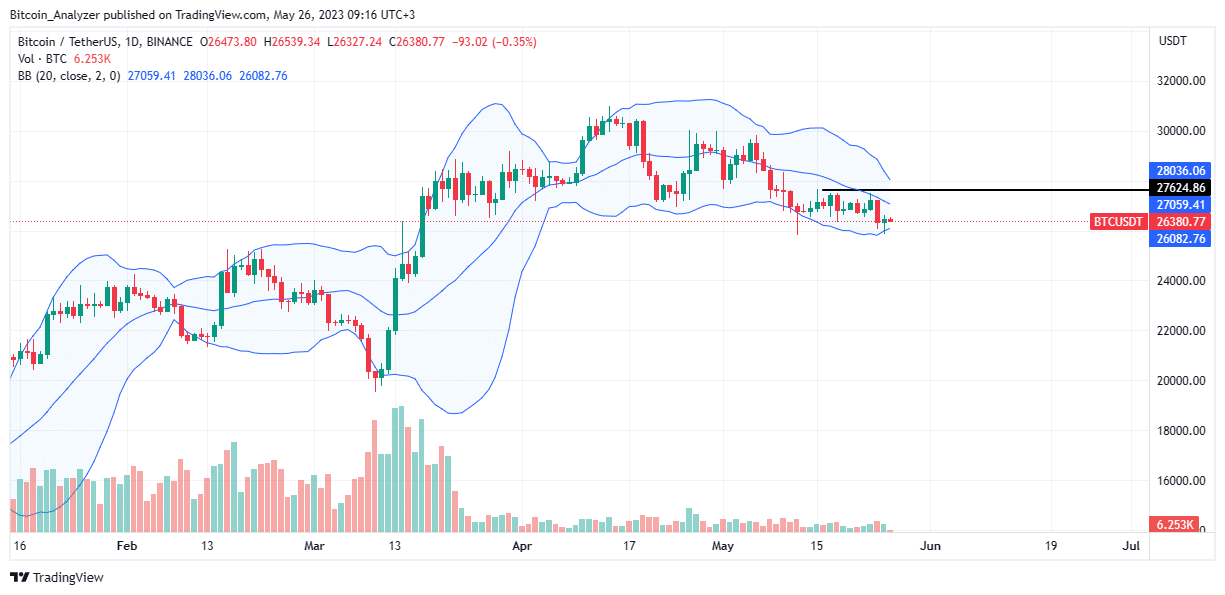 BTC prices are mostly stable despite current losses. To illustrate, the coin is down 2% in the past seven days.
The path of least resistance, nonetheless, remains southwards. Until there is a conclusive close above the $27k and $27.5k range, sellers are in control. 
Notice that prices are still within the May 24 trade range. The bar is bearish, engulfing, and with decent volumes. It represents a breakout bar and guides the current trend.
Since prices are inside this bar, the immediate trend is bearish from an effort-versus-result perspective.
Accordingly, aggressive traders may look to sell, targeting $25.8k or lower in the days ahead.
Conversely, if buyers press on, reversing May 24 losses and pushing prices above $27.5k with rising volumes, Bitcoin may recover.
Technical charts courtesy of Trading View.
Disclaimer: The opinions expressed do not constitute investment advice. If you wish to make a purchase or investment we recommend that you always conduct your research.
---
If you found this article interesting, here you can find more Bitcoin News.