Amid the pension crisis and fear gripping traditional finance, Bitcoin remains steady and "propped" by traders' and investors' hopes.
From the daily chart, BTC remains within a momentum-sapping trade range, trending inside a $1.5k zone with clear resistance at around the $20k level on the upper end and $18.2k on the lower end.
Overall, crypto, especially Bitcoin, could bounce back from the 2022 pits and align with the primary trend of 2020 and 2021 if other central bankers follow the Bank of England in interventions.
Will Central Banks come to the Rescue?
Currently, traders are closely monitoring unfolding events, aware that if central banks shift to a more dovish stance, pausing their aggressive tightening of the past year, BTC could lead the surge in the coming days.
According to billionaire investor Stanley Druckenmiller, there is hope for Bitcoin and crypto even though it might not be the best time to hold risky assets.
In his view, any change of stance and shift of monetary policy towards a more interventionist approach could see Bitcoin lead the Renaissance since people's trust in banks will have taken a massive hit.
"I still think — if the Bank of England, what they did is followed by stuff like that by other central banks in the next two or three years, if things get really bad, could see cryptocurrency having a big role in a Renaissance because people just aren't going to trust the central banks."
Bitcoin Price Analysis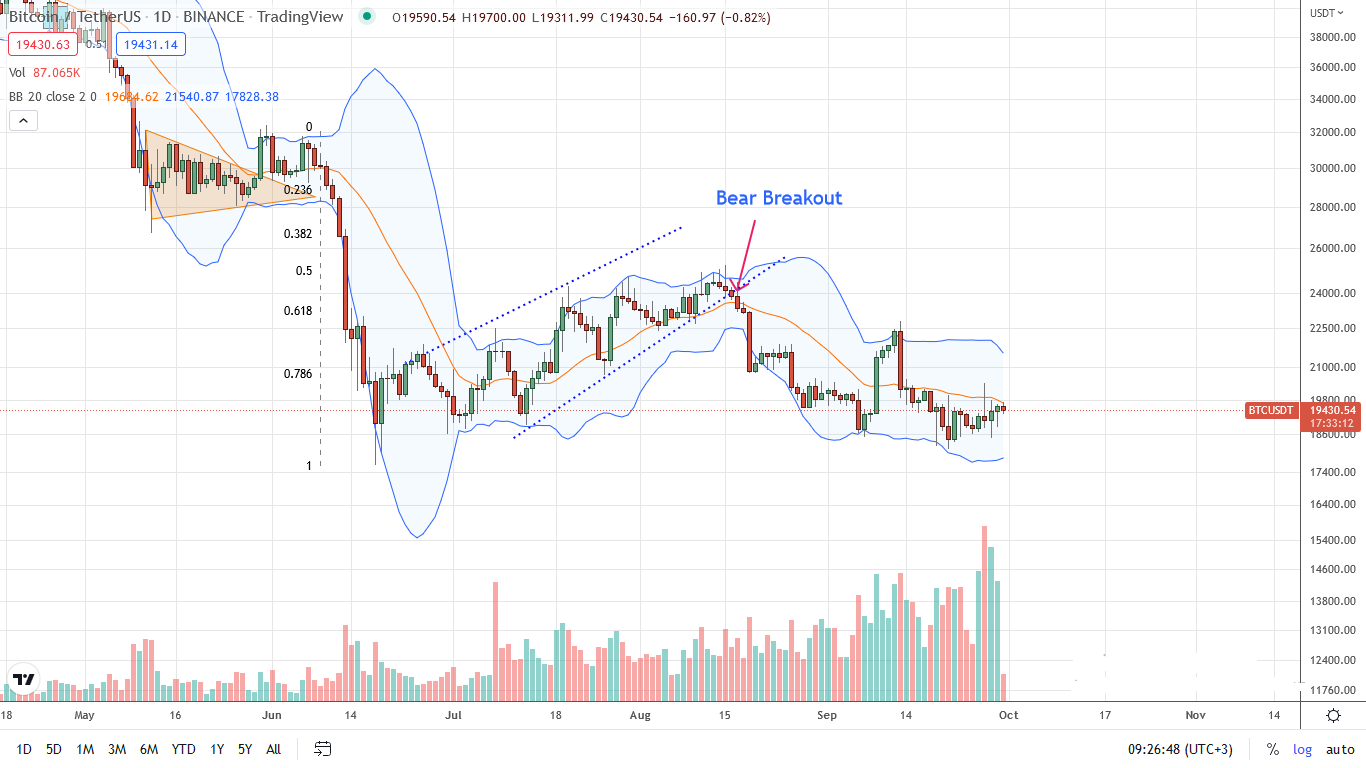 Bitcoin prices are within a tight, narrow range and remain highly volatile.
Even though traders were hoping that fundamental factors drive the coin to new highs, it appears that the candlestick arrangement would guide traders going forward, assuming the market remains efficient. The primary resistance and support lines are at $20k and $18.3k in the short term.
While the trend is bearish, there are encouraging higher highs versus the lower BB, pointing to waning downside momentum. Therefore, if buyers confirm their presence by breaking above $20k with relatively high trading volumes, traders might find entries to ride the emerging trend, targeting $22.5k.
Conversely, sharp losses below $18.3k will dent bulls' hopes, initiating a sell-off that may see BTC slump to retest 2022 lows.
Technical charts courtesy of Trading View.
Disclaimer: Opinions expressed are not investment advice. Do your research.
---
If you found this article interesting, here you can find more  Bitcoin news.