In Egypt the first local bitcoin Exchange initiative is underway, due to be launched in late August. Citizens will thus have direct access to the crypto-virus for the first time.
As every crisis is usually an opportunity, in this case the opportunity gave the situation that the international bitcoin exchangers refuse to deal with the Egyptian pound, being this a barrier in the adoption of bitcoin. Acquiring bitcoin can actually be done through LocalBitcoins or with money exchangers who work with other payment methods. However two businessmen from Alexandria, Rami Khalil and Omar Abdelrasoul, saw in this circumstance the opportunity to change this and create the local service.
"We got the idea after we saw that there were a lot of people in Egypt who wanted to trade crypto currencies but they were hard doing in international exchanges as they were unable to buy the currencies using the Egyptian Pound (EGP) So we decided to offer a solution giving them the opportunity of trading with the EGP ", say the creators of this platform.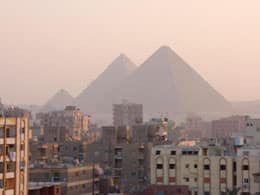 The Egyptians have suffered a severe loss of purchasing power of their national currency. The central bank devalued the currency in November as part of an agreement with the IMF for a three-year, $ 12 billion loan. Since the devaluation, the Egyptian pound lost more than 50 percent of its value against the US dollar.
With the weakest local currency inflation has soared to 30 percent, with a potential side effect, and is that bitcoin will be a savior to the Egyptians. With citizens feeling the austerity, it will come as no surprise if Bitcoin Egypt goes immensely popular when it will be launched in late August. With the limited bitcoin number in existence which will never exceed 21 million, and the declining rate of money supply growth, countries that have experienced sharp increases in inflation, such as Venezuela, have largely adopted bitcoin. Cryptocurrencies provides them with one of their only safe spaces if the economy is experiencing a catastrophe.
Could Egypt follow in the footsteps of India, and become an important hub for bitcoin trading in a short period of time? Austerity will have lasting economic impacts. Bitcoin Egypt has come at the right time. In addition, the birth of an exchange called EGP bodes well for the future of the Bitcoin ecosystem in Egypt. Everything looks promising for Bitcoin Egypt.
We invite you to follow the day by day about the cryptocurrencies, blockchain and bitcoin world at Crypto-economy.