The crypto market has gone into a freefall yet again as Bitcoin posted another long red candle to move below $19,000. The global crypto market cap is down by around 7.60% in the last 24 hours. It currently stands just below $900 billion, after losing over $80 billion in a day. Therefore, Bitcoin and altcoins have posted severe losses, as clouds of fear and uncertainty loom over the crypto market.
Last week, Bitcoin gained some strength to approach the $23,000 mark. However, the leading digital currency failed to hold that position for a long. After the revelation of the US CPI numbers, Bitcoin lost track. Yet, it touched $20,000 on the weekend, ensuring some positivity among crypto consumers. But it crashed hard again at the start of the new week.
At the time of writing, Bitcoin is trading around $18,630. After sliding below $19,000, the coin touched its lowest point in the last three months. Bitcoin has a market cap of $353 billion and a 24-hour trading volume of under $40 billion. In the last seven days, the coin has lost around 16% of its value. Also, its market dominance stands at only 39%.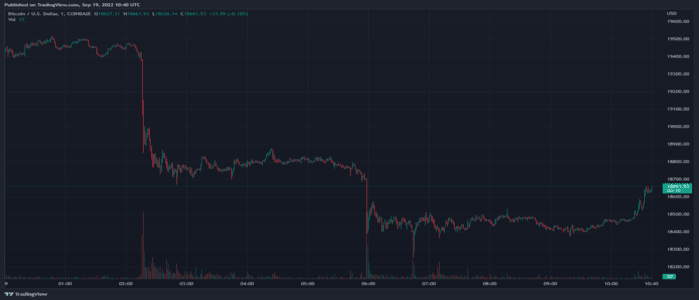 The Merge Could Not Help ETH Post Gains in the Crypto Arena
There was a lot of anticipation about Ethereum's much-awaited Merge in the crypto and blockchain industry. However, to everyone's surprise, Merge was unable to boost the price of the leading altcoin. The second largest crypto token has lost over 8% in a day, taking its weekly losses to around 25%. ETH is lingering around the $1,300 mark despite starting the last week at $1,700.
The most prominent reason for the underperformance of Bitcoin, Ethereum, and other crypto tokens is the overall macroeconomic factors. It has less to do with the technical aspects and more to do with the uncertainty of the interest rates. Therefore, many experts believe that Ethereum got the timing quite wrong for the Merge.
On the other hand, several altcoins have posted double-digit losses. These include XRP, DOT, MATIC, AVAX, and ADA. Meme coins, including DOGE and SHIB, have also lost a major portion of their value. The crypto market presents the view of a bloodbath right now. Moreover, there is little hope of any swift recovery soon. The next Federal Open Market Committee (FOMC) is expected to rise the US interest rate by a full percentage point. This might jolt the entire crypto market which is already on its knees.