Bitcoin (BTC) is dropping when writing, looking at the performance in the daily chart. Even though the uptrend remains, at least from how the coin has been solid in the past few months, sellers are now in control.
Notice that BTC rose 55% from mid-March, peaking at $31k by April. Expanding further, Bitcoin nearly doubled after sinking to 2022 lows in November.
This could be the case in the closing days of April and is expected to continue, yet when we look at Bitcoin (BTC) current prices on CoinMarketCap we can easily see how it's moving on a bearish trend. 
When prices peaked in April, the coin was up a massive 90%, a huge confidence boost for diamond holders who shrugged off deep losses throughout last year.
Hash Rate and Mining Difficulty
Despite the contraction in Bitcoin prices, the hash rate, the measure of computing power channeled to secure the network and confirm transactions; is at record highs.
At over 355 EH/s, miners appear confident of what lies ahead.
Even with deteriorating prices and bears taking charge, they are not exiting. Whether this trend will continue depends on if the network will automatically adjust mining difficulty.
In the past five occasions, miners have found it more challenging to discover blocks as the hash rate rose.
However, with falling prices, there could be some miners who exit. Subsequently, this may mean lower difficulty levels, so each BTC block is mined within the network stipulated 10 minutes.
The last time difficulty was decreased was on February 12.
Bitcoin Price Analysis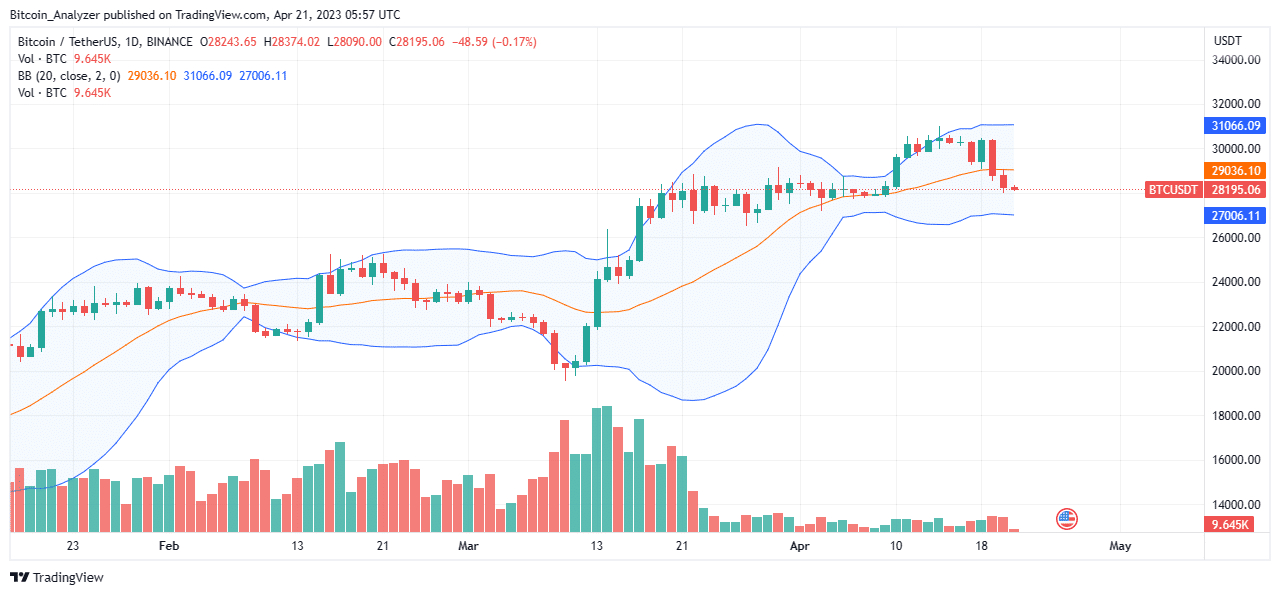 Bitcoin prices are down seven percent from recent peaks, trading below the 20-day moving average for the first time since March 13. On this day, BTC rocketed higher, building on the gains of March 12. The expansion was the anchor that saw the coin rally 55% to $31k.
With dropping prices and the April 19 bar engulfing and bearish, traders can look to sell on every attempt toward $29.6k. This line marks the highs of the April 10 bull bar. At this pace, the immediate target is $25k, or February 2023 highs in a retest.
The only concern for bears is that the current retracement is with relatively low trading volumes. If there is a spike in participation today to mid-March levels, BTC may drop even faster, collapsing to $25k and worse in sessions ahead.
An unexpected pump above $31k today or this weekend will cancel this bearish outlook.
Technical charts courtesy of Trading View.
Disclaimer: Opinions expressed are not investment advice. If you wish to make a purchase or investment we recommend that you always conduct your research.
---
If you found this article interesting, here you can find more Bitcoin News.