The crypto market plunged after the much awaited software upgrade of Ethereum. Following a brief spell of gains, Bitcoin (BTC) tanked below the psychological level of $20K, yet again. Even after the transition to Proof-of-Stake (PoS), Ethereum (ETH), is down almost 10 per cent over the day.
BTC Retests $19K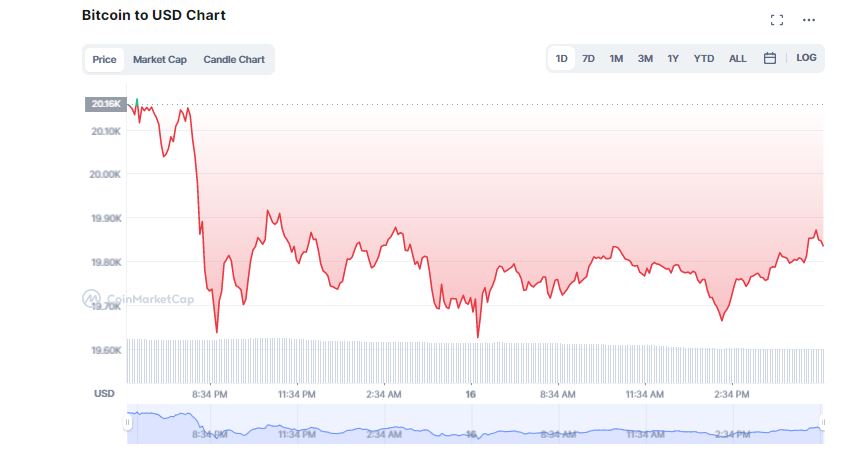 Bitcoin (BTC) continued its downward spiral movement sinking nearly 2 per cent in the last 24 hours to currently trade at $19,809. BTC declined more than 6 per cent over the last 7 days as rate hike fears haunted investors.
After a brief rally, the bellweather token failed to sustain its upward movement and plummeted creating a massive bearish engulfing candlestick. However, as per CoinMarketCap data, Bitcoin's dominance observed an increase of 0.45 per cent over the day to stand at 39.44 per cent.
Earlier this week, Bitcoin (BTC) suffered its biggest drop in three months on Tuesday, falling nearly 10 per cent in the wake of a worse-than-expected August inflation report. The digital token's value has shrunk by more than 70 per cent since hitting record high of $69,000 in November 2021. On Tuesday, the Dow Jones Industrial Average slid 3.94 per cent, yanking the entire crypto market along with it.
Merge has No Immediate Affect on ETH Price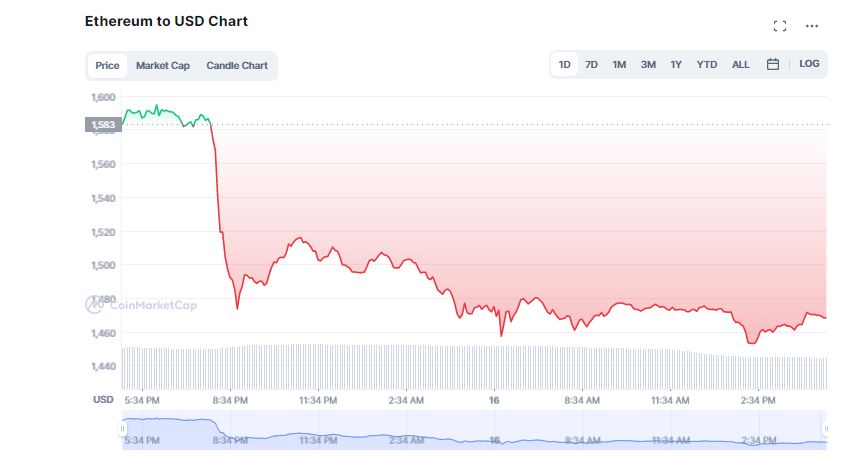 Yesterday, Ethereum (ETH) finally activated its highly anticipated, "Merge" shifting from the Proof-of-Work consensus mechanism to the Proof-of-Stake consensus mechanism. But it seems the historic software upgrade has not had an immediate impact on the price of Ethereum (ETH). Ether dropped below $1,500 despite the Merge being a resounding success.
The world's second largest cryptocurrency took a tumble falling more than 7 per cent in the past 24 hours to hover around $1,467. Its next primary support level now lies at $1,400, while the immediate resistance is at $1,500. In a statement, Edul Patel, CEO and Co-founder, Mudrex claimed that if ETH falls from its its current level, then we might see ETH test the $1,300 level again. He added,
"The Merge may not have any immediate impact on the price action of ETH now as it takes some time for the market participants to digest such significant events."
Global Crypto Market Cap Below $1T
Meanwhile, the overall crypto market has recorded significant losses as major altcoin were trading with cuts over the last 24 hours. The global crypto market cap was trading lower than $1 trillion, once again. It fell over 3 per cent in the last 24 hours to $960.89 billion. The total trading volume tumbled as much as 22 per cent, close to $69.45 billion.
It is expected the FOMC will likely push interest rates by 75 basis points next week, while a 100-bps hike can not be ruled out. Investors should expect new volatility next week following the Fed's next expected rate increase anticipation.
Will Crypto Bear the Brunt of another Rate Hike?

Howard Greenberg, a cryptocurrency educator at Prosper Trading Academy, expressed that as cryptocurrencies have been increasingly moving in tandem with the traditional markets and the correlation has only surged in recent months. Greenberg continued,
"I will be watching the U.S. dollar index (DXY) closely leading into the Federal Open Market Committee (FOMC). We had seen bitcoin rally as DXY cooled off last week but expect more downside if that breaks back above $110.50 as traders go more risk-off."
Experts believe that market choppiness will likely continue in the short term as aggressive rate hikes are not positive for crypto prices. Edward Moya, a senior market analyst at Oanda suggested if the stock market dips because of another rate hike, the crypto market likely will too. He explained,
"The majority of crypto watchers are still awaiting further weakness. As global recession calls grow, the focus will switch to how soon the Fed will be cutting rates."