Bitcoin prices are up a moderate 10 percent from January 2022 lows. However, they are frustratingly stable at the time of writing.
At the back of worrying news of skyrocketing inflation readings in the U.S. countering repeated FED's reassurance, BTC would, technically, be soaring as a preferred hedge.
Inflation Rising to Uncomfortable Levels
In December, inflation readings rose seven percent, exceeding expectations. This was at the back of another five percent increase in November 2021, quashing FED talk that inflation is transitory.
From current numbers, inflation is more than triple the two percent benchmark used previously to determine the U.S. Fund rates.
Still, this was expected.
Since March 2020, the U.S. FED has offered direct economic support, even airdropping money, to affected citizens.
In combination with record low-interest rates and a multi-billion bond purchasing program, the U.S. economy pulled through what would easily be the worst healthcare crisis in the 21st century.
BTC as an Inflation Hedge
At present, fears of high inflation far above the U.S. interest rates defeat the purpose of storing value in fiat. For this reason, Bitcoin fits the bill as a choice hedge against high inflation.
Though BTCUSDT prices are stable at the time of writing, sharp gains of early this week could be the foundation for another leg up in sync with developments of Q3 2021.
Even so, that BTCUSDT fund rates in the leveraged derivatives market are negative could also mean the unexpected expansion of last week may be a short squeeze. Whether that is true largely depends on subsequent price action.
Bitcoin Price Analysis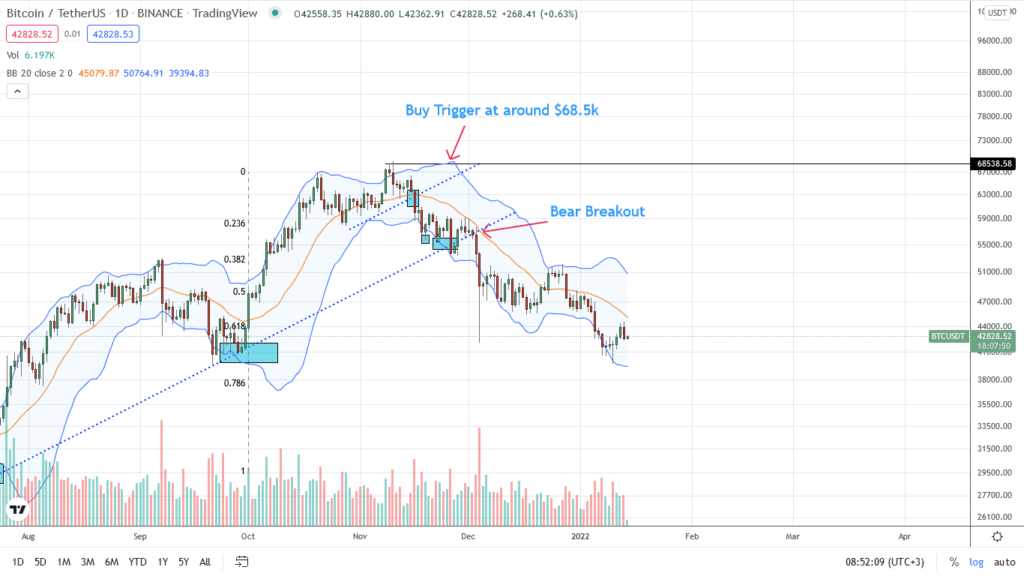 The Bitcoin price is bouncing from January 2022 lows, adding seven percent in the last trading week. Despite gains, the BTCUSDT price action remains within a bearish formation, reading from the candlestick arrangement in the daily chart. For instance, BTCUSDT prices are still capped below the middle BB. Nonetheless, for buyers, the lift of early this week was with high trading volumes signaling strength.
As such, they may find entries to buy the dips, targeting $46.5k—previous support now resistance. Even so, there would be more solid entries if BTC surged above $47k–edging past the flexible resistance line—the middle BB. In that case, the base for a moonshot back above $50k to $53k would have been established.
On the flip side, if prices continue to slide, unwinding early this week's gains, aggressive bear traders may liquidate on pullbacks targeting January 2022 lows of around $39.8k.
Technical charts courtesy of Trading View
Disclaimer: Opinions expressed are not investment advice. Do your research.
---
If you found this article interesting, here you can find more  Bitcoin news