The prices of Bitcoin (BTC) are firm but below the psychological $30k level reading from the performance in the daily chart. The path of least resistance remains northwards, and prices remain in a horizontal consolidation. 
Per the current development, traders can wait until there is a high volume, comprehensive breakout in either direction, confirming the current bullish preview or canceling the upward momentum. 
Key levels at the moment are $31.8k, marking 2023 highs, and $29.5k on the lower end. The horizontal consolidation means a minor bull flag is forming, and buyers still have a chance as long as $29.5k holds in the short-to-medium term.
XRP Ruling, Tesla HODLing
The lull in Bitcoin comes days after a United States judge ruled that XRP is a commodity just like BTC and that Ripple didn't break any law. 
That places the ball back in the United States Securities and Exchange Commission (SEC) court as they didn't provide sufficient evidence. This is a net positive for XRP, Bitcoin, and the broader crypto space. 
However, it also means that XRP might find institutional adoption. Investors can opt for the third-largest cryptocurrency that has since rallied by over 70% from July 2023 lows. Whether the uptrend will remain and the momentum sustained in the coming days is yet to be seen. 
Recent reports also show that Tesla didn't sell any of its Bitcoin holdings in Q2 2023. That means the Elon Musk-led electric automobile company held on to their coins worth over $184 million for the fourth straight quarter.
Bitcoin (BTC) Price Analysis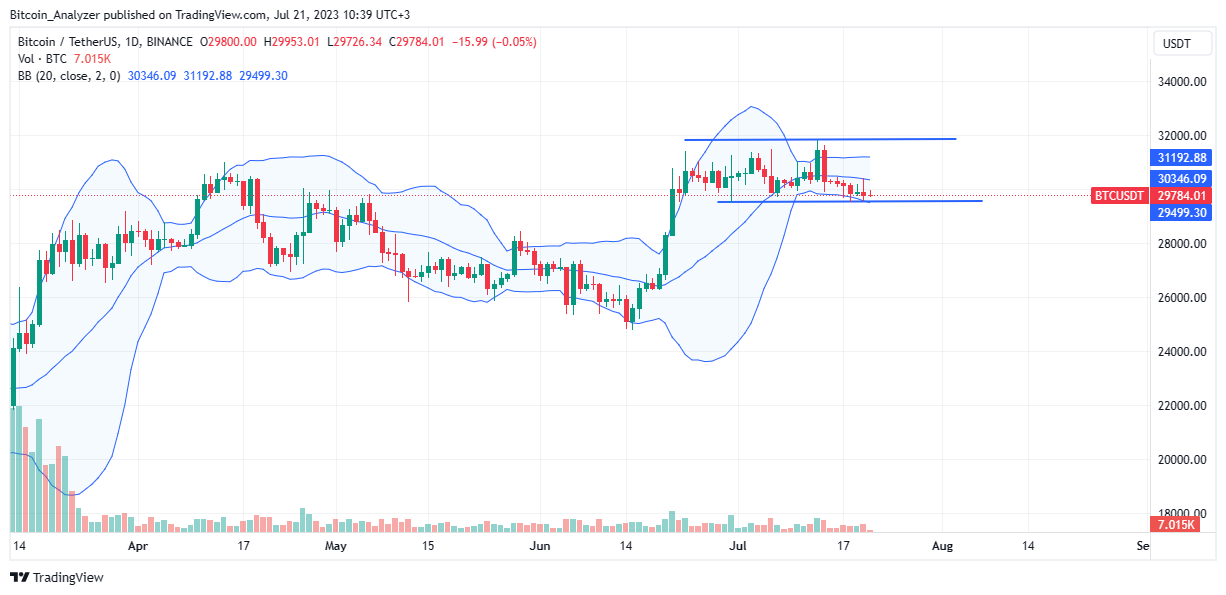 Bitcoin remains within a horizontal range, looking at the performance in the daily chart.
As mentioned, BTC has resistance at July 2023 highs of around $31.8k. Support stands at $29.5k.
Since price action has been trending in the lower range of the consolidation zone, the odds of a bear breakout are high. Still, the general trend from a top-down preview is northwards. 
Accordingly, traders can look for buying opportunities only if there is a comprehensive close above $31.8k, confirming gains of June 21. Then, BTC may float higher to $32.5k and $35k in a buy trend continuation formation.
If not, losses below $29.5k at the back of expanding trading volumes may cancel the current bullish preview. In that case, BTC will likely crumble to $28.3k in a retest.
Technical charts courtesy of Trading View.
Disclaimer: The opinions expressed do not constitute investment advice. If you wish to make a purchase or investment we recommend that you always conduct your research.
---
If you found this article interesting, here you can find more Bitcoin News.