An eventful day that has seen Bitcoin add more than $400 in less than 30 minutes Wednesday morning according to Coinmarketcap.
At 01:00 UTC after the coin closed around $6,500 on Tuesday, there was a significant spike in the price of Bitcoin which peaked 4:04 UTC trading at $6,816 adding $428 in less than thirty minutes.
The last time Bitcoin traded near the $6,800 mark was two weeks ago. With the spike, Bitcoin has added $12 billion capitalization while the total coin market has been boosted by $221 billion.
The Wednesday spike was the first time Bitcoin traded above the $6,800 mark since August 7. Spikes like that usually create excitement in the coin market which has been expecting a repeat of the massive bull-run Bitcoin had in 2017 that resulted in an all-time-high of $20,000. At $6,600 the coin is still 65 percent lower than that figure.
The coin market last week experience substantial losses after the Securities and Exchange Commission (SEC) announced that it would not take decisions over the Bitcoin ETF which its approval would have created regulated environment most institutional investors are looking forward to before taking positions in the potentially disruptive coin market.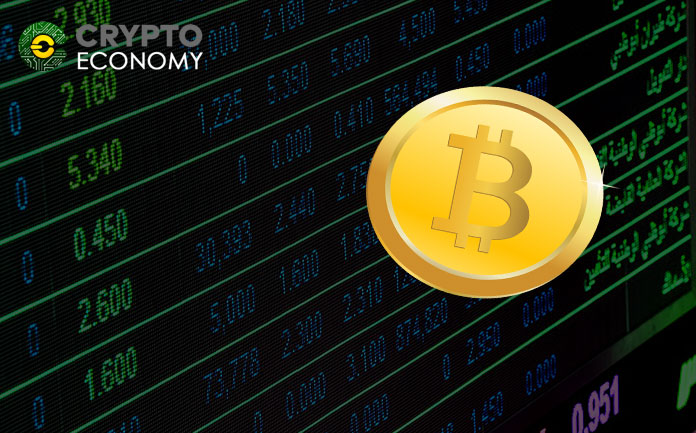 Ether, the internal currency of the Ethereum network which closed Tuesday at $281 also got a boost from the surge in Bitcoin price rising to $297.49 just $2.5 short of the $300 mark before retracting. It is currently trading at $285.49 at the time of this report. According to charts from Coinmarketcap, the Ethereum coin price peaked at the same time Bitcoin did around 4.04 hours UTC.
Wednesday has seen most the top 100 altcoins make gains within a short period of an hour according to Coin360. Total coin market capitalization peaked at $222 billion the media reported.
EOS was the top gainer among the top 10 coins gaining 8.7 percent within 24 hours to trade at $5.19. All but one of the top 10 coins gained between 4 and 9 percent.
Among the top 20, Vchain made the most gain of 18.67 percent to trade at $0.015 in a remarkable boost.
Many analysts are attributing the Wednesday spike in coin prices to the announcement by Hong Kong based exchange Bitmex that it was temporarily shutting down services for a scheduled maintenance of its website. The announcement by Bitmex to halt trading may have had direct impact on the price of Bitcoin as the spike was noticed after the release.
A tweet poll conducted within hours of the announcement by Beastlorion concluded that the Bitmex maintenance would affect the price of Bitcoin.
Bitmex is a peer-to-peer digital currency exchange which describes its services as leveraged contracts that are bought and sold with bitcoins. The exchange is not listed on Coinmarketcap because the BTC/USD on the platform is a derivative market and not Bitcoin spot market.