Bitcoin has grown to new heights this bull season. With it, the second-layer payment protocol, Lightning Network [LN] activity has also gained serious traction.
Its adoption continued to increase steadily as both users and developers jumped onto the bandwagon taking the network figures to record new highs.
Bitcoin Lightning Network's Current Stats
According to popular crypto analysis platform, Arcane Research's latest report, the Bitcoin Capacity on Lightning has reached a fresh peak of a whopping 1151 BTC.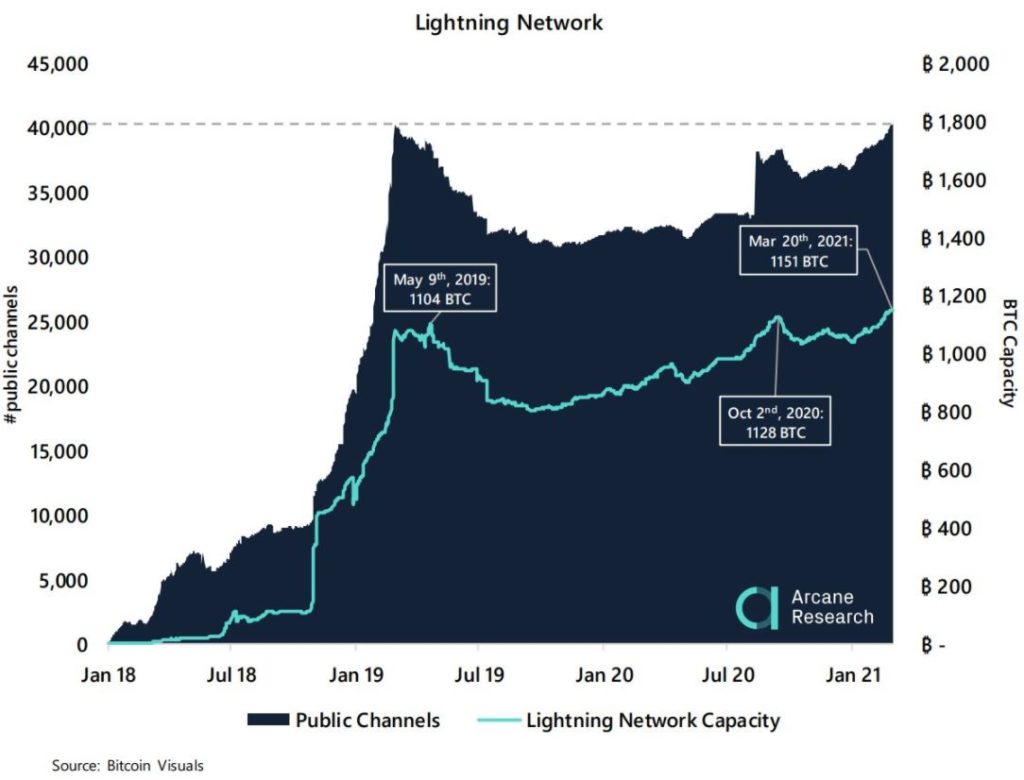 The number of public channels on the layer 2 solution soared to a new all-time high of 40,400. With this, the figure surpassed its 2019 peak of 40,319 public channels.
The report stated,
"Activity on the Lightning Network is slowly picking up with both the BTC capacity and the number of public channels reaching new all-time highs this week."
LN added nearly 1,600 nodes in August 2020 alone. This was the time when the figure noted a considerable uptick. According to the latest stats by Bitcoin Visuals, the number of Lightning public nodes picked up in November of the same year after a period of stagnation.
Since then, several fresh public LN nodes with live channels came into being during the end of last year and also into 2021. As of March, the figure was found to be more than 9,270.

In addition, the total value locked [TVL] in terms of US Dollar in the lightning network had recently surged close to a whopping $70 million on the 15th of March.
What is driving the adoption? Over the past few years, LN saw major cases of support from leading cryptocurrency exchanges. To top that Bitcoin's institutional-led price rally, decentralized finance's [DeFi] explosion as well as Ethereum's high transaction fees have all further bolstered its adoption.
Inception and Hardships
The lightning network had previously generated a lot of hype primarily because it was introduced to facilitate fast and cheap Bitcoin transactions and eliminate some of the network woes by creating a second layer on top of its main blockchain. It was first proposed by Joseph Poon and Thaddeus Dryja in the year 2015.
Often heralded as a solution to Bitcoin's scalability problems, LN aimed to achieve these goals without having to sacrifice censorship resistance as well as decentralization.
Despite the popularity, the lightning network has its fair share of trenchant critics that have raised voices against it over the years. It is worth noting that after Bitcoin's historic highs in 2018, interest in the lightning network had hushed down substantially.