Bitcoin (BTC) prices are firm above $30k when writing, looking at the formation in the daily chart. Notably, the revival on April 13 means losses posted on April 12 were reversed. This validates the bull bar of April 10 that still anchors the current formation.
Since the uptrend is valid and the coin is trading within a bullish breakout formation, looking at the candlestick arrangement, traders can look for entries to buy the dips above $29k in the sessions ahead.
Meanwhile, the alignment of bull bars along the upper BB and the divergence of the upper BB from the middle BB means underlying momentum and volatility could be higher.
Inflation Falling In the United States
The rejection of lower prices is at the back of slowing inflation in the United States. According to the latest readings from the Bureau of Labor Statistics (BLS), year-on-year inflation dropped to 5%, down 1% from 6% registered in February.
Even so, inflation remains way high than the Fed's target of 2%. However, over the past few months, since June, when inflation peaked at 9%, the highest in over 30 years, the reading has been falling as the United States Federal Reserve (Fed) continued tightening, increasing fund rates.
Inflation is expected to drop, which could influence the Fed to even start slashing interest rates. The high borrowing rates in the country, as seen over the past month, have heaped pressure on banks, forcing some, including the Silicon Valley Bank (SVB), to experience liquidity crises.
Bitcoin Price Analysis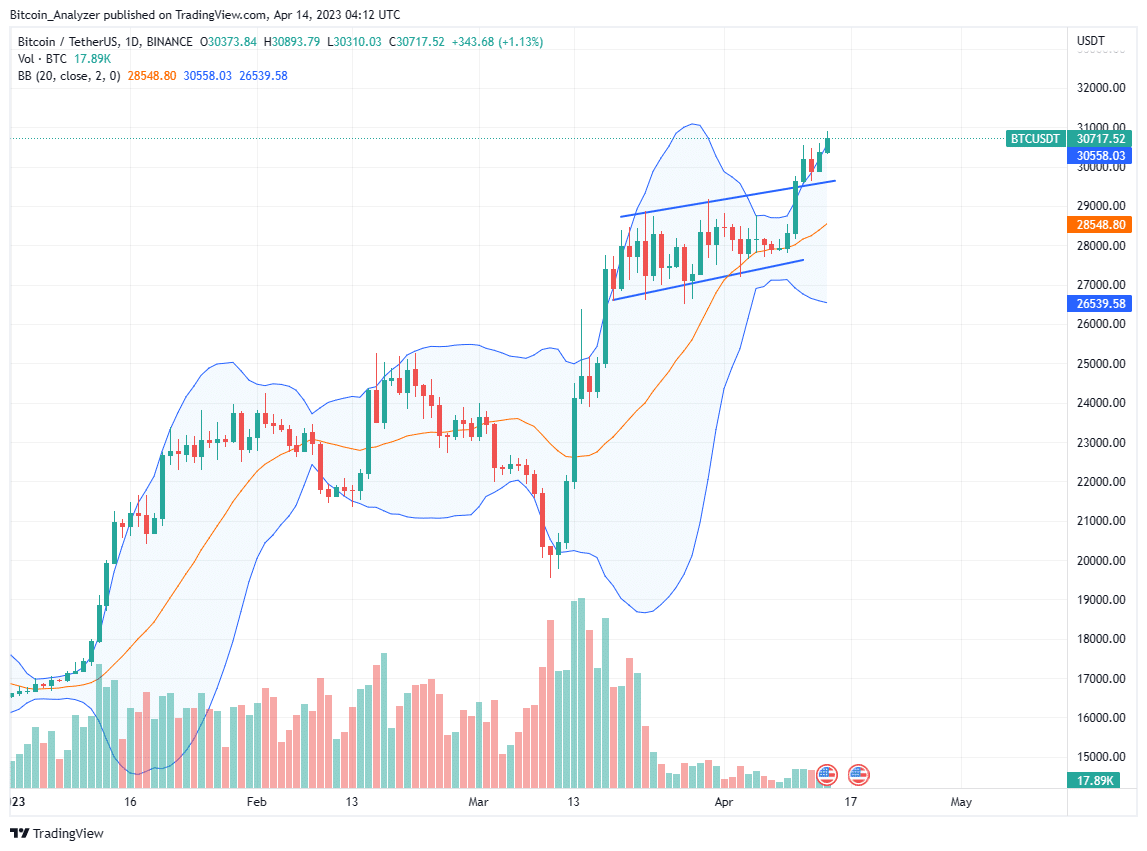 Buyers are confident of what lies ahead, but the leg up has been slower. Notice that yesterday's bar is less rapid than the April 10 wide-ranging breakout bar. Volatility remains high, and the uptrend set in motion from the second half of March may still continue.
A look at the BTC/USDT formation, every low above $29k may offer entries for aggressive traders targeting $32k. This preview is valid because prices are still above the high volume April 10 bar, trending above the February high. At the same time, participation, though low, is picking up momentum.
For now, traders can look to double down on dips above $29k. At the same time ride the emerging trend, targeting May 2022 highs and later January 2022 lows at $35k.
Technical charts courtesy of Trading View
Disclaimer: Opinions expressed are not investment advice. Do your research.