The vision of a future where everyday payments such as grocery shopping are made using cryptocurrency is slowly taking shape and bringing hope to the several who are already using the new form of money. Bitcoin, the cryptocurrency that brought the revolution is perhaps the most liquid asset and has the most acceptance amongst merchants but several other altcoins are also gaining adoption owing to the fact that businesses are trying to avoid Bitcoin's limitations. Cryptocurrencies including Dash and Litecoin have become more appealing alternatives because they are both cheap and faster to transact with when it comes to making payments in shops and stores.
Spend, a blockchain company that has been pushing for mass adoption by offering a payment processor for cryptocurrency has this week announced a significant development. It has released an updated version of its wallet that has Apple Pay integration. This means that its users can now make payments through Apple Pay, which has a wider reach than Spend.com making cryptocurrencies more usable across a wider spectrum.
Spend.com supports 16 cryptocurrencies including Bitcoin, Ethereum, Litecoin, Ripple and Dash among several other large-cap altcoins. So far it offered its users a service that allowed them to spend their cryptocurrencies through a Visa debit card and a virtual wallet app on their mobile phones. With the latest Apple Pay integration, both of these services have been integrated into Apple Pay.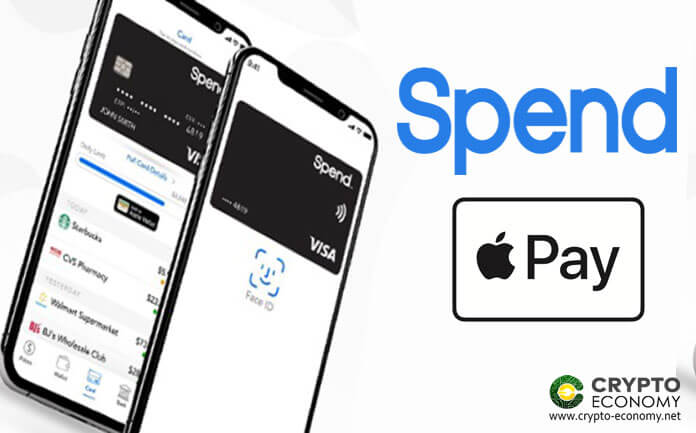 With your Apple Pay account, a user will be able to add the Spend Debit card just as they would a regular Visa or MasterCard. When it comes to the virtual wallet account, Spend directs that the user should be able to "add it to their Apple Wallet in-app by pressing the 'Add to Apple Wallet' icon." Further, the announcement post on their website stated that "Users are now able to update their Spend Wallet app to v2.4.979 and receive immediate access to Apple Pay by either manually adding their physical Spend Visa card into the Apple Wallet App."
To spend their cryptocurrency a user will be required to log into their accounts and select the crypto account from which they wish to spend. For example, it is expected that a user will hold several coins for different networks but would like to spend a specific coin, say Dash. After selecting the Dash coin, the user will then proceed to "tap their Phone on the Apple Pay supported retailer." As explained in the post, the rest of the currency conversion happens automatically as the store will receive an equivalent in fiat money. According to the announcement, "Spend has bridged the gap to bring the spending of cryptocurrency to mainstream retailers and has made the entire process seamless."