Bitcoin's [BTC] price has continued to gyrate below the psychological resistance level of $60K. This rendered swing trade probabilities unattractive. But 2021 is the year that witnessed Bitcoin in strong hands, great support, and most importantly backed by strong fundamentals.
We are still in a healthy bull market. This was revealed by Rafael Schultze-Kraft, the co-founder and CTO of the blockchain intelligence platform Glassnode. The world's largest crypto-asset saw unprecedented capital inflows as measured by realized capitalization.
Over the past 6 months, the realized cap has risen to an astonishing level of $250 billion. This meant that the capital inflow into Bitcoin has surged by approximately 200% during the said time period.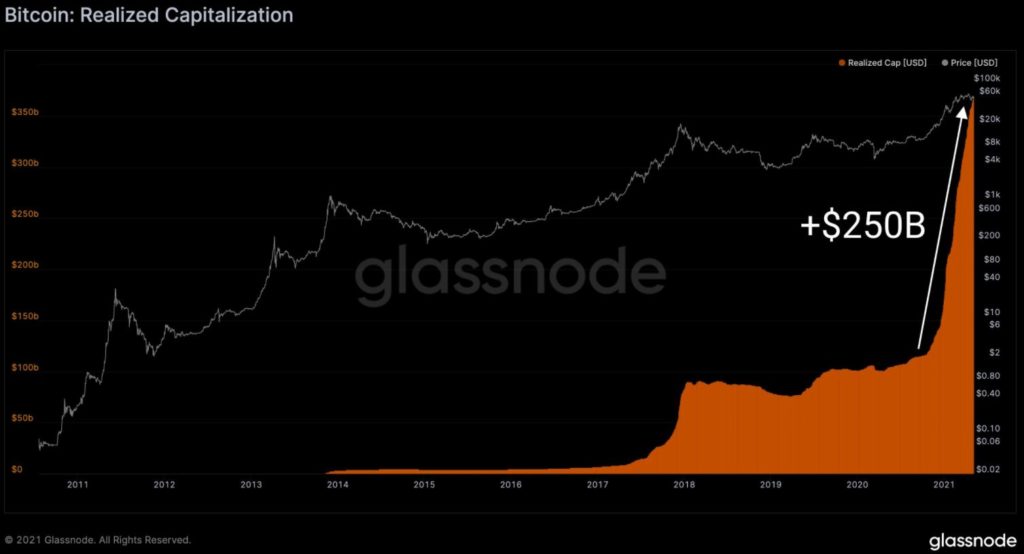 In addition, the realized cap has been increasing steeper relative to Bitcoin's market cap over the past several weeks. This has led to a decline of MVRV even as the crypto-asset's prices movement was dull and was tightly bounded within the $55k-$59K range.
Notably, the value for MVRV-Z at this price level in February stood at 7.6 while the same figure was currently found to be at 4.4. On the other hand, the value for MVRV-Z at previous cycle tops was recorded to be well over 10.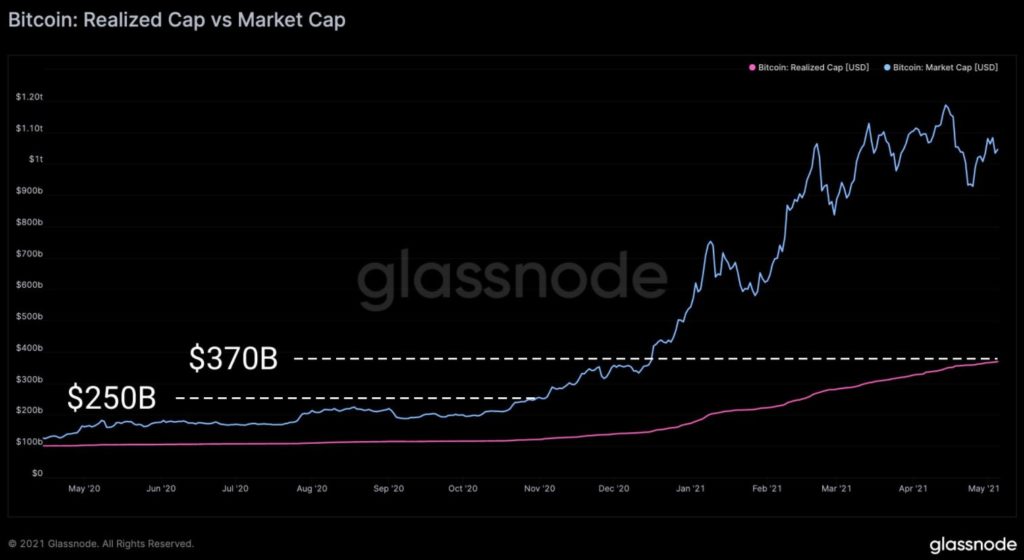 To put things into perspective, it is important to note that the entire Bitcoin market cap was only about $250 billion six months ago. Glassnode's data pointed that the same amount of realized cap has increased since then.
Kraft concluded that,
"Realized cap is now as high as market cap 5 months ago, in mid-December."
Stablecoin Supply Heats Up; Where Is Bitcoin's Headed?
Looking at the broader picture, it was also found that the circulating supply of the world's four-largest stablecoins has soared to new all-time highs. This demonstrated that the buyers could potentially trigger a rally for not just Bitcoin but also for the cryptocurrency market.
According to yet another data compiled by Glassnode found that the collective market capitalization of Tether [USDT], USD Coin [USDC], Binance USD [BUSD], and Dai [DAI] has spiked by approximately 190% from a mere $27 billion to nearly $78 billion since the starting of 2021.
The report said,
"Recent stablecoin inflows have pushed the Stablecoin Supply Ratio (SSR) down to a value of 13.4, which is approaching the all-time-low of 9.6. SSR has been persistently low during 2020 and 2021 as stablecoin supplies have grown proportional to the growth in Bitcoin valuation."
By convention, a low and declining value of SSR is indicative of a rising global stablecoin supply relative to the Bitcoin market cap. Hence, the increase in the total supply of stablecoins suggests an increased 'buying power' of crypto-native capital that can be eventually exchanged and traded into Bitcoin and other digital assets.
---