The cryptocurrency market kicked off on a hopeful note on Wednesday with Bitcoin (BTC) recovering lost grounds to hover above $30K. Ethereum (ETH) along with some altcoins traded in green while only Litecoin (LTC), Cardano (ADA) and Solana (SOL) dropped mildly.
The crypto market had witnessed a slight setback from its high levels in the previous week as the 2-year US Treasury yield went up by 4.194%. This mildly affected investor sentiment. However, the digital assets sector bounced back on Wednesday with the global crypto market cap shooting beyond 1.57% in the last 24 hours to 1.27 trillion.
At the same time, the total crypto market volume over the last 24 hours increased 6.97% to $46.22 billion. In a stark contrast to 2022, the strong market performance since the beginning of this year suggests a favorable regime shift is under way. The recent banking crisis has seemed to boost investor confidence in crypto.
Update: After writing this crypto market analysis, Bitcoin (BTC) has suffered a drop taking BTC to $29200. So the data provided below may not fit with current events.
Bitcoin Claws Back
According to TradingView, Bitcoin (BTC) is up 2.36% in the last 24 hours to float around $30,224. Over the past seven days, the flagship token rose 0.82% sitting within an interesting position. Bitcoin's dominance also climbed 0.44% in the last 24 hours to 45.92%. After a week of crossing the $30k mark, Bitcoin had dipped below the threshold amidst the abating banking crisis, rising treasury yields, and the shift of investors' sentiment towards "risk-off" assets.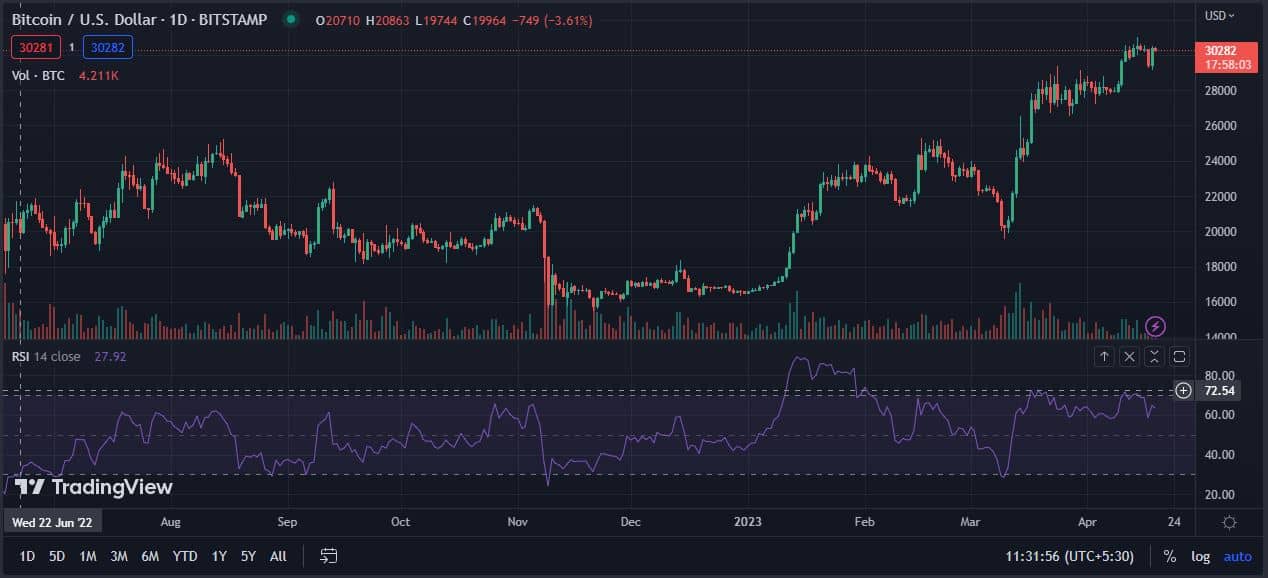 However, the largest digital asset is back up to regain the key psychological levels of $30,000. It seems investors are regaining their interest in assets with intrinsic value, despite diminishing concerns about the banking industry. Edward Moya, senior market analyst at OANDA explained,
"Bitcoin is back above the $30,000-level as risk appetite returns and optimism grows that new investment is coming back into the cryptoverse. Bitcoin appears like it might consolidate here, but a rally above $31,500 could open the door to some momentum trades."
Meanwhile, crypto analyst Michael Van de Poppe suggested that for Bitcoin (BTC), it would be ideal to maintain a price point of above $29,500 and then aim to retest the range high at $31,000. The next resistance level for BTC stands at $30,500, which would allow it to continue its upward trend in the near future. On the downside, the support level is at $29,800.
Scenario on #Bitcoin is still following through.

Preferably above $29.5K you'd like to see #Bitcoin hold and then test range high at $31K again. pic.twitter.com/ttz5mnYZ4a

— Michaël van de Poppe (@CryptoMichNL) April 18, 2023
ETH Contines To March Forward
In tandem with the big daddy of cryptocurrency,  its second largest peer, Ethereum (ETH), continues to gain following the Shanghai upgrade. At the time of writing, Ether is up 0.02% in the last 24 hours to trade at $2,086. After, ETH touched a 11 month high, withdrawals also increased on the network.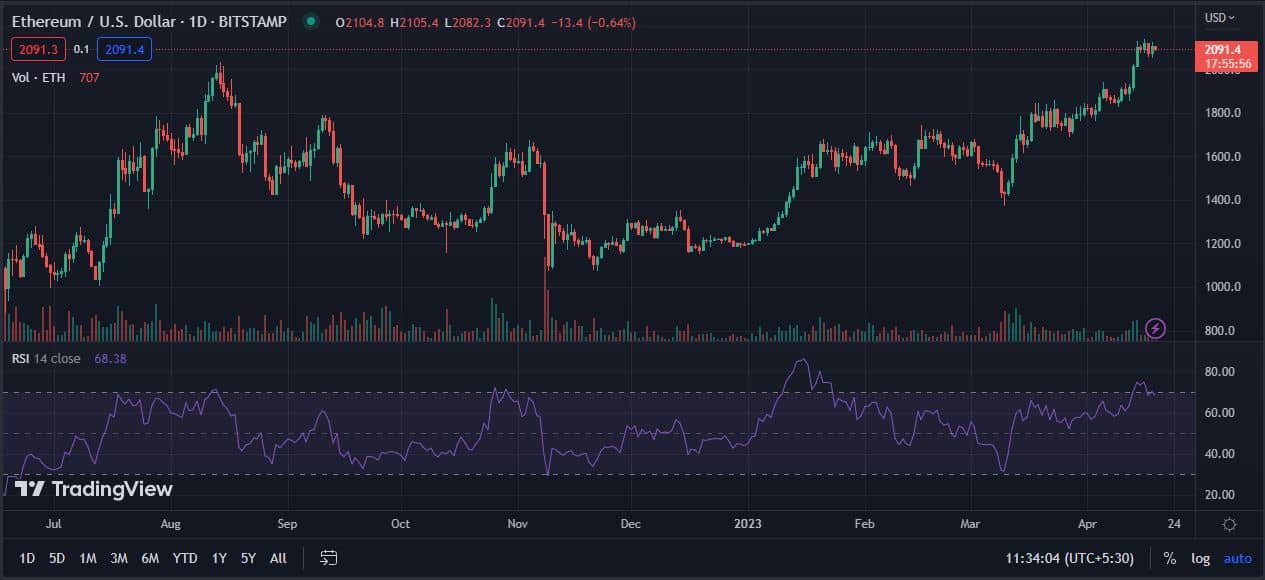 It was estimated that more than 1 million ETH, worth approximately $2.1 Billion was withdrawn from the Beacon Chain within the first four days of the upgrade. Falling shortly behind Bitcoin (BTC) ETH jumped nearly 77% on a year-to-date (YTD) basis.
Altcoins Trade Mixed
On the other hand, barring Litecoin (LTC) Cardano (ADA), Solana (SOL) and US-pegged stablecoins, all of the crypto tokens were trading higher on Wednesday. Avalanche (AVAX) and Polygon (MATIC) gained in the range between 0.30% and 0.57% in the last 24 hours, respectively.
Within the same time frame, XRP jumped more than 2% to trade at $0.53. In addition, metaverse tokens including Axie Infinity (AXIE), Decentraland (MANA) and The Sandbox (SAND) were trading with cuts.
4/20 is only two days away

still think there's a chance we see a meme pump for DOGE pic.twitter.com/0jo470hEqd

— K A L E O (@CryptoKaleo) April 18, 2023
Moreover, the crypto community is keeping a close eye on popular memecoin, Dogecoin (DOGE) as they eagerly await for a potential "meme pump" on April 20. As per a recent tweet, pseudonymous analyst Kaleo said Dogecoin is steadily approaching the HTF resistance level and there's a chance we see a meme pump for DOGE.
The digital token has been closely associated with the date since its inception in 2013, as the number "420" is also a popular meme within internet culture. At print time DOGE is up 0.06% in the last 24 hours to trade at $0.093.