As regulators from the US and Hong Kong step in, talks of manipulation will drastically reduce as institutional clients flock in. Already hints are there and most firms as Morgan Stanley are broadcasting their two cents based on their research findings.
Of course, they are welcomed additions but with CoinBase firming up, the space could get more competitive availing alternatives and benefiting ordinary investors. This is positive and goes a long way in stabilizing the market, drawing demand as a result.
Latest Bitcoin [BTC] News
CoinBase, one of the world's largest crypto-to-fiat conduit, is now valued at more than $8 billion according to CoinBase President & COO Asiff Hirji. This new super valuation places the regulatory compliant exchange at the peaks and reflects deep stability in an exchange that has never been hacked.
From a stability of the ecosystem point of view, this is huge for the community not only reflecting trust but is a mark of approval indicating that indeed crypto is here to stay despite minor mishaps common in a maturing and nascent field.
The $8 billion funding follows a successful Series E funding lead by Tiger Global Management with boosting participation from Y Combinator Continuity, Wellington Management, Andreessen Horowitz and Polychain Capital raising $300 million.
But according to Asiff Hirji, CoinBase didn't need the extra funding but pursued it anyway for opportunistic reasons. This could prime the company further as they plan to add hundreds and even thousands of coins/tokens in the near future once they complete their groundwork.
In the meantime, one of the 15 research findings from Morgan Stanley reveal that Bitcoin is neither a medium of exchange nor a store of value but rather is an institutional asset class that could potentially meet the demand of global banks and traders. This is so because traders and institutional clients from all over the globe are demanding for Bitcoin and other stable, high-liquid cryptocurrencies.
Therefore, it's only natural for the market to avail it. Whether Morgan Stanley is using the gem from their R&D to position themselves as an important player in the blockchain and crypto field is not yet clear. But considering the technology is maturity and evolving to meet regulatory demands, entry of steadying firms as Morgan Stanley will be a boosting addition.
BTC/USD Price Analysis
Weekly Chart – Price prediction BTC/USD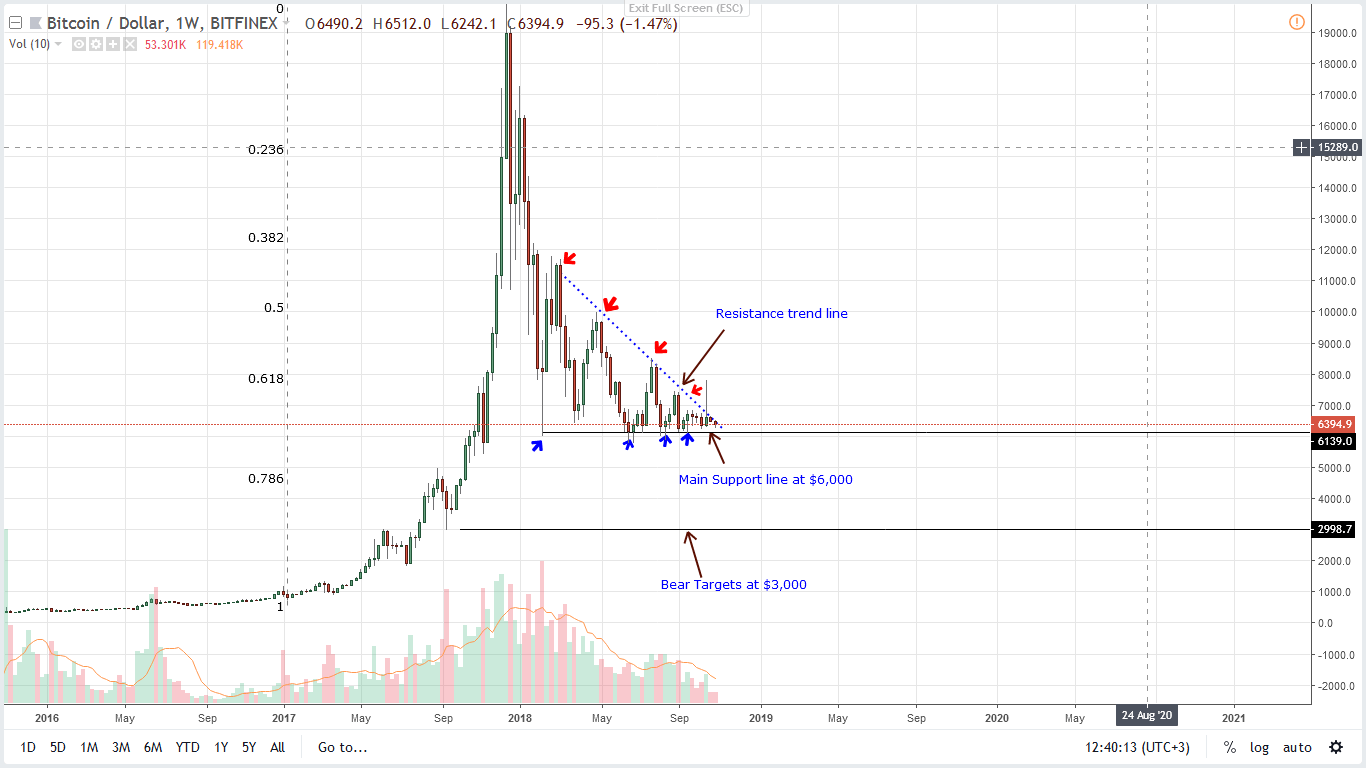 Prices are literally whipsawing and ranging in lower time frames meaning our last trade plan is valid. Besides $6,000 round number providing the much-needed support in the last three months, bulls are yet to spring above the main resistance trend line and $7,000–$7,200 level hinting of underlying bears.
In fact, it is even clearer now that BTC/USD bulls are yet to follow through week ending Oct 21 break out despite last week's ranging market.
All things constant, this accumulation or distribution could be a huge deflator more so if the long upper wick of week ending Oct 21—which is bearish because it closed as an inverted hammer–trigger a wave of bears confirming week ending Sep 9 sell bar.
Coincidentally BTC/USD prices are currently confined inside this bear bar further confirming sells from an effort versus results point of view.
Daily Chart – Price prediction BTC/USD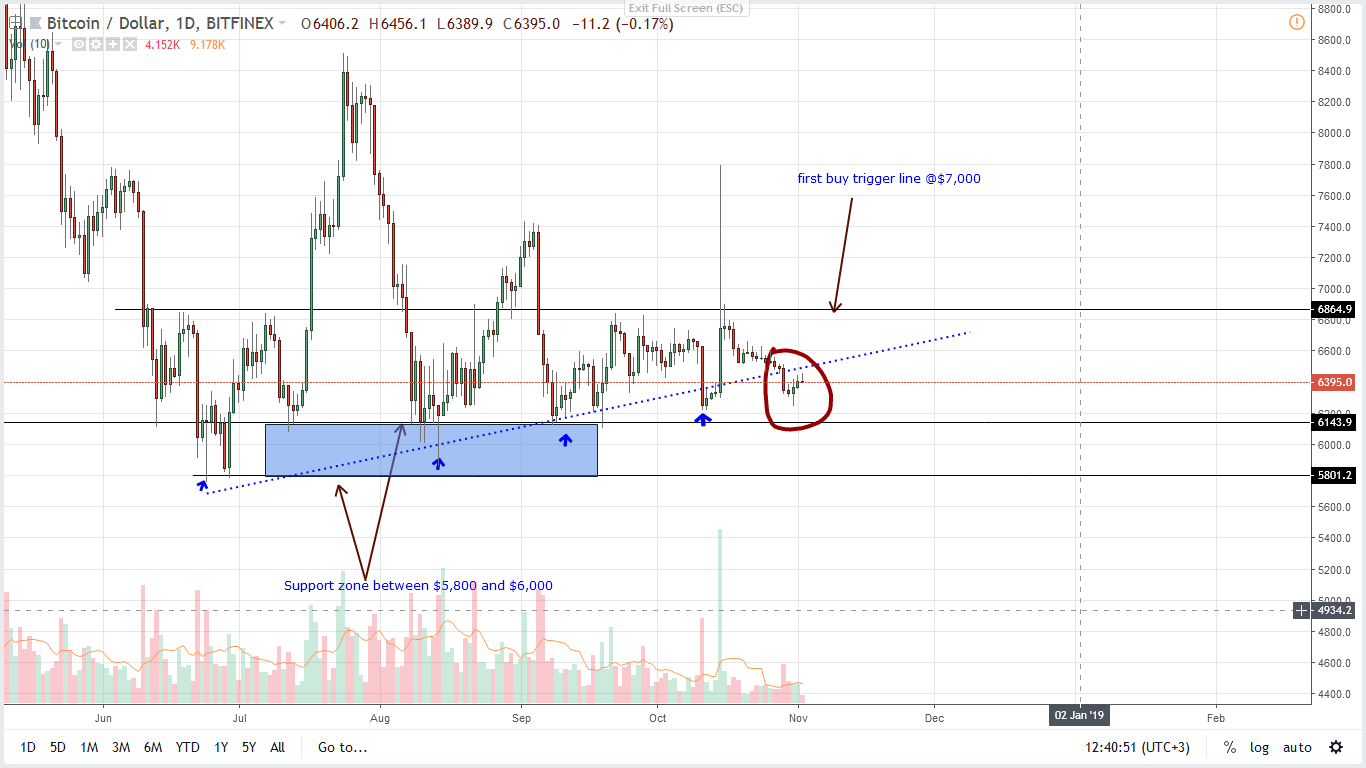 Here, sellers are in charge thanks to events of Oct 29 where BTC/USD pair did melt below the three-month support trend line wiping out Oct 15 super gains.
Needless to say, prices are recovering but as long as they are trending inside Oct 29 high low, our stops at $6,500 with first targets at $5,800 to $6,000 is true.
However, this trade is suitable for short-term scalpers. Once there are solid break outs above $7,200 or below $5,800 or 2018 lows, risk on traders can participate with first targets at $8,500 and $4,500 respectively.
Disclaimer: Views and opinions expressed are those of the author and aren't investment advice. Trading of any form involves risk and so do your due diligence before making a trading decision.