Bitcoin (BTC) set off a sluggish start on the first day of the week as it popped up above $30K for a brief moment but quickly descended to trade at $29K.  Additionally, the world's largest cryptocurrency recorded seven consecutive red weekly candles for the first time in history.
Last week, Bitcoin (BTC) plunged below $28K as the global crypto market faced uncertainty over the recent crypto crash. On April 12, Bitcoin prices plummeted below $27K to trade at $26,350. However, soon after, the flagship token managed to marginally gain surpassing $27,000. After falling to a 16 month low, Bitcoin (BTC) succeeded trotting past the $30K mark last Friday. From a peak of $69000 in November 2021, BTC lost nearly two-thirds of its value.
Has Bear Market Officially Arrived?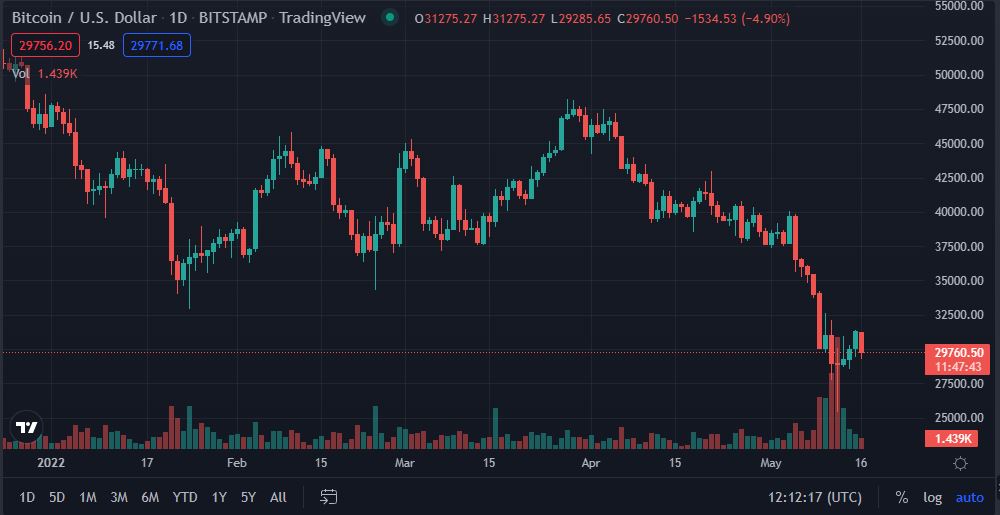 The $30K level is proving to to be a stubborn benchmark for Bitcoin to win over. The flagship token has closed its weekly candle down, thus making it the 7th week in a row that it has printed a weekly red candle.
Bitcoin (BTC) has been sailing through turbulent waters for quite some time now. Although Bitcoin has been witnessing intermittent moments of upturn along with the phases of decline, this trend is not visible from this market scenario.
Bitcoin needed to close above $33,928 to avoid the historic 7th weekly red candle. However, the bellwether token failed to hold to maintain its balance closing its seventh red candle in a row. Experts believe the downturn indicates that the bear market has officially arrived. According to a Wall Street analyst, there could be more pain ahead with the currently accepted correlation between traditional stocks and Bitcoin.
Cryptocurrency analyst, Rekt Capital, believes that Bitcoin prices could tank further as the price had broken the token's long term support at $29K. They said that the most Bitcoin ever saw was 5 red Weekly Candles in a row.
Much fanfare is surrounding the 7th consecutive red #BTC Weekly Candle

After all – it's a first time ever occurrence

Most $BTC ever saw was 5 red Weekly Candles in a row

Neither of them marked out a generational bottom

They actually preceded further downside#Crypto #Bitcoin

— Rekt Capital (@rektcapital) May 9, 2022
Will Bitcoin Price Stabilize In The Near Future?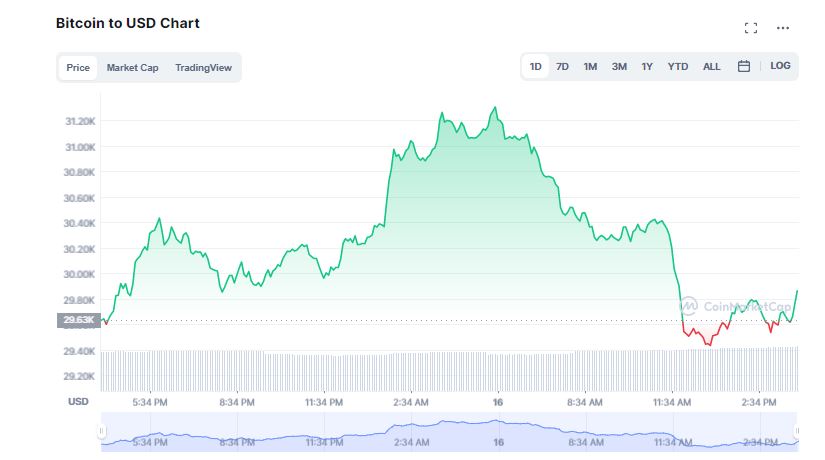 At the time of writing, Bitcoin (BTC), increased 0.72 per cent in the last 24 hours to trade at $29,910. BTC's dominance also shot up by 0.11 per cent within the same time frame to 44.49 per cent. Bitcoin prices sunk 9.62 per cent in the last 7 days.
Edul Patel, CEO at of Mudrex, an algorithm-based crypto investment platform, believes that Bitcoin prices will likely stabilize in the coming weeks. He added that BTC has gained nearly 1 per cent over the past 24 hours as buyers started to react to BTC's oversold conditions. Patel remarked,
"We may see BTC's initial resistance at US$33,000 while the support holds at US$27,000, which can stabilize the price action in the coming days."