In the latest market development, Bitcoin (BTC) gained momentum at the start of the week. After a comparatively quiet weekend, the leading digital coin has exceeded the $17K mark. In the last 24 hours, Bitcoin (BTC) has taken a positive turn to reach a multi-week high above $17,000. It is currently trading at $17,300, with a market cap of over $332 Billion.
Previously, Bitcoin (BTC) experienced a volatile week, as its price degraded to the $16K mark. However, the start of this week was different from last week's Monday. The cryptocurrencie jumped to a high of $17,400. It is BTC's highest value since November 11. Moreover, its dominance over altcoins is 38.3%.
As a result of Bitcoin's increasing price, the overall market has gained some momentum. The global crypto market cap is up by over 2% and currently stands at around $869.2 Billion. The latest price flotation of the market is deemed positive for the digital asset industry. However, there is a lot of uncertainty and speculation around the long-term pattern of the market.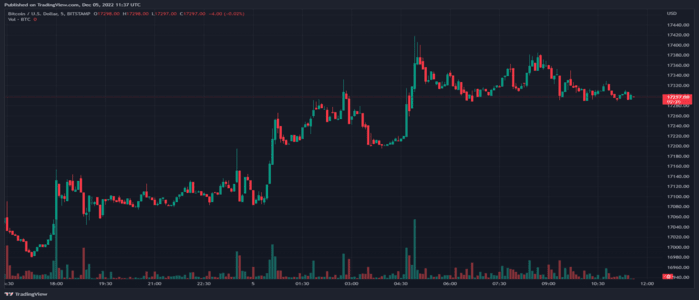 What is Next for Bitcoin (BTC) and the Overall Crypto Market?
Many analysts believe that Bitcoin (BTC) is forming a fake breakout. Therefore, it will retrace in the coming days. As a result, they are advising traders and investors to stay cautious while opening risky positions these days. On the other hand, Bitcoin (BTC) is still way below the psychologically important $20K mark. It needs to perform exceptionally well to reach $20K within this week.
However, it is unlikely that Bitcoin (BTC) will reach $20K amid uncertain macroeconomic circumstances this week. The FED is expected to increase interest rates by 50 basis points rather than its continuous trend of 75 basis points. This might turn out to be a positive development for the crypto sector in the coming days.
Apart from Bitcoin (BTC), several altcoins have also gained momentum in the market. Ethereum (ETH) has regained the $1,300 level, and the Binance Coin (BNB) is closing to the $300 mark. Along with this, respectable gains were recorded by XRP, DOGE, ADA, DOT, and MATIC. The most significant performers in the market were Axie Infinity (AXS) and Litecoin (LTC). AXS gained over 20%, and LTC went up by 8% in the last 24 hours.