The prices of Bitcoin (BTC) are firm when writing but trading below the $25.5k to $25.8k resistance zone in a bear breakout formation.
Overall, the path of least resistance is southwards. Provided prices are below this zone, every attempt higher could offer entries for sellers to unload, targeting $22.5k.
From the daily chart, the June 14 bar is critical in the BTCUSDT candlestick arrangement as it is a wide-ranging bar with expanding volumes. At the same time, it confirms the sellers of June 5.
Therefore, as long as the trend is shifting to favor sellers, this preview will remain unless there is a sharp expansion that will sync price action with the bull bar of June 6.
Interest Rate Hikes Paused, Sentiment and Liquidity Deteriorating
The drop in Bitcoin prices coincided with the comments by Federal Reserve (Fed) chairperson Jerome Powell on June 14.
After hiking rates in 10 consecutive sessions, the Fed maintained interest rates at the 5% to 5.25% zone.
Although high, the slowdown is dovish. It comes when inflation is falling and the labor market is firming up. The impact was a sell-off across the financial markets as the USD bulls added to their longs, forcing BTC lower.
At the back of this development, the increasing regulatory scrutiny, especially on cryptocurrency exchanges, has impacted liquidity and sentiment.
When dissected under United States laws, Bitcoin's status as a property helps, but the sentiment is bearish.
As the United States Securities and Exchange Commission (SEC) filed lawsuits against Binance and Coinbase, coin holders are taking their assets off exchanges, impacting liquidity and making the markets more fragile.
Bitcoin (BTC) Price Analysis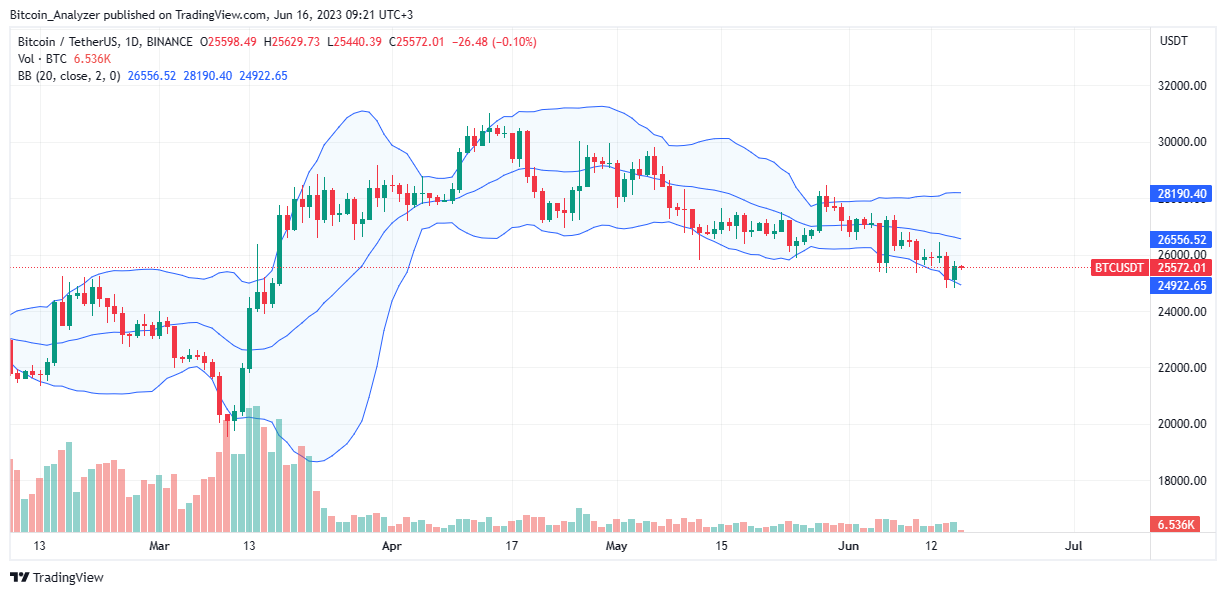 Bitcoin remains within a bearish breakout formation following the dump on June 14.
With prices below the June 5 and 6 candlesticks and within the bearish engulfing bar of June 14, every attempt toward the $25.8k zone may present an opportunity for sellers to unload.
Besides, the increasing divergence from the middle BB—or the 20-day moving average, suggests that bear momentum is building up.
At the same time, bars are along the lower BB, meaning the selling momentum is also higher.
Provided prices are inside the June 14 bar, every high below $26k may offer entries for sellers targeting this week's lows at $24.8k and later $22.5k.
A surge above $27.3k, reversing June 14 losses, and driving prices above June 6 highs could be the basis for the recovery towards $28.3k and $30k.
Technical charts courtesy of Trading View.
Disclaimer: The opinions expressed do not constitute investment advice. If you wish to make a purchase or investment we recommend that you always conduct your research.
---
If you found this article interesting, here you can find more Bitcoin News.