Bitcoin (BTC) is celebrating its 14th birthday today. January 3rd is known as "Bitcoin Genesis Day", which is widely celebrated by the crypto community as the day that the first BTC block was released.
On January 3, 2009, the first block of the Bitcoin blockchain, known as the Genesis block, was mined by the pseudonymous developer(s) known as Satoshi Nakamoto. Being the front runner in the crypto industry, Bitcoin (BTC) has experienced roller coaster rides since inception. From being exchanged for a couple of pizzas to giving people ambitious hopes of buying Lamborghinis, the flagship token has come a long way.
BTC had a rocky 2022 with various macroeconomic factors and catastrophic events like the collapse of Terra ecosystem and Sam Bankman-Fried's FTX Empire wreaking havoc in the digital assests industry.
Bitcoin Slips Marginally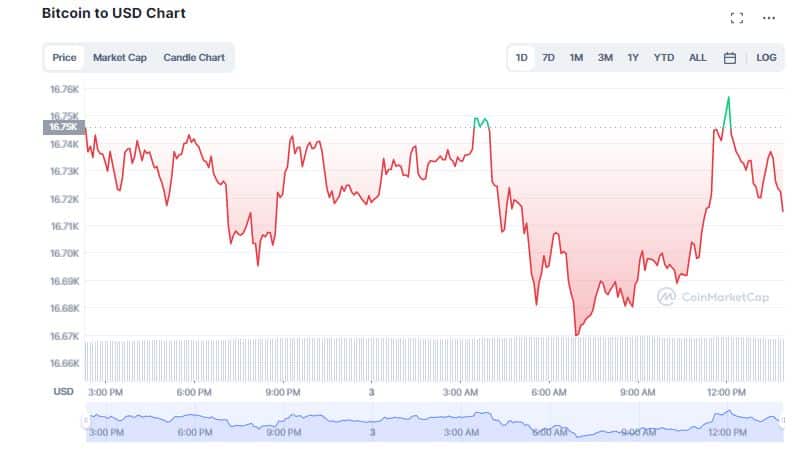 According to CoinMarketCap, Bitcoin (BTC) has slid marginally by 0.16% in the last 24 hours to trade at $16,721. Following an upbeat start to the new year, the bellwether token failed to hold the momentum, taking a slight fall. BTC is down nearly 0.88% over the past seven days as the crypto market tries to recover from a brutal drawdown, last year. Bitcoin's dominance has also taken a hit over the past day dropping 0.16% to 39.85%. In a statement, Shivam Thakral, CEO at BuyUcoin explained,
"Although, Bitcoin entered 2023 on a positive note, the market is still reeling under pressure and will continue to remain on the edge in the coming weeks."
Experts Wish Bitcoin
Despite a whirlwind ride, Bitcoin (BTC) has continued to thrive and has become an alternative to the centralized financial world. The world's largest cryptocurrency has given hope to the world of a decentralized economy that would change the traditional and archaic finacial ecosystem. It is now held by billionaires, banks, celebrities, governments, and corporations, which proves how far BTC has come in its short lifespan. Rajagopal Menon, VP at Indian crypto exchange WazirX said,
"Bitcoin's USP is its decentralized nature. Unlike traditional currencies, which are issued and controlled by central banks, Bitcoin is not beholden to any single authority."
Edul Patel, CEO at Mudrex, expressed the Bitcoin (BTC) has undergone an incredible journey and has inspired many new innovations. He hoped that the next 14 years will be just as exciting for Bitcoin and the broader cryptocurrency world as the past years. Patel added,
"Bitcoin turns 14 years old today. We are witnessing a modern financial revolution led by Bitcoin. With nations drafting legal frameworks around the usage of cryptocurrencies, the coming times are going to be milestone moments for Bitcoin and the cryptocurrency ecosystem."