After a streak of intermitent ups and downs, Bitcoin (BTC), has finally climbed above the psychological level of $20K. The total crypto market cap has reclaimed $1 trillion mark exhibiting a positive trend.
A sigh of relief for crypto investors and traders as Bitcoin (BTC) surged past $20,000. This can be attributed to a drop in the U.S. Dollar index (DXY), which tends to be inversely correlated with risk assets such as stocks and crypto. According to CoinMarketCap, BTC gained over 8 per cent in the last 24 hours to currently trade at $20,774. The bellweather token increased nearly 3.37 per cent in the past week. Bitcoin's dominance pushed upwards, rising by 0.73 per cent over the day to 38.52 per cent.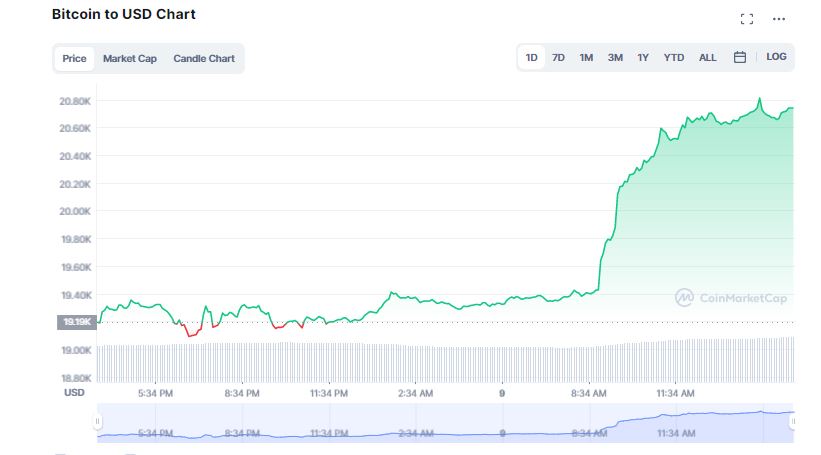 US Dollar Loses Value as BTC, ETH Rise
Since the past few days, Bitcoin had been stuggling to go above the $19k level as the DXY Index had gone over $100. As per data from MarketWatch, DXY dropped 1.07 per cent on September 9 lifting BTC's valuation. The world's largest cryptocurrency has been grappling inclement weather for quite sometime now as there has been a constant pressure that the Federal Reserve will continue to raise interest rates.
Meanwhile, Ethereum (ETH) has also witnessed a sharp increase over the past day. At the time of writing, ETH, soared 4.45 per cent in the last 24 hours to hover around $1,692. Ether has scaled more than 6 per cent over the last 7 days showcasing positive momentum.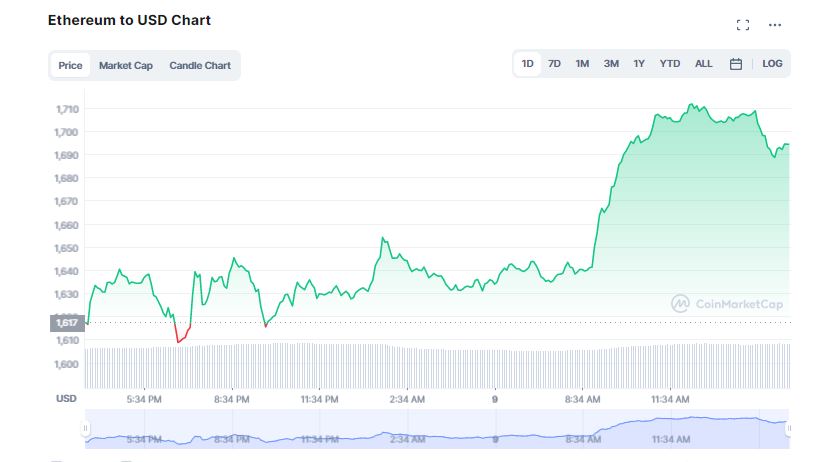 Ethereum's hotly anticipated upgrade, "Merge", which will shift the protocol from proof-of-work (PoW) to a more energy-efficient proof-of-stake (PoS) protocol, is roughly a week away. Edul Patel, CEO and Co-founder of global crypto investment platform Mudrex, had earlier suggested that given the on-going trend, ETH may breach $2,000 level before its upgrade. He opined,
"As Ethereum, has been seen to be trading above the 1,500 level. ETH may likely break above the $2,000 level before the Merge."
Altcoins' Performance Increased Over the Past Day
On the other hand, major digital tokens were trading with significat gains over the last 24 hours. Solana (SOL) and Polkadot (DOT) soared 7.61 per cent and 8.75 per cent in the last 24 hours, respectively. Within the same time frame, Cardano (ADA) leaped more than 4.50 per cent to $0.4932.

Avalanche (AVAX) zoomed past $20, increasing more than 7 per cent over the past day. In the meantime, Shiba Inu (SHIB) soared by a whopping 8.25 per cent to currently trade at $0.0001322. The global cryptocurrency market cap has jumped 5.68 per cent in the last 24 hours accelerating past $1 trillion. The total crypto market volume over the last 24 hours is $83.98 billion, climbing by 16.45 per cent.