Bitcoin is wavy, but encouragingly there are signs of strength at the time of writing.
Overall, buyers are beginning to take charge after fears of last week.
Technical candlestick arrangement points to a possible recovery.
Whales Increasing Their Holdings
This could stem from various fundamentals, mainly from on-chain activities signaling confidence. Even with threats of deeper losses, indicators reveal that long-term holders were digging in, buying the dips.
Whales look to be buying with price grinding down.

Around 55k #bitcoin supply added to entities with >1K balance over the last week. Roughly $3.1B at today's price. pic.twitter.com/nHGW3KTrjd

— Sam Rule (@samjrule) November 24, 2021
That might have helped decelerate the downtrend following gains of late last week.
The resulting floor became the base for this week's higher highs culminating in yesterday's pull-out above the consolidation. Indeed, Bitcoin buyers might be back in contention.
However, it is not to say BTCUSD is out of the woods yet. There must be a satisfactory close above $59k and $60k in the short term to signal a complete trend shift in favor of buyers continuing gains of October 2021.
Stripe Open to Accepting BTC and Crypto
Meanwhile, Stripe is about to make a crypto turnaround three years after ending its support of Bitcoin.
During the Fintech Abu Dhabi festival moderated by CNBC, Stripe co-founder John Collison said they aren't ruling out accepting crypto as a means of payments in the future.
Back in 2018, Stripe cited BTC's impracticality as a means of conducting day-to-day transactions blaming it on high volatility.
John observed that exciting developments in crypto, such as the Lightning Network (LN), necessitated them having a second look.
Bitcoin Price Analysis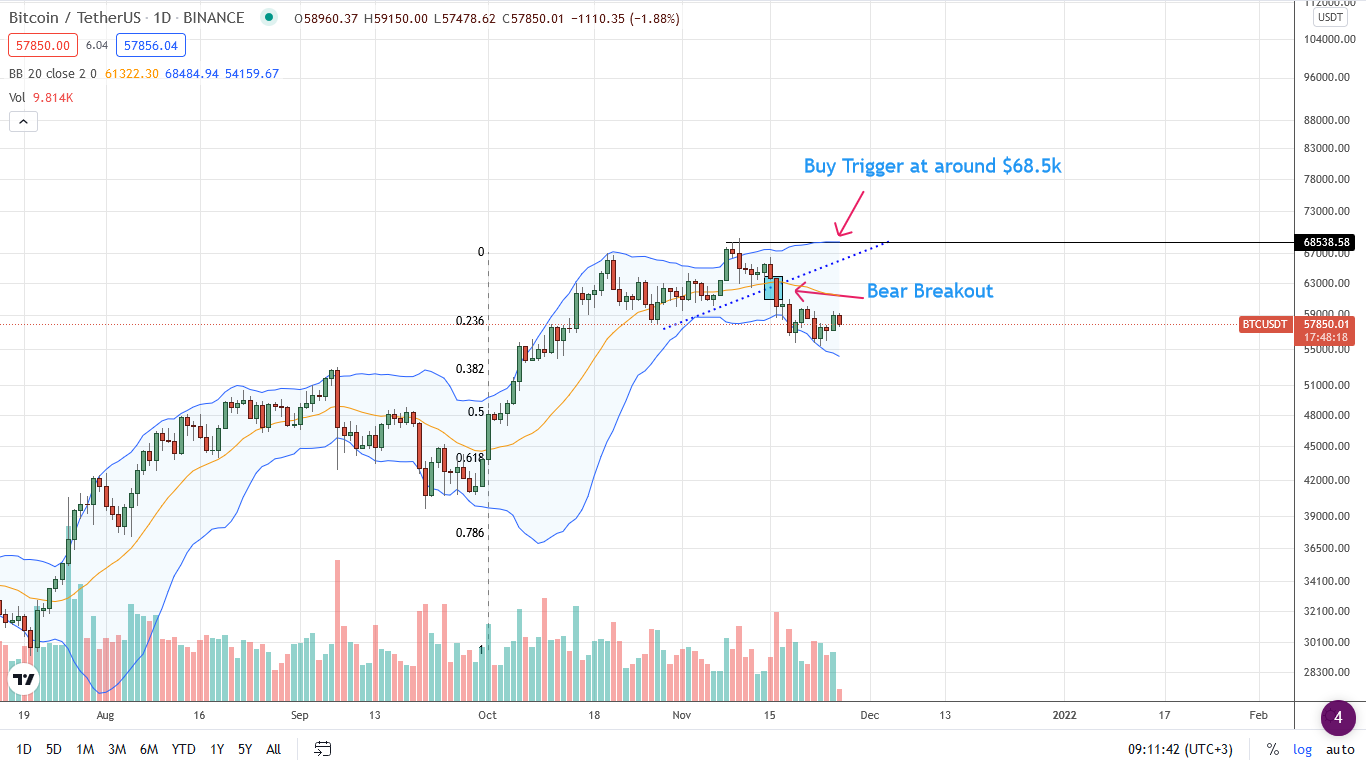 The Bitcoin price is stable on the last trading day as bulls flow back and prop the coin after last week's fears.
Specifically, there are a series of higher highs relative to the lower BB signaling strength as upward momentum builds.
In the days ahead, aggressive traders might find entries to double down on every pullback targeting $60k and later $64k as bulls' upswings gain momentum.
On the other hand, risk-averse traders may wait until there is a strong, high volumes close above the middle BB and $64k before committing.
In that case, BTC may expand back to all-time highs of around $68.5k printed in November 2021.
Conversely, if sellers unwind yesterday's gains, further losses reflecting last week's drawdown below $55.3k may force the coin back to $53k in continuation of the selling pressure back to September 2021 highs.
Technical charts courtesy of Trading View
Disclaimer: Opinions expressed are not investment advice. Do your research.