Bitcoin is a big promise for many. Right now, institutions, retailers, and governments are closely tracking the world's most valuable digital asset.
There are positives from the project tags, especially in remittance, where transaction settlements would be instantaneous and cheaper.
Expecting a Domino Effect?
For this reason, the President of El Salvador Nayib Bukele made Bitcoin legal tender—the same rank as the greenback, which is money in the Central American country.
Not knowing, Nayib might have knocked down the first card in what could turn out to be a welcomed Domino Effect.
If Zimbabwe, for example, adopts Bitcoin to counter international sanctions and find relief to the runaway inflation, or Panama approves the use of Bitcoin, things could drastically change for the better.
Bitcoin's Diverse Utility
Admittedly, Bitcoin serves more than just being a medium of exchange.
If Bitcoin were money, it would be in the top-20 as one of the most actively used exchange media, competing with the Euro or the greenback.
Besides being a medium-of-exchange as Satoshi envisioned, Bitcoin also acts as a store-of-value.
Because of the baked-in deflationary features, Bitcoin is digital gold.
Soon, with expanding valuation, it could flip gold to be a choice store-of-value existing in an immutable and secure blockchain.
This is especially factoring in the runaway inflation, which has eroded purchasing power.
The money-printing in the effort to contain the effects of the coronavirus pandemic could be a reason. However, there are more fundamental factors that play into rising inflation.
For this reason, more people are opting for an automated mathematically-defined system over monetary policy where only a few call shots.
Bitcoin Price Analysis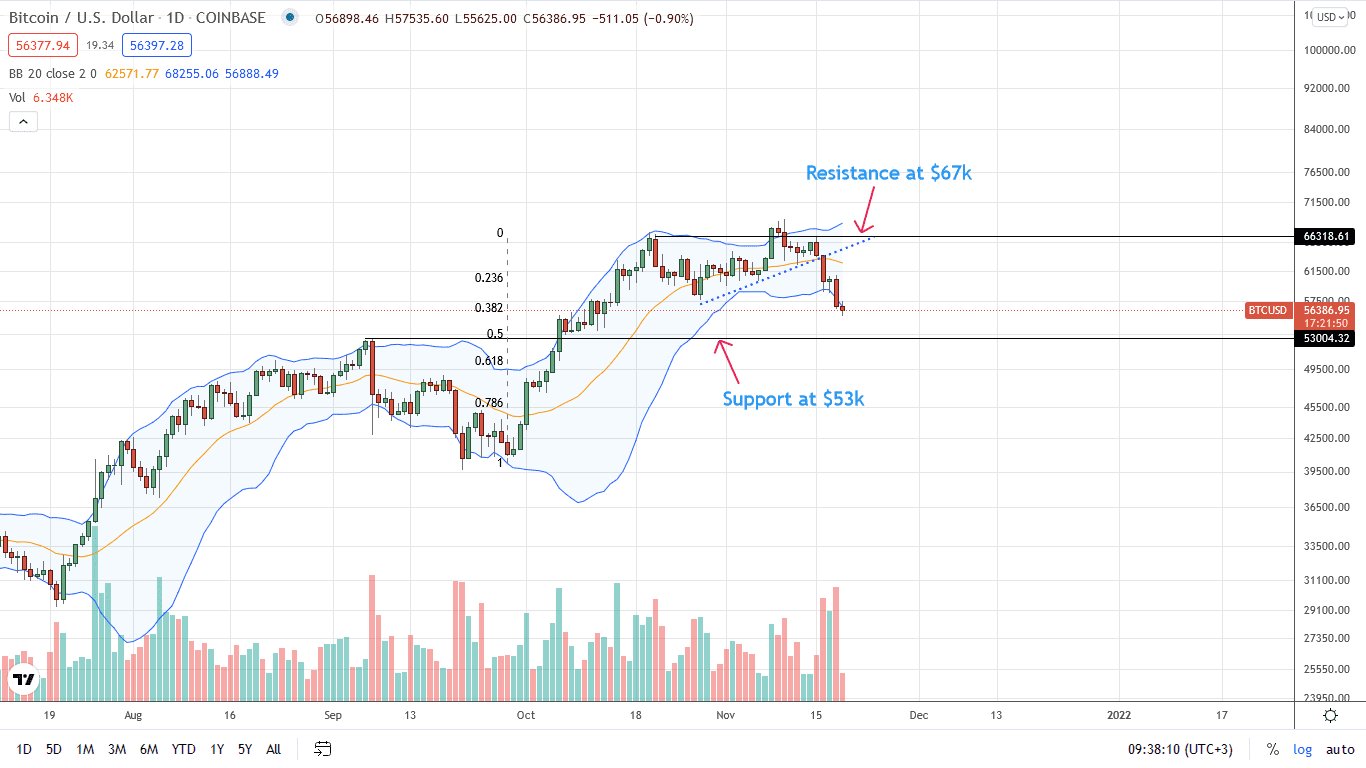 From the daily chart, Bitcoin prices are printing lower lows without signs of stopping.
Notably, the BTCUSD pair is within a bear breakout pattern, clearing a key support trend line.
Most importantly, especially from a bearish point of view, is the close below the dynamic support line—the 20-day moving average.
As per the BTC technical analysis of the daily chart, every high may offer entries for determined sellers angling for $53k—or lower in the days ahead.
Based on the Fibonacci retracement of October 2021, the $53k mark is the 50 percent mark.
However, reading from history, BTC retracements often lead to drawdowns below the golden ratio at $50k, usually towards the 78.6 percent mark at around $45k. These will be approximate bear targets for aggressive BTC traders.
Meanwhile, an unexpected shot above $60k may revive buyers, invaliding the bearish outlook.
Technical charts courtesy of Trading View
Disclaimer: Opinions expressed are not investment advice. Do your research.
---
If you found this article interesting, here you can find more Bitcoin news