Bitcoin and cryptocurrencies continue to swing approximately 48 hours after U.S. President Joe Biden signed an Executive Order asking the government to assess the benefits and risks of cryptocurrencies, including Bitcoin.
Over the years, the U.S. has remained receptive to the blockchain. However, there had been no official communication of this magnitude coming from the leader of the free world. The order was interpreted as bullish and a solid signal indicating that cryptocurrencies, though most may end up being classified as securities, are here to stay, playing a critical role in the U.S. and global economy.
Bitcoin and other public layers already command hundreds of billions in cumulative market capitalization, allowing for the fast and cheap movement of assets and deployment of censorship-resistant dApps.
Exploring the Executive Order on Cryptocurrencies
The Executive Order signed on Wednesday focuses on six areas, with the prime being how cryptocurrencies can protect consumers, contribute to financial stability, and curb illicit activities. Following the Silk Road scandal in 2014, which saw Ross Ulbricht sentenced to a double life sentence, Bitcoin was mistakenly seen as an agent for facilitating illicit activities.
Nonetheless, this stain has since been washed off as Bitcoin's transactions were discovered to be transparent. Besides, it was possible to decrypt the identities of transactors. The White House is now asking the U.S. Treasury and Janet Yellen to develop policy recommendations on crypto. Furthermore, it asks regulators to ensure sufficient oversight and put in place measures to safeguard against financial risks posed by cryptocurrencies.
Bitcoin Technical Analysis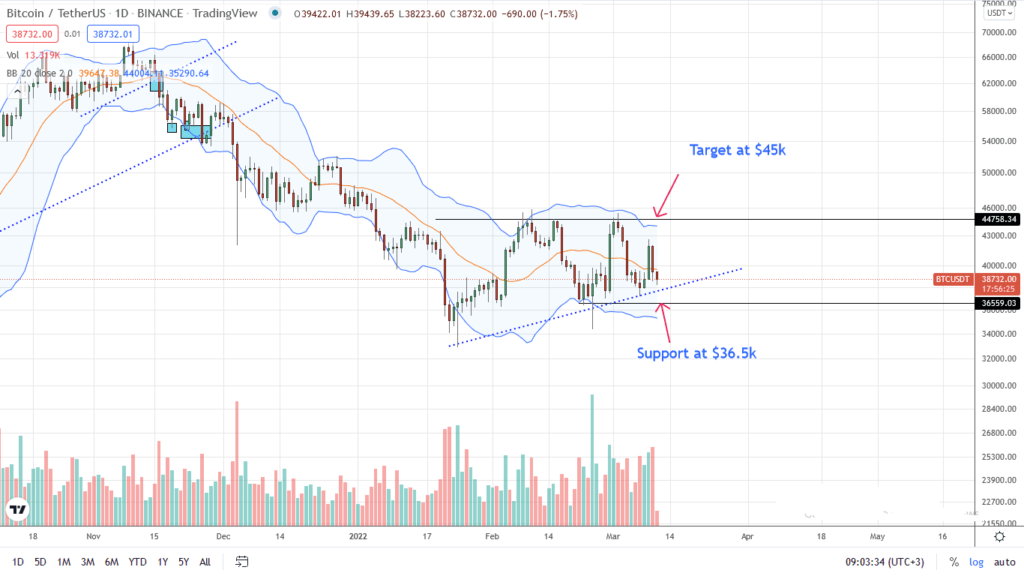 The Bitcoin price is volatile at spot rates, swinging between the March 9 and 10 trade ranges. After the dump of March 10, reversing gains of March 9, traders are cautious. Even so, because BTCUSDT prices are still capped inside the short-term-trend defining bull bar of February 28, every low above the $36.5k primary support may provide entries for aggressive traders targeting $45k in the short term.
Leaning on caution, a dump below the immediate support trend line and $36.5k nullifies the positive outlook and could catalyze another discouraging wave of lower lows back to $33k or worse in the medium term. Meanwhile, a recovery above March 9 bull bar, unwinding losses of the last day will be a shot in the arm for optimistic traders and crypto as a whole, initiating another rally possibly towards $45k.
Technical charts courtesy of Trading View
Disclaimer: Opinions expressed are not investment advice. Do your research.
---
If you found this article interesting, here you can find more  Bitcoin news