Binance Smart Chain has emerged as one of the most crucial DeFi products that was championed by the world's leading centralized cryptocurrency exchange, Binance. Its attempt to churn out profits from the explosive DeFi market has led Binance to garner significant criticism. Nonetheless, Binance Smart Chain, for one has staged an impressive growth since its mainnet was first rolled out on the 1st of September 2020.
Five months later, the blockchain has reached 70% of Ethereum traffic, as revealed by the exchange's CEO, Changpeng 'CZ' Zhao.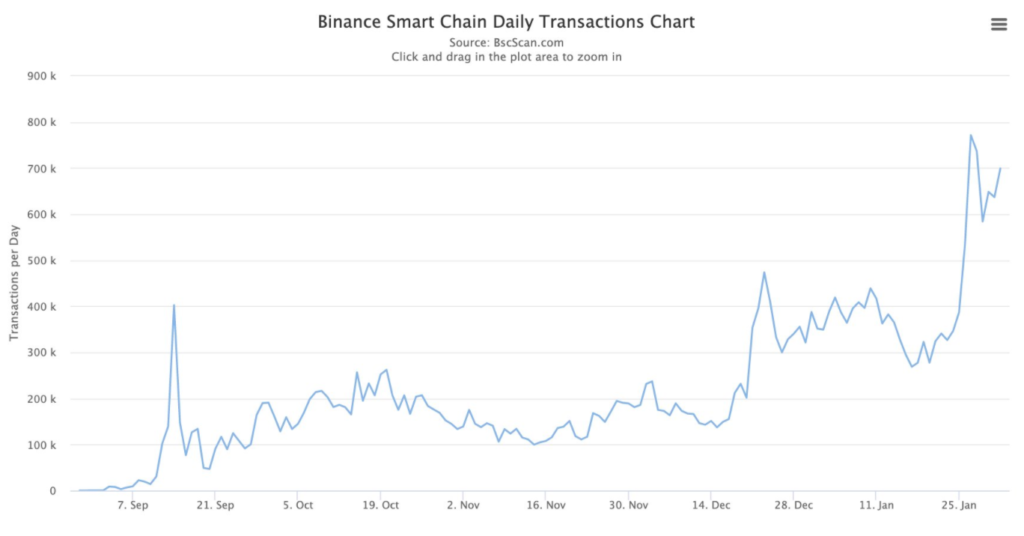 The latest traffic records can be attributed to the cheap and affordable gas fees that have attracted market participants both small and large to utilize the parallel blockchain. Binance Smart Chain is also a home for more than 100 different projects to keep up with the growing user demands and also making it a prime spot for the market players to interact with new projects.
The news comes hours after the crypto platform reportedly added delivery of Ethereum 2.0 staking rewards to BETH holders. This move was touted as yet another way to provide innovation on the BSC ecosystem. It is important to note that BETH is an ETH 2.0 staking token that is issued by Binance on BSC and Ethereum. This was done for users to stake ETH in a 1:1 ratio to receive BETH. The latest addition aimed to further introduce the potential rewards which were previously limited to just holding BETH to get daily airdrops.
Besides, the platform has not only intensified its attempts to onboard new projects but also the network, in general, was seen growing too and the above chart was a testament it. As per the chart, the transaction volume on the Binance-owned public chain outstripped its previous peak to climb to a new high of 771,461 transactions on the 27th of January.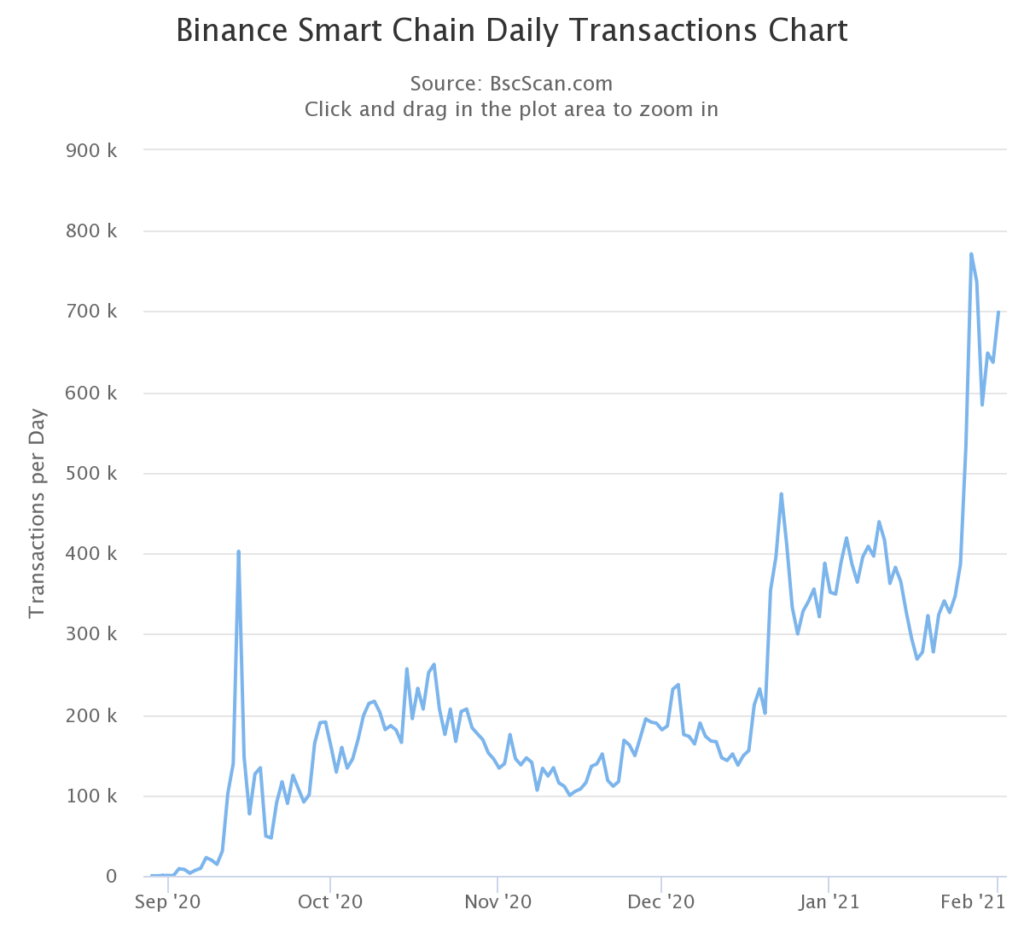 Despite the numbers of transactions retracing to the press time 699,127, the figures were still extremely high. One of the biggest advantages of BSC is the fact it is backed by Binance. Apart from this, other factors such as the blockchain being decentralized, with cheap transaction fees, its EVM compatibility, its capability of producing a block every 3 seconds as well as supporting cross-chain DeFi transfer, have managed to lure in investors that were previously apprehensive.
In addition, the total distinct numbers of address on the Binance Smart Chain has also maintained a consistent uptrend. On the 1st of February, the figures crossed the 1 million mark for the very first time indicating the growing number of users utilizing the network amidst the bull run.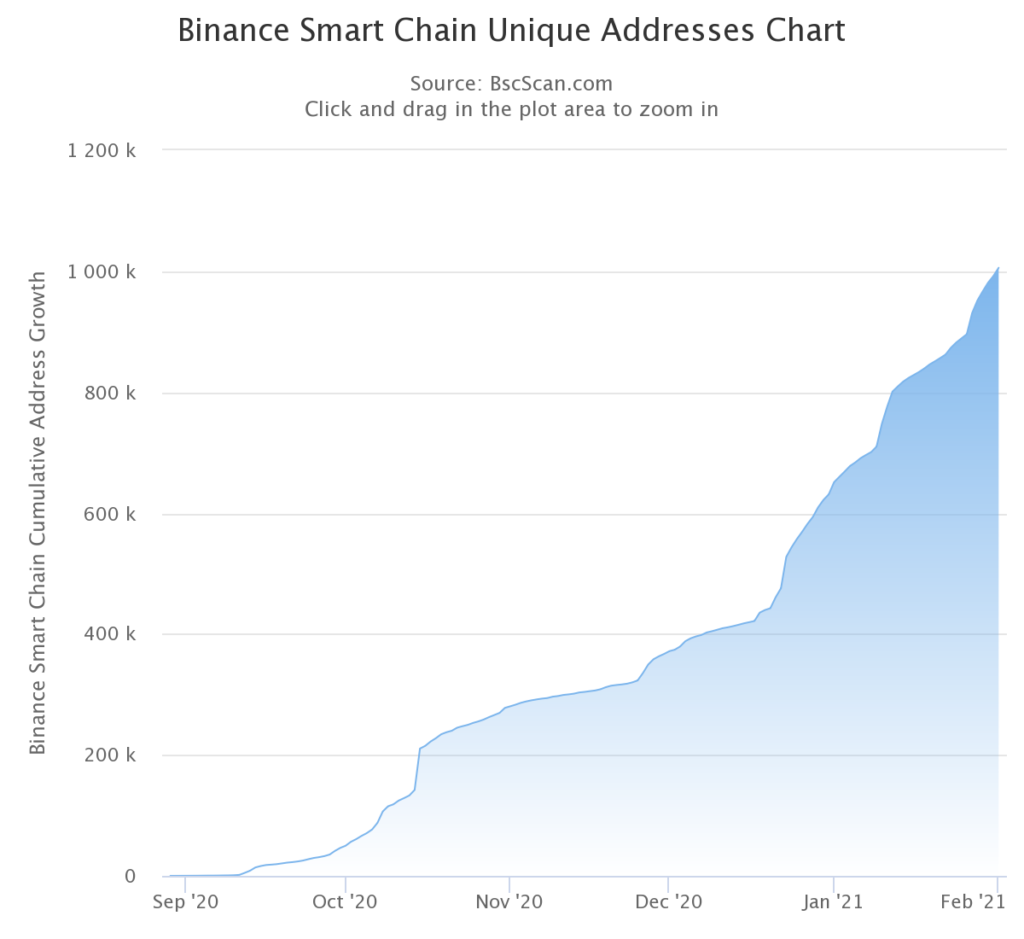 Binance's BNB Token Smashes To New High
After maintaining a steady uptrend over the past month, Binance's native token BNB has exploded past its previous ATH despite the market-wide stagnancy. The 9th-largest cryptocurrency snapped a record high of $52.04 at press time after a price surge by nearly 30% over the week.
---
If you found this article interesting, here you can find more Ethereum News