Binance, the largest cryptocurrency exchange by adjusted daily trade volume has signed a MoU with Malta Stock Exchange's digital assets arm the MSX PLC that will allow the two to launch a new securities tokens exchange platform.
In a press release shared with the media on September 11th, the new exchange platform has been proposed to take advantage of Malta Stock Exchange's "26-year track record of operating as a regulated stock exchange," and Binance's international reach. The MoU was signed during a meeting that was held on Tuesday and attended by Malta Stock Exchange (MSE) chairman Joseph Portelli, Binance's chief financial officer Wei Zhou and Prof Edward Scicluna, who is Malta's Finance Minister.
Malta has been widely considered a crypto haven for its cryptocurrency friendly regulatory environment. The parliament of Malta passed into law three bills that will ensure that the island country has an attractive environment for cryptocurrency innovations.
This has led to the relocation of several blockchain companies and among them is Binance which relocated its headquarters from Japan after receiving a warning letter from the Japanese financial authorities regarding its lack of proper registration. Since then Binance has reportedly opened a bank account in the island that will support the introduction of crypto-fiat trading pairs in the near future.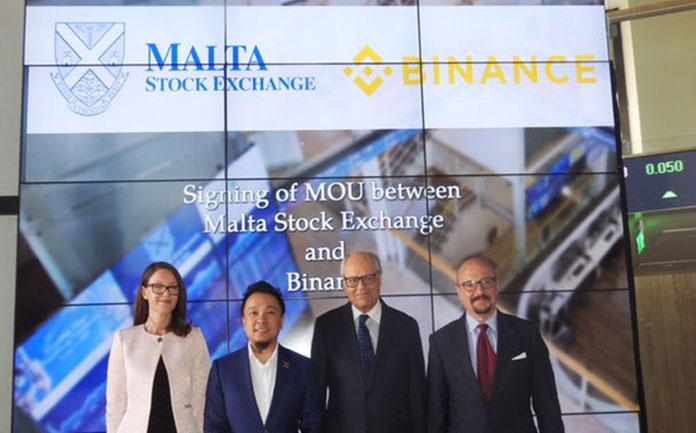 The signing of the MoU is, however, not the first of its kind event to happen in Malta. Similar events have been witnessed between the MSX PLC and other blockchain companies such as Malta-based OKEX Cryptocurrency Exchange, Polish Cryptocurrency exchange Bitbay and investment platform Neufund. MSE launched the MSX PLC arm to specifically handle these types of digital investments especially partnerships with leading cryptocurrency exchanges that seek to make investments in Malta.
Mr. Portelli expressed his excitement about the prospect of the work between Binance and MSX.
"Both parties believe Malta offers a well-regulated and pragmatic framework for the listing and trading of security tokens. We anticipate security token offerings will have a major positive impact on the global capital markets."
Binance CEO Changpeng Zhao (CZ) echoed this sentiment when he said that he was also thrilled to be part of the "builders" of the blockchain ecosystem in Malta. He lauded the cryptocurrency ecosystem in Malta saying that these developments have been realized thanks to Malta's "active and transparent crypto regulations."
Mr. Scicluna, during a press briefing after the meeting, described blockchain technology as revolutionary and said he believed that it will change the world. For this reason, he said that Malta would not pass on any opportunity to embrace and support the technology terming as "crazy" for Malta to not establish in crypto. However, he did acknowledge the risk inherent in taking up investment in blockchain technology.
"This is not an excuse to let it go by and be taken up by others," he added.
Speaking about the new laws that were passed by the Malta Parliament, Scicluna said that even the best legal minds across the world have commended Malta's approach to blockchain technology. Before concluding the press briefing he said that his hope was for Malta to replicate its success with the gaming sector to the blockchain industry.