Binance reported important news announcing it's now a fully regulated digital asset service provider in France.
The announcement first came in a tweet saying:
Bonjour! @cz_binance has some fantastic news to share. #Binance is now a fully regulated digital asset service provider in France!🇫🇷 pic.twitter.com/W5DrhFqvjl

— Binance (@binance) May 4, 2022
"Bonjour! @cz_binancehas some fantastic news to share. #Binance is now a fully regulated digital asset service provider in France!🇫🇷… #Binance has been granted a Digital Asset Service Provider (DASP) registration to operate in France by Autorité des marchés financiers (AMF), which regulates the French financial markets."
Binance's Hub in Europe
In Europe, this is the first DASP by Binance. French financial markets are regulated by the AMF, which ensures financial literacy among investors. French insurance and banking companies are regulated by the ACPR. Under the approval and supervision of AMF and ACPR, Binance France will be able to operate in France with this DASP registration.
Changpeng Zhao (CZ), founder and CEO of Binance, said: 
"Effective regulation is essential for the mainstream adoption of cryptocurrency. The French DASP and AML/CFT regulations put in place stringent anti-money laundering and fit and proper requirements to meet the high standards necessary to be regulated in France."
Paris will serve as Binance's European hub now that France's financial markets regulator has granted the company permission to market its services locally. Despite operating a global trading website, Binance has operated without an official headquarters and is unregistered in many countries.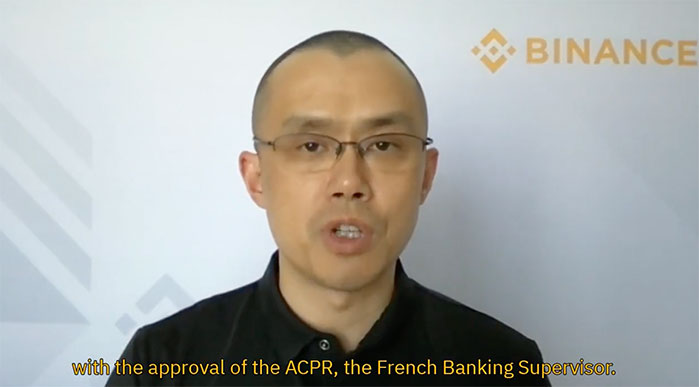 In France, regulators vetted Binance's policies for know-your-customer (KYC) and anti-money-laundering (AML). Binance was granted registration approval after nearly a year and a half of delays. As of Wednesday, France's financial regulator, commonly known as AMF, has added Binance to its list of registered digital asset service providers.
French President Emmanuel Macron has pledged to make France a startup nation as part of an effort to turn Paris into a European tech hub rivaling London. By providing tax incentives, France lured bankers from the British capital after the UK voted to leave the European Union in 2016.
According to Mr. Zhao, France had not offered any sweeteners, and Binance had not inquired. A room at the Chateau de Versailles was restored with a $2 million grant from the exchange last year. Besides, Binance announced to invest of some $100 million in the development of crypto-technology in France.
To enhance the accessibility of crypto and our services in France, Binance will be scaling operations there substantially. The company plans to expand its staff in order to work on further infrastructure development in that region as part of its mission to serve as an infrastructure service provider for the blockchain ecosystem.