Binance Labs, the venture capital arm of Binance, announced its investment in ArkhamIntel, causing a significant impact on the altcoin's price.
ArkhamIntel, the recipient of Binance Labs' investment, operates in the field of artificial intelligence-driven blockchain intelligence and data platforms. It specializes in providing detailed information and visualization tools for on-chain activities.
Specifically, Binance invested in ArkhamIntel's native token, ARKM, with the aim of supporting and strengthening information on a large scale in the blockchain.
Following this announcement, the price of ARKM experienced a 16.56% increase within a 24-hour period. At the time of writing, ARKM continues to be actively traded at $0.5432.
Its current market capitalization is approximately $82 million after growing by 16.93%.
On the other hand, its trading volume experienced a much more significant jump, growing by almost 97%, and is currently approaching $173 million.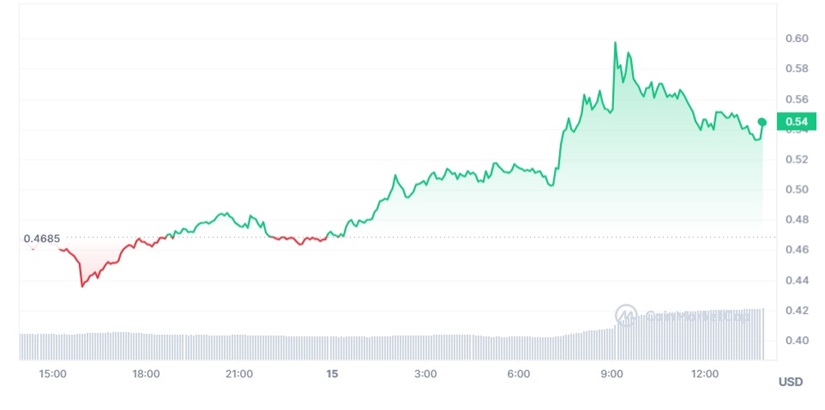 It is noteworthy that, although not exclusive to the altcoin ARKM, like others, it has been going through an extended bullish period.
According to CoinMarketCap data, the positive trend extends beyond 24 hours and shows a bullish trend since mid-October. This extends ARKM's growth to achieve a revaluation of 65.6%.
Binance Labs Deepens Investment in AI
The actions of the company reinforce the trend of exchanges supporting and exploring new companies and emerging projects in the crypto ecosystem.
The investment in ArkhamIntel indicates the increasing importance and necessary investment in artificial intelligence solutions applied to the blockchain. Seeking to actively work on new advanced tools for analyzing and visualizing activities on the blockchain.
Binance's interest in ArkhamIntel suggests that the platform has the potential to offer innovative and valuable solutions to better understand and optimize operations on the blockchain.
Furthermore, the positive market reaction, evidenced by the increase in the price of ARKM, suggests significant confidence in the project backed by Binance Labs.