Cryptocurrency giant Binance has just added 22 new loanable and collateral assets to its Flexible Loan and VIP Loan service including the popular dog-themed memecoin Shiba Inu (SHIB)
Binance Offers New Loanable and Collateral Assets
On August 4, Binance announced  14 new loanable assets and 8 new collateral assets, including top digital tokens including Shiba Inu (SHIB), Compound (COMP), and Theta Network (THETA) as new collateral assets. However, users should note that the exchange does not accept SHIB as collateral for its VIP loans.
With the new addition, Binance has now expanded its Flexible Loan service by including 8 new loanable assets, which are AUCTION, PYR, ILV, KNC, YGG, GAS, CELO and IRIS. Furthermore, the VIP Loan service has been expanded with 6 new loanable assets, including NKN, FARM, DIA, YGG, OGN and ACA. 

Following the announcement, the crypto community is also anticipating the potential listing of Bone ShibaSwap (BONE) tokens on Binance, coinciding with the upcoming launch of the layer-2 blockchain, Shibarium, to take place in August.
This comes after major crypto exchanges such as OKX and Huobi listed the Shiba Inu ecosystem token BONE amidst a rise in development and social activity related to the Shibarium Layer-2 blockchain and the Shiba Inu ecosystem. It seems Binance is potentially awaiting the Shibarium mainnet launch to list BONE tokens as it is one of the requirements for listing new tokens.
Shiba Inu Fires Up
As the news broke out, Shiba Inu (SHIB) prices witnessed a dramatic uptrend. According to CoinMarketCap, the memecoin is up more than 5% in the last 24 hours to trade at $0.0000086. On the other hand, SHIB jumped a whopping 10.83% over the past seven days.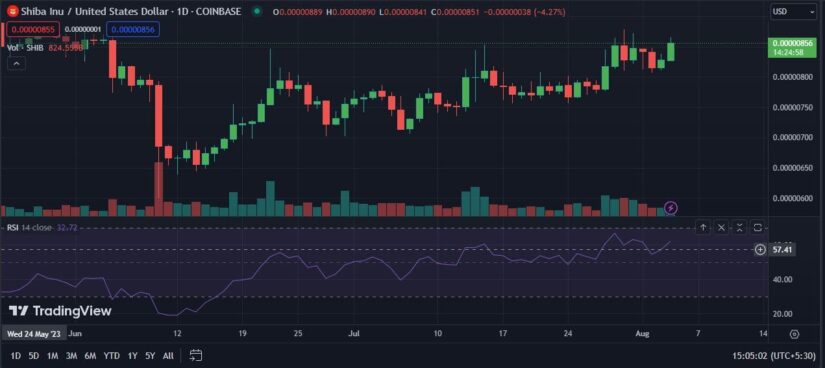 In recent weeks, Shiba Inu (SHIB) had been recovering from its yearly low of $0.00000597, reached on June 10. Market experts believe SHIB was following the pawprints of its rival, Dogecoin (DOGE), which recently garnered momentum following a profile update from Elon Musk.
Moreover, in a separate announcement, Binance introduced XEM as a newly available borrowable asset on Cross Margin. The XEM/USDT pair is now supported on the cross-margin trading platform.
Binance Stuck in Regulatory pressure
Since the beginning of this year, Binance has been grappling with numerous allegations from the United States Securities and Exchange Commission (SEC) and the Commodity Futures Trading Commission (CFTC) for alleged violations of securities and derivatives rules.

The entire crypto industry is in a tug-of-war with the SEC and its chair Gary Gensler, who had described the crypto market as the "Wild West", riddled with fraud. Saying most crypto tokens are securities, the SEC has cracked down on crypto trading platforms, including the top US exchanges Binance and Coinbase, to bring the industry under its oversight.
Owing to this  heightened regulatory scrutiny and legal actions by regulatory bodies in the United States,  Binance.US suffered a significant decline in market share, reaching a one-year. As per the data compiled by Kaiko, a cryptocurrency market data provider, Binance's dominance in the spot trading market has dwindled to an all-time low.
The U.S. #crypto exchange market is more fraught than ever.

👉 https://t.co/pup2WYms9R market share dropped to 1%
👉 Coinbase's down to 50% since start of 2023
👉 other exchanges making gains (LMAX, Bitstamp, Kraken) pic.twitter.com/ojX5gsUvvi

— Kaiko (@KaikoData) June 20, 2023
Will Binance Face Fraud Charges from US DOJ?
In addition, as per another new report, officials at the U.S. Department of Justice (DOJ) are also considering fraud charges against the world's largest crypto exchange. It is not just in the U.S., but Binance has been facing heat in Europe as well.
The exchange is under anti-money-laundering investigations in France, and left the Netherlands market in June 2023 due to its failure to secure a license from the regulators. The firm also reportedly withdrew a crypto license application in Germany in late July. Despite the adverse climate, Binance remains optimistic and continues to provide new offerings to its users.