According to a blog post by the Band Protocol, Sequoia India-backed blockchain start-up Band Protocol has released its first version on Ethereum mainnet and its first DApp called BitSwing which allows user to trade bitcoin binary options.
The first version of Band Protocol, a data governance framework for Web 3.0 decentralized application, went live today, according to the blog post by Band Protocol on Medium, which reads:
Today we officially announce the launch of the first version of Band Protocol on Ethereum Mainnet! This past year has seen many milestones including the successful fundraising on Binance Launchpad earlier this month, and we are very pleased to deliver this next milestone as initial capabilities of Band Protocol go live on the Ethereum network.
Aiming to become the universal data query layer for all future decentralized web 3.0 applications, the protocol will provide users the ability to connect with trusted off-chain information and securely utilize oracles.
According to the company, in initial phases, the data providers will be a number of trusted provider nodes which will be working in collaboration with Band protocol and cost per data query is set at 0.002 ETH.
Band protocol has also released its first DApp BitSwing that allows users to trade bitcoin binary options, according to a blog post. The company said that with BitSwing users will be able to take a long or short position in the BTC/USD market by predicting whether BTC's price one minute later, will be higher or lower than the spot price. The blog post, reads:
Indeed, that's how binary options work – more like a prediction, which can either be right or wrong, but nowhere in between.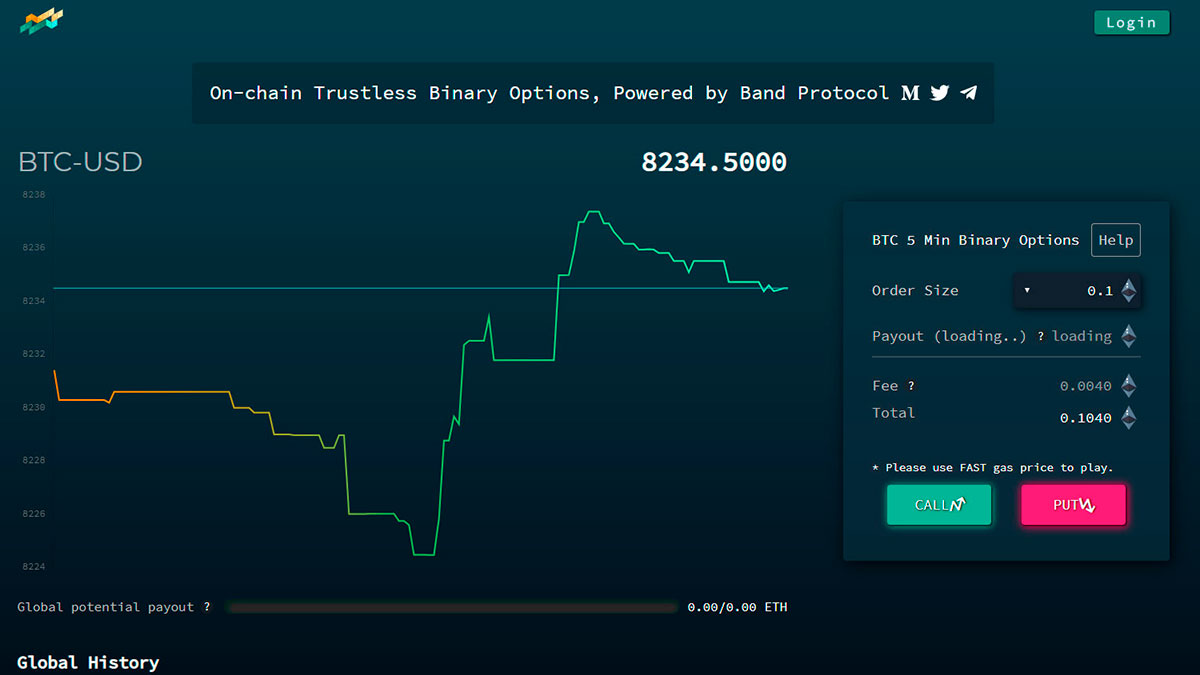 One-minute window could be a drawback of this platform and Band Protocol said that the window will be expanded as well as more cryptocurrencies will be added to show the potential of decentralized finance or DeFi.
In order to use bitcoin binary options through BitSwing, users will have to install a Web3 wallet that operates on the Ethereum-based Kovan testnet.
The Band protocol revealed that when BitSwing was launched in testnet for one week it saw over 40,000 transactions and earned $12,000 worth of testnet ETH in data query fees in its first two weeks.
Band Protocol also launched its initial coin offering (IEO) on Binance Launchpad via its native token BAND earlier this month and the company raised $5.85 million through the IEO.