Avalanche, aligning with the general trend of the crypto market, is under immense selling pressure.
AVAX, the native currency of the Avalanche network, is stable on the last trading day and down 12 percent in the past trading week, sliding 12 percent against the rampant USDT.
Avalanche offers Speed and Security
Avalanche boasts of a unique architecture guaranteeing both speed and security from a fundamental perspective.
Unlike most public chains, Avalanche transactions settle in less than a second. Meanwhile, the applicable fee in the C-Chain is less than even the cheapest Ethereum layer-2.
Fine-tuned for DeFi, the public remains compatible with Ethereum. Avalanche has evolved to be one of the most active DeFi-focused blockchains following its launch.
An Active DeFi Ecosystem
According to trackers, Avalanche has a total value locked (TVL) of over $9 billion. The most popular financial dApp is Aave.
Furthermore, nine months after its launch, the Avalanche Bridge has helped move over $50 billion of diverse digital assets. Top assets being moved across the bridge include ETH and USDC stablecoin. Noticeably, most are keen on deposits. Over the year, over $27 billion has been deposited to Avalanche, with the balance being withdrawals.
Avalanche Price Analysis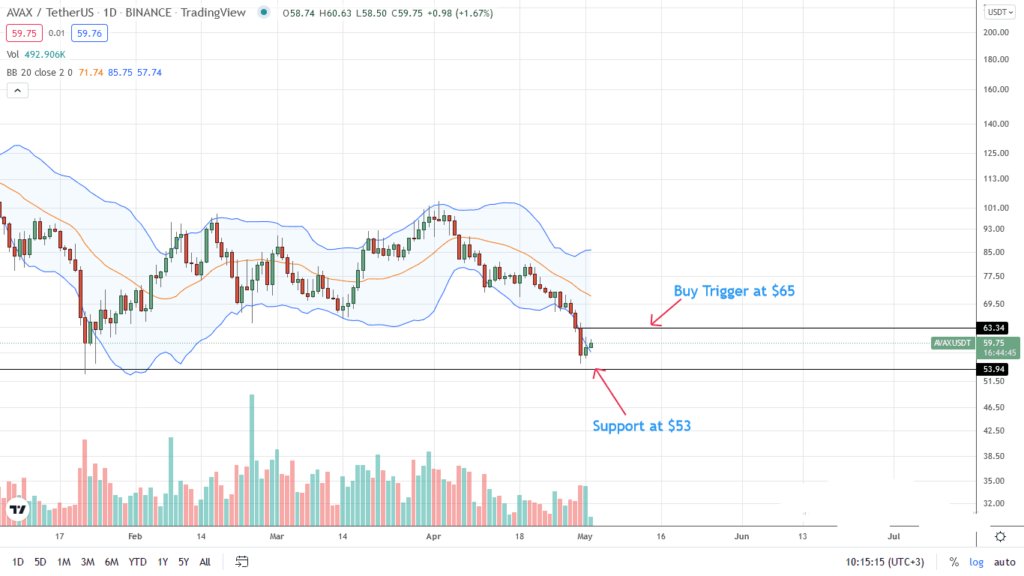 AVAX is down 12 percent in the past trading week, trailing the USDT, BTC, and ETH during the same period.
From the AVAX daily chart, the path of least resistance is southwards. Notably, in mirroring the general trend of the crypto market, sellers are relentless. Even though there was a slow down on May 1, the sharp wide-ranging bar of April 30 could set the trend for even sharp losses below Q1 2022 lows at $53.
On a positive note, the failure of sellers to confirm last week's losses on May 1 could be a ray of hope. Besides, the May 1 bull bar is below lower BB suggesting possible under-valuation and recovery. In that case, the April 30 bar could be climactic, marking the end of the April 2022 leg down.
Still, the reaction at $53 is crucial. Further losses below this mark with increasing volumes may see AVAX dump to September 2021 lows of around $36.
Conversely, gains above $65 and April 30 bar may trigger demand for a refreshing lift-off towards $80 and later $90.
Technical charts courtesy of Trading View.
Disclaimer: Opinions expressed are not investment advice. Do your research.
---
If you found this article interesting, here you can find more  Avalanche news.