Polygon [MATIC] is showing momentum in the price chart, and many other metrics indicate a good situation for this token. After recently breaking ATH, other metrics like active addresses and social volume are also in favor of Polygon and may result in more price jumps soon. Santiment published a new analysis on the stats of this network detailing the situation.
One of the most important metrics to analyze blockchains like Polygon is active addresses. There are three spikes in the chart of this metric for Polygon that could happen for many reasons, like an increase in deposit activities. There are currently about 8,000 daily active addresses in Polygon that put it on the list of most active coins in Ethereum.
Network profit loss is showing no profit-taking from users that is somehow odd after MATIC recorded a new ATH. It seems holders are confident about the token and maybe waiting for other ATHs to earn more.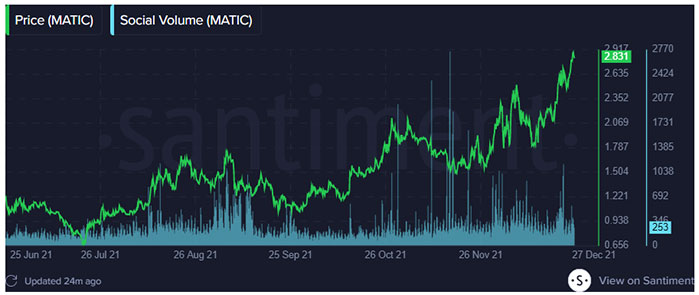 Exchange inflow and active deposits are declining in Polygon charts. Although the inflow has risen a bit lately, it doesn't seem many users are looking to sell their MATIC for profit in exchanges.
Social volume is another metric that can affect the price of a token. When people start talking more and more about a coin, it may result in more buy power and push the price higher. After hitting and ATH, there wasn't a jump in the social volume of MATIC that somehow showed a bit of greed. But the chart is looking healthy now, and it seems social discussions are rising around Polygon.
MATIC whales have been accumulating the token since early November, and the uptrend in their accumulation is still rising. Smaller whales with 100K to 1M MATIC holdings are also accumulating gradually and look confident in the future of the token. The last metric to analyze is the supply on exchanges that are looking good for Polygon. According to Santiment, it shows a healthy rally for the network.
Santiment concludes from the analyzed metrics that Polygon is in a good situation and may continue the uptrend as well:
"MATIC is looking good in terms of fundamentals. Active addresses are at Ethereum's highest numbers, even if we exclude polygon-based tokens. The problem that we are seeing is that even though it's an ATH, we're seeing a relatively lacks of response in terms of active deposits. And whales are offloading. We could probably rather see some sell-offs in the next 24 hours, just so MATIC can correct, and then push another leg up."