Anthony Pompliano spoke with Dylan LeClair about the present state of the Bitcoin market, as well as the possibility of a bull run.
Dylan begins by contrasting Nasdaq statistics with Bitcoin charts. He is convinced. Even if the scales are somewhat different, bitcoin effectively follows the Nasdaq wherever it goes. Bitcoin is considered a risk-free asset by bitcoiners, he adds.
However, macro allocators are gradually adopting it in 2020 and 2021. It's viewed as a high-risk asset by them.
Comparing to 2018 Stats
The second section of the interview focuses on the Bitcoin chart's statistics and projecting possible bull runs. This time, Dylan feels, things will be different. Everyone yearns for their current situation. Everyone is attempting to leverage long bitcoin positions. At the bottom of the 2018 cycle, we witnessed the same thing happen during weak markets.
In Big bear markets, everyone believes bitcoin is dead and buried. They're either yearning for the absolute or avoiding the absolute bottom.
Dylan compares the present market condition to short traders attempting to push a volleyball underwater. However, gravity or physics will take over, and we won't be able to go any lower.
Anthony asks Dylan why does bitcoin price goes up? He said:
"Well, bitcoin price it's an absolutely scarce asset. The bitcoin price goes up when the marginal seller is exhausted. It's basically that simple, and obviously, there's more to it. But when that marginal seller is exhausted, it takes just a small amount of capital for bitcoin to really really run."
Dylan believes there is some surrender going on or that the long-term holder cost basis is rising as a result of the lack of substantial accumulation. As a result, we're seeing an upward trend in this statistic.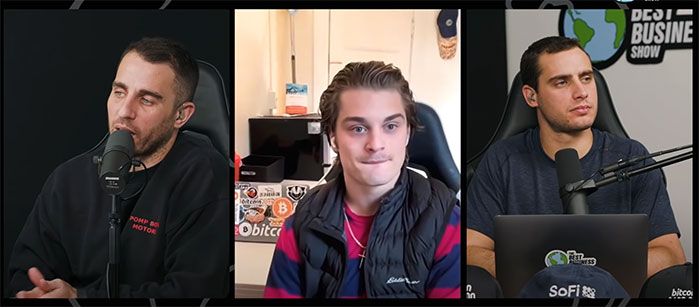 Many Bitcoin experts believe that in 2022, Bitcoin will experience a bull run. Anyone who has been following Bitcoin since its inception in 2009 will recall the cryptocurrency's meteoric rise to nearly $20,000 in 2017. The buzz surrounding initial coin offers (ICOs) and investors hoping to profit in the short term propelled most of that increase.
Bitcoin and cryptocurrencies are expected to have another interesting year in 2022. There are helpful tools available for keeping track of the market, buying cryptocurrency, or simply sticking to a more traditional portfolio of assets.
There are still a lot of variables to consider in order to see if Bitcoin can go higher this year. The cryptocurrency has rebounded from its prior decline and is now trading at $42.9K, but it is still a long way from its previous all-time high of $69K.