There are multiple ways through which investors can greatly secure their financial freedom. Among them includes the early adoption of a cryptocurrency project. This is something that drove large investor interest in the Aptos project. However, Aptos (APT) is now in freefall. As a direct result, investors and whales have opted for alternatives instead.
Recently, Aptos Labs joined with MoonPay and made it possible for users to make mobile payments. As a result of this initiative, Aptos Labs marked its entrance into Web3. However, it is still widely speculated that users will soon be able to purchase Aptos (APT) using multiple payment services such as Apple Pay. Through these initiatives, it was believed that Aptos (APT) would soon soar in valuation. Things did turn out that way, but it didn't last long.
Aptos (APT) has had its fair share of ups and downs within the crypto market. The launch can be described as a massacre, and Aptos Labs also had to face a great backlash. The main reason for the backlash resulted from Aptos Labs reserving a whopping 50% of the Aptos (APT) tokens for insiders.
Aptos (APT) – Is It Time to Sell?
Aptos (APT) has recently lost another 10% of its value. At the time of writing, the token has a total market capitalization of $628 million and is trading for $4.84. Keeping in mind how the situation is for Aptos (APT) right now, many experts actually believe that the token might not be able to pull itself back up anytime soon. The price is down by that percentage even suggests that investors and whales might eventually sell off their holdings and look for alternatives.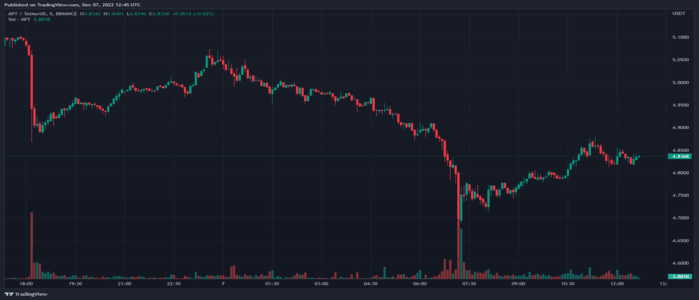 Aptos (APT) being down raises the question: Is it the right time to sell? According to many, it is believed that selling the token off would be a better escape. There is little to no guarantee of the token's price shooting back soon. Whenever there is a considerable downturn in the prices of cryptocurrencies, there are instances when investors seek alternatives. These investors consider alternatives as superior investments when seeking to boost their portfolios.
All investors want is returns in a short time. Although you can't expect something like that from APT currently and, possibly, the trend will continue in the short term. Despite this, many investors still believe in the token and continue to hold it. It is clear that APTOS is still a young token, which is taking its first steps on the blockchain. The long-term future is undoubtedly promising, as it is backed by a solid project.