It seems that the metaverse concept is raging strongly, and tokens like SAND continue to outperform the market yet. New analysis shows that big transactions in metaverses continue strongly, and a significant amount of money is inflowing to this market.
A new report by DappRadar shows that over $100 million has been paid to buy lands in metaverse projects in the last week. An eye-opening number that shows the numerous opportunities of this market.
Sandbox, one of the most famous metaverse projects in the market, has shown significant growth in the past week. The SAND token jumped from about $0.7 in late October to $6.3 today. It seems strong yet and continues to attract more investors. In the virtual world of this game, lands are being sold at high prices.
According to the report, $86 million of lands sold in the metaverse market last week were sold in Sandbox. Decentraland, CryptoVoxels, and Somnium were the next projects with big land sales last week.
The four first metaverse projects of the market mentioned above attracted more than six thousand traders last week. The highest number of traders and sales belongs to Sandbox, with record sales in virtual lands. The next spot belongs to Decentraland, with more than $15 million in land sales.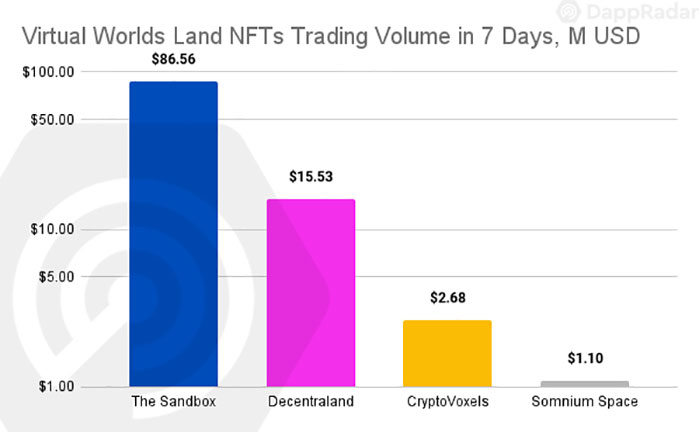 The lands and other assets in the metaverse projects are sold in the form of NFTs. Sandbox was the second project in the NFT industry in terms of traded NFT collections last week. Decentraland is at eighth place.
The price of lands being sold in metaverses is breaking records. In the last week alone, five of the ten most expensive NFTs sold belonged to metaverse platforms. The first spot in this list belongs to the Fashion Street Estate in Decentraland that was sold for 618.000 MANA, or $2.42 million.
The report claims that lands in metaverses can be the biggest NFT sold in the market. According to the report:
"Outputting record sales numbers and constantly increasing NFT prices, virtual worlds are the new top commodity in the crypto space. The wave of attention towards virtual worlds like The Sandbox and Decentraland started with Facebook's rebranding to Meta."
But lands aren't the only opportunities for investing in the metaverse. There are numerous opportunities for earning money in these worlds. Building property on lands can be the next trend. Currently, many organizations are building properties in metaverses. Even Barbados has an embassy in the metaverse! New use cases may pop up, too.