There have been many crypto-assets that has outperform two giants- Bitcoin [BTC] and Ethereum [ETH] as the market went on a damaging bearish ride. One that stood out was the algorithmic currency protocol OlympusDAO [OHM]. But sadly, this was short-lived.
OHM token failed to retain the glory and depreciated by almost 25% over the past 24-hours which pushed its price to a low of $436 on the 20th of July. OlympusDAO token first gained traction in April this year when its native token posted remarkable gains in nearly every aspect.
At the time of writing, OHM stood at a market cap of $354.6 million and a 24-hour trading volume of $18.89 million. Since its all-time high of $1,415 three months ago, the crypto-asset was down by almost 70%.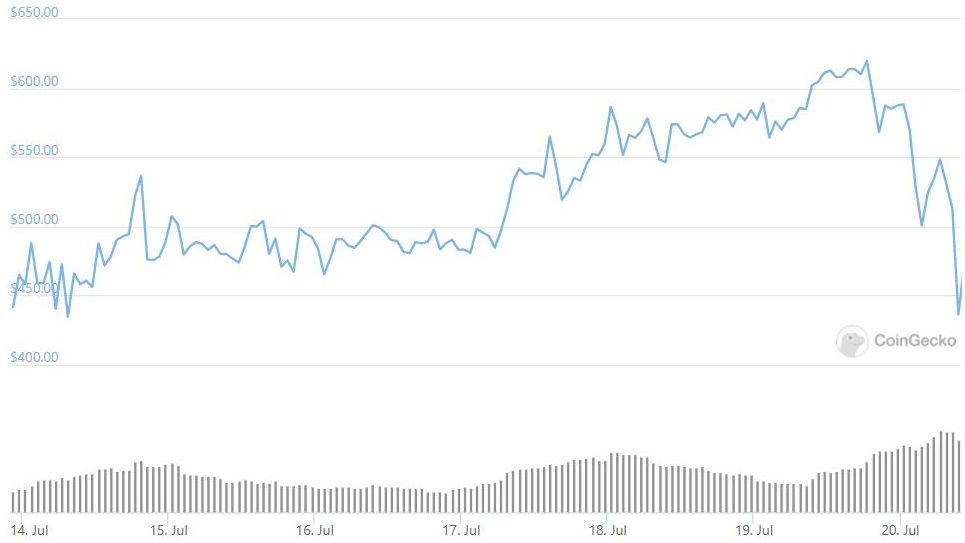 With the latest downfall, OHM joined the list of worst-performing assets in July.
Earlier Delphi Digital report had revealed that Olympus token was exhibiting countercyclical behaviour. The market value of its treasury as well as the total value locked [TVL] figures hit fresh peaks. This was accompanied by OHM attempting to shape up as a promising risk-off asset for the crypto ecosystem at a time when the entire crypto market crashed below the $1.30 trillion market cap.
The research and consulting firm had earlier reported,
"A big reason for their success is their cultish community, [3,3] memes, and Ohmie cards campaign promoting 5 digit% APYs. OlympusDAO is still a financial experiment in its early stages, and thus a very high-risk project. So maybe don't ape in with your life savings."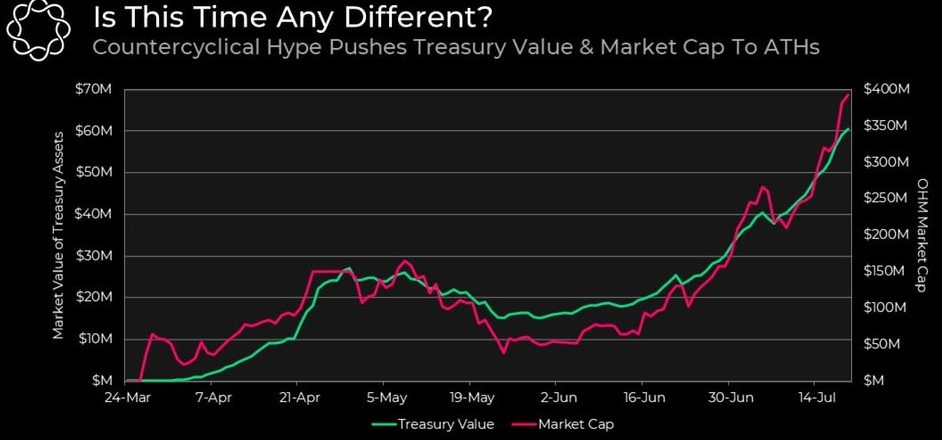 Altcoins outperforming Bitcoin
OHM is not the only asset that has outperformed the world's largest crypto-asset Bitcoin and Ethereum that were found to be bleeding red following back-to-back market drawdowns. Recent reports emerged that Bitcoin drifted lower at the end of June due to the investors pocketing quick profits.
Things have been going downhill for Bitcoin since falling from its grace of a sixfold rise to almost $65,000 in April this year. However, many on-chain fundamentals indicate an optimistic outlook, especially for the long-term.
The crypto sell-off triggered in the past quarter was mainly induced by regulatory clampdowns, troubles associated with stringent monetary policy, Elon Musk and Tesla crying about the environmental impact of BTC mining as well as fading institutional demand. Even as stabilized in June, Bitcoin and the rest of the cryptocurrency market was trapped in a tight rangebound. Hence, very few altcoins diverged from the general market trend to briefly decouple and post gains.
---
If you found this article interesting, here you can find more  Bitcoin news