As altcoins recover from the bloodbath, Terra [LUNA] appears to be gearing for yet another high. The asset is now eyeing to reclaim its previous glory.
According to the latest report by Delphi Digital, Terra has emerged as the third-largest blockchain by TVL. To reach the milestone, it surpassed Avalanche and Solana. The research and consulting firm noted,
"TVL on Terra network overtook Avalanche and Solana, making it 3rd largest blockchain by TVL. It's important to note that TVL numbers are highly reflexive alongside native token prices as they are commonly used as collateral in DeFi and as base pairs for DEXes."
Its native, LUNA, for one, has been one of the few coins that managed to rake in weekly gains of over 21%. As a matter of fact, it was up by 5.52% over the past day and was currently trading at $69.47. While the terrific rally may have hit a brief respite but has LUNA topped out?
LUNA, where next?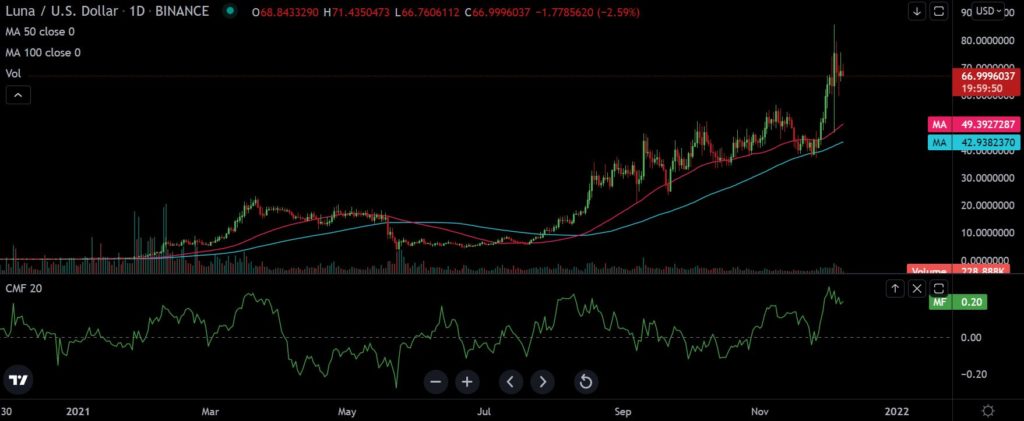 The above daily chart depicted an optimistic outlook for the asset. After hints of a bearish crossover, the 50 DMA [Pink] diverged from the 100 DMA [Blue] signaling upside potential. The moderate volume was yet another positive indicator. Additionally, the rising Chaikin Money Flow [CMF] exhibited an intense capital inflow into the coin market.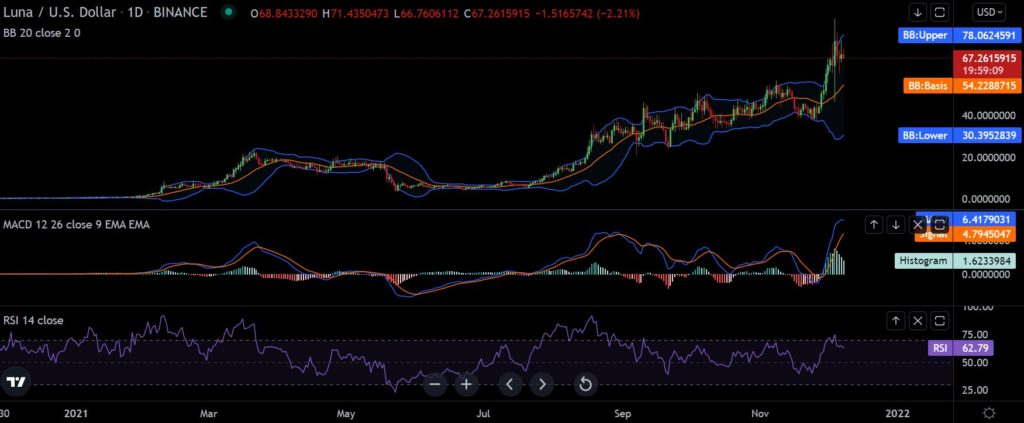 The rising volatility in the LUNA market, as shown by the diverging Bollinger Bands [BB], may further boost the uptrend. Besides, MACD also aligned with the bulls, while the Relative Strength Index [RSI] continued to hover a little below the overbought zone. 
All in all, things are looking up for the crypto-asset that now sits at a market cap of $26.6 billion while recording a 24-hour trading volume of $2.79 billion. 
Terra's Terrific Ride
Contributing to the growth is the proliferation of stablecoins and decentralized finance [DeFi]. These 1:1 pegged assets have played a crucial role in the centralized crypto exchanges. But as DeFi gained traction, stablecoins have become a popular vehicle for facilitating various decentralized projects as well. In Terra's case, it was the fiat-pegged stablecoin called TerraUSD [UST].

The increase of the decentralized and algorithmic stablecoin of the Terra blockchain has catapulted Terra's surge in recent times. According to CoinGecko, UST is now the fifth-largest stablecoin by market cap trailing behind the market leader Tether [USDT], USD Coin [USDC], Binance USD [BUSD], and DAI. There are many centralized stablecoins but the advocates of decentralized stablecoin alternatives have embraced UST. Hence, it is often referred to as the "DeFi Dollar."