Cardano (ADA) follows suit as the majority of the digital assets continue to soar despite the ongoing banking crisis. The altcoin witnessed a dramatic upsurge over the recent couple of days with ADA bulls enjoying Cardano TVL's massive surge as decentralized finance (DeFI) activity jumps on the network.
According to CoinMarketCap, Cardano (ADA) gained a massive 12% uptick in the last 24 hours to hover at $0.37. Over the past one week, ADA increased more than 8%, pulling a short squeeze on bears. The recent price rally can be attributed to several factors that seems to have boosted investor confidence on the altcoin.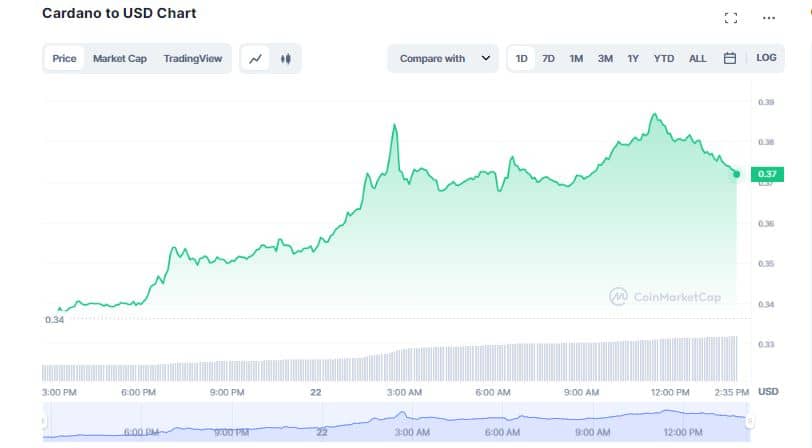 Factors Contributing to ADA Price Surge
Recently, SingularityNET (AGIX), a blockchain platform that allows users to create, share and earn by sharing (Artificial Intelligence) AI services, announced its Cardano staking portal will launch a beta testing version this month.
With the new initiative, the portal will allow AGIX token holders to stake their tokens on the Cardano network, instead of just on the Ethereum (ETH) network. Given the rise of AI based products and services, this news has contributed to the growth of ADA.
We are delighted to announce that our #Cardano staking portal will go LIVE for beta testing early next month.

Subject to successful testing and auditing programs, we are still on schedule for a Q1 release on mainnet!#SingularityNET #BuildingOnSingularityNET pic.twitter.com/tfJm9zn2dk

— SingularityNET (@SingularityNET) February 23, 2023
Additionally, there is resurgence in Cardano on-chain activity levels. With more dApps launching serving users in DeFi and NFTs, this could support ADA in the short term. The platform observed a significant surge in its total value locked (TVL), which has increased by 150% since reaching its local bottom.
This impressive growth is closely tied to renewed interest in decentralized finance (DeFi), as investors flock back to yield farming amid the deepening banking crisis all across the world. Despite not being the primary choice for DeFi enthusiasts, Cardano offers a wide range of decentralized financial solutions that have contributed to the surge in its TVL. The network's focus on scalability, interoperability and sustainability has made it an attractive alternative to other DeFi platforms.
Is Cardano Betting on DeFi?
Last month, the Cardano  network saw a spectacular uptick in whale transactions with an average of approximately 1,700 transaction per day valued at a whopping $100k or more. Moreover, as per CryptoCompare's latest Asset Report, the Cardano network also noticed a formidable rise in trading volume since the past 13 months in a "much-needed rebound after hitting the lowest monthly trading volume since October 2020 in December 2022."
Happy St. Valentine's day. 💙

We are pleased to report that the #Valentine upgrade – support for #Plutus SECP cryptographic primitives – is now live on the #Cardano mainnet.

1/4 pic.twitter.com/SdYWknKeHY

— Input Output (@InputOutputHK) February 14, 2023
In February, Input Output Global (IOG), the organization behind the Cardano blockchain, launched a valentine upgrade for its Standards for Efficient Cryptography (SECP) primitives on the Cardano mainnet. The upgrade aims to boost interoperability on the network to drive blockchain growth and allow developers to use a broader range of native multi-signature designs to build secure and cost-effective decentralized applications (dApps).
It is likely, these development have uplifted investor confidence and eventually catapulted Cardano (ADA) prices. Experts anticipate that a successful breakout above $0.39 could lead to an increase toward $0.59. On the other hand, a rejection could lead to a fall toward $0.22.